Silvia Cruz Lapeña
"La Chana is sheer contrast: she can be a diva, or the most humble woman in the world"
Many people in the Barcelona flamenco world are aware of the project Lucija Stojevic is carrying out.  Her documentary on Antonia Santiago Amador "La Chana" just collected the 12,000 euros that had been requested through a platform of crowdfunding to finish telling the story that has occupied nearly every waking hour of hers over recent years.  This Croatian woman raised in Austria and educated in Edinburgh came upon the Barcelona dancer the way you come upon all the good things in life: by chance.  Now, she hopes to finish the film by the end of the year, and present a story which, although centered on the life of one flamenco artist, is universal.  La Chana, characterized by her improvised dancing, swift and savage, disappeared from sight at the height of her career.  The reasons for this, her life afterwards and now, the second time she left dancing, her return to performing in 2013 and the personality of a powerful and exceptional artist are some of the topics Lucija has dealt with.
 
How did you get involved with Chana's story?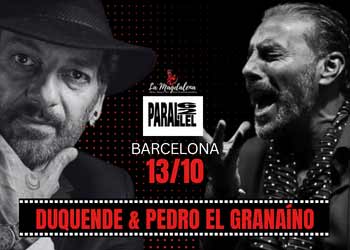 Publicidad DeFlamenco
It was thanks to the music teacher Beatriz del Pozo, whom I met when I recorded a video on flamenco for the English newspaper The Guardian in Cataluña.  We became friends, and one day she said she wanted to introduce me to her maestra.  That's how I met La Chana, who immediately told me she didn't want the same thing to happen to her that happened to Carmen Amaya, that people only started talking about her after she died.  I was also motivated by the fact that nothing like this had been done before, the occasional report, yes, but nothing in such detail.  In fact, I was surprised that an artist of this level could be in Spain and not receive the recognition she deserved.
 
What was it that fascinated you about this person?
What I liked most was seeing La Chana dance in the film The Bobo.  I couldn't help wondering what had happened to her, where did all that suffering she transmits come from, what was going through her head…
And did you find the answer?
This documentary helped me understand.  She says when she dances she goes to another world, but I also think she can't help dancing.  It's natural in her, a physical and emotional necessity.  Sometimes she'll be seated and she doesn't stop moving her feet.  She's dancing all the time!
 
So what did she feel when she stopped dancing?
This is something we explore in the film, a part of her important personal story.  Her first husband took her away from dance when she was 32 and still in top form.  She was out of the loop seven years during which time she lived through a personal hell.
We understand you can't reveal anything of that aspect of her life, because you're going to develop the story in the documentary, but would you say that hiatus kept her from reaching what she might have accomplished?
Definitely.  When she returned to dancing, she did it in Cumbre Flamenca, but she always explains that in these shows it was no longer "La Chana presents..", but "La Cumbre presents…".  She was no longer the star.  And although the reviews of performances abroad always singled her out, the truth is she had lost her star status, and she feels badly about this.
 
She went back to dancing seven years later, but she quit again in 1990.  What was the reason this time?
Well, the same as the first time: love.  The only difference was the first time, it was a negative experience, and the second it was for love she voluntarily dedicated herself to.
What is La Chana like?
She's a complete contrast: she can be a diva, or the most humble woman in the world.  I'm thrilled to tell the story of her life, because you see in her a first-class artist, but also a very simple woman.  Here's an example: she's the diva, the star, and precisely for that reason I thought she wouldn't let me film her at home without make-up.  Well, we were even able to record her in pyjamas, completely natural, speaking at ease about all the things we wanted to ask.
And what is she like in that intimate setting?
Very normal, she takes the mask off.  That's what I love about her, that she's a woman who lets you see who she really is, and she has a wonderful sense of humor!
What importance has being a gypsy played in her life?
It's not easy to explain, but in a certain sense, it's been like two sides of the same coin.  On the one hand, her life, her family, her roots, and she's proud of them.  On the other, she has been misunderstood in her own ambience, and she had no chance to break away.  You might say her circumstances protected her at the same time they suffocated her.
Let's talk about the adventure of producing this film.  Shouldn't it have been finished long ago?
Absolutely!  But that's something else I've learned: never to get involved making a film in a country with economic problems. [Laughter].  Seriously though, it's been very hard to find financial support and continue working at the same time.  Fortunately, we had the production help of TVE and TV3 who bought broadcast rights.  But I even had to set up my own production company with a colleague in order to carry out this project.
 
You had some support from abroad.  What did that consist of?
France and the United States were co-producers.  In France there is interest in cinema distribution.  And a great deal of interest from several European television broadcasters.  Overall, a lot of Europeans were enthusiastic about this project, but the main character is Spanish, it's filmed in Spanish and the topic is very Spanish to be able to have access to subsidies from other parts of Europe.  This continues to be a problem, because basically, we live in a territory with no frontiers, but in practice there are areas that are very restricted to a certain country, and cannot be accommodated in others.  But look, our philosophy is copied from La Chana: keep going, struggling, always struggling.
 
Is the main figure going to like the film?
Wow, I don't know, I admit that the thought of showing it to her when it's finished is a little daunting.  The important thing about this movie, what we want the audience to feel, is the strength Chana transmits, that belief that if you want to do something, you can.
 
Is it an optimistic story?   
The tone is.  But if you're asking about the end, I'd say it's bitter-sweet, because La Chana is basically saying goodbye, and this time it's for real, to the thing she most loves in the world: dance.  Due to physical limitations, she can no longer do it, and getting old, and that interior goodbye that she is going through are also present in the film.
---