Estela Zatania
AN AVANT-GARDE CLASSIC
Francisco Javier Álvarez, born in Alcalá in 1963, Javier Barón, the most recent winner of Spain's national prize for dance.  I saw him dance for the first time 22 years ago, and even then, at the age of 24, you could see the command, the elegance, an original distillation of the severe tension of great dancers of the past, and the controlled minimalism of the contemporaries, all of it graced with precise technique, personality and exquisite good taste.  An extraordinary combination of attributes for such a young dancer, even having been a child prodigy who began taking classes with Morón dancer Pepe Ríos at the tender age of seven.  At twelve, he entered Luisillo's company, at fourteen, special mention at the Córdoba contest, at seventeen, first prize on the TV contest Gente Joven, a few years later, the Giraldillo for dance at the 5th Bienal de Sevilla and a long list of other honors and successes that conform the professional map of a dancer characterized by integrity and reliability in a politicized flamenco world of photo-ops and chat shows.  Javier Barón is about to present his show Dos Voces para un Baile at the Teatro de Madrid for four consecutive days, a big responsibility, but also an important opportunity.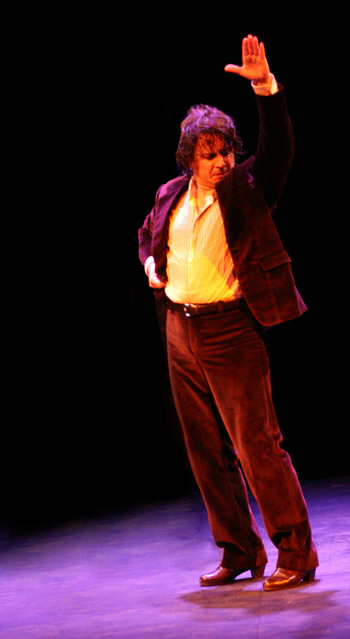 Javier, we were very happy to learn of your being awarded Spain's National Dance Prize last year.  What does it represent for you?
Well, it's recognition for a long professional path, a lifetime devoted to dance.  It's the most important prize given in the world of dance in general.
To what extent do you feel it's recognition for past achievements, or responsibility towards the future?
It's both things, for what's already been done, and for what needs to be done.  Everything I've done has involved both risk and responsibility, always from a perspective of respect for the audience.
Have you noticed any effects of the current economic recession on programming of performances and festivals?
The fact is, I have.  The field has narrowed considerably, and budgets have been noticeably cut.  In the interests of culture, and for the good of flamenco, we hope this changes.
Madrid audiences can't seem to get enough flamenco, lately the capital has received one group after another, and the tickets keep selling.  Why do you think this is?
Flamenco's capacity to transmit emotion is far greater than that of other genres and cultural outlets.  It's rewarding to know there's a faithful following for flamenco all over the world, not only in Madrid.
"Flamenco's capacity to transmit emotion is far greater than that of other genres and cultural outlets"
What do you contribute with Dos Voces para un Baile?
It's a way of feeling flamenco based on the singers' voices, the guitars and the rhythm of the palmas.  Everything feeds and transforms via the dance and through the voices, which are the central aspect of this work. I construct a wide range of dances with numerous flamenco forms.  It's view to the past, remembering all that was learned since my beginnings, right up to the present moment, all thanks to my maestros.  I'm grateful to all of them for having given me so much.
What two voices, "dos voces" will they be, and why did you choose them?
In this show I'm accompanied by singers José Valencia and Miguel Ortega, two great singers who know how to express what I'm looking for on stage.
 
About how many different forms will be interpreted?
More than twenty.  Faustino Núñez was in charge of the musical direction, a wonderful musicologist and fine person.
It's a four-day run…are you concerned about attendance?
As a performer, you always want the theater to be full and the audience to enjoy your work.  The more people present, the greater warmth and feedback, this is very important.
Nowadays, woman dominate the biggest box-office draws in flamenco dance.
That's true, but there are also some men building their reputations.
Do you think the average theater-goer prefers to see flamenco danced by a woman?  Is it a passing fad?
There are all kinds of preferences.  I think we're basically equal in that respect, theater-goers choose what they like best.  As in many other things in life, there may be boom-times for something, but then it goes in the other direction.
"I feel best as long as I'm on a stage dancing, wherever it may be".
Do you think there is less separation between men's flamenco dance and women's compared with twenty, thirty or more years ago?
Nowadays women use as much footwork as men, and they're very strong, with many movements taken from modern dance, I don't know why.  We men are going to have to do more with our arms.  There used to be greater care taken in placement, more elegance and good feet.  And women did more with their arms, more movement of skirts and trains, and they used more castanets and less feet.
Is there a Seville school of dance for men as there is for women?  Would you say the serenity and control of your style can be attributed, at least in part, to such a concept?
There have been great men and women dancers of a great and very personal Seville school.  My serenity and control come from years of dancing, and of course, from everything I learned, and everything I'm still learning as I go.
You've done a lot of partnered dancing, something rarely seen these days in flamenco.  Does dancing with a partner still have meaning for you, or do you feel better alone?
I had the good fortune to dance with some wonderful women dancers, and occasionally with men as well.  I've always enjoyed partnered dance.  Whether I prefer one or the other, it depends on the moment and the show you've got in your head.  It's not easy to dance with another person, and the experience has given me a great deal of experience and knowledge.  Each partner I've had brought something new to the mix, and I've learned something or other from each one.
According to your age and your generation, you've got one foot on each side of the fence, halfway between classic and avant-garde.  How would you define yourself artistically?
I'm an avant-garde classic.
Where are you more appreciated, in Spain or abroad?  Where do feel best dancing?
Your country is your country, but I can't deny that outside Spain they really appreciate you and treat you great.  I feel best as long as I'm on a stage dancing, wherever it may be.
"You have to have patience and a little humility".
Have you got notions or ideas for another work, or do you prefer to continue delving into Dos Voces para un Baile?
Well, I'm always mulling things over and taking notes, that's how it is.  Always thinking about things to do, then you come up against the same obstacle; it takes money to make things happen.  What also happens is after putting together a work and seeing it on stage, it doesn't just end there, you want to keep presenting it because it's taken a tremendous effort over a long period of time.  Dos Voces para un Baile is doing well, I'm very happy and satisfied with what we're doing.
You've given many workshops and classes.  What advice do you usually give young dancers?
That you have to have patience and a little humility.  That things come together if you work them, everything in life requires apprenticeship.
They say child prodigies have a more difficult time when they grow up…  It's been twenty years since you caused such a stir when you won the Giraldillo of the Bienal, you've enjoyed a long and continuous success.  How do you feel personally, does flamenco still inspire you?
I'm happy now, and even more so with recent successes, and above all, with last year's National Dance Prize and the critics' prize 'Flamenco Hoy' 2008 for best dancer of the year.  All this is like vitamins to keep on doing things and moving forward. It inspires me to keep on dancing, and is the most important thing in my life. 
---