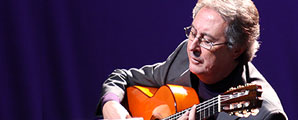 18th FESTIVAL FLAMENCO CAJAMADRID 2010
Teatro Circo Price
Feburary 16th, 2010 – 9:00pm
Concert flamenco guitar: ENRIQUE DE MELCHOR and group
Luis Miguel Manzano, second guitar; Juan Parrilla, flute; El Guille, percussion; Chato de Vélez, cante; Marta Heredia and Loli Heredia, chorus and compás. Alfonso Losa, guest dancer.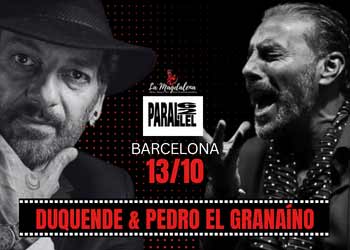 Publicidad DeFlamenco
Cante: MAYTE MARTÍN with Juan Ramón Caro on guitar.
Special Caja Madrid 2010 – All the information, program, reviews, photos.
"Dream Team"
Text: Pablo San Nicasio
Photos: Rafael Manjavacas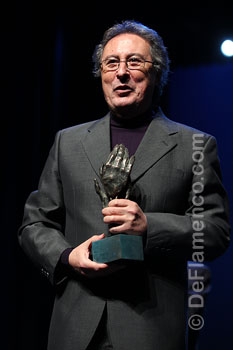 Enrique de Melchor. Galardón flamenco Puerta de Alcalá
The annual date that Cultyart and Caja Madrid organize to celebrate flamenco in Spain's capital, had its big night on Tuesday.
Maestro Enrique de Melchor was presented with the Galardón Flamenco Calle de Alcalá.  A well-deserved prize to honor a lifetime devoted to the guitar, a career registered on hundreds of recordings as accompanist, a handful of respectable solo records and some of the best performances in the recent history of flamenco.
Enrique de Melchor is one of the guitarists who has most worked in the field of accompaniment, despite belonging to the first generation of flamenco guitarists with a clear preference for playing solo.  Son of the great Melchor de Marchena, Enrique received a prize at the festival, but he also had to again prove himself before an audience in the nation's capital. 
And he didn't come out badly, considering he's not what he used to be and had to put together repertoire with backup, all of them friends, people not usually seen in this kind of event.
He began with his well-known "Danza de los Gitanos" where he played all his cards, the fine compás and group flamenco with responsibilities delegated.  Only in rondeña could we see Enrique more or less on his own, with no more help than the occasional shading of Juan Parrilla whose flute was always a plus.
The backup consisted of Marta and Loli Heredia on chorus, Guille on percusión, Luis Miguel Manzano on second guitar and heavyweights Chato de Vélez providing cante, and Alfonso Losa as guest dancer.  The latter was captivating and powerful as always.
Siguiriyas, tangos, interesting colombiana, solea, tangos (the piece that was a hit at one time) and fiesta finale of bulerías made up the recital, always in group, for a performance that seemed to belong to another generation with an aroma of Paco de Lucía, a healthy picado and a nineteen-eighties aesthetic.  Madrid was kind to one of its own, and a favorite son at that.
The "dream team" was that led by Mayte Martín, and they were only two people.  Opening her recital, the Catalonian woman was returning to the capital after her spectacular appearance last fall when she interpreted the verses of Manuel Alcántara, although she was absent at the "Johnny" several days ago at the festival in honor of Alfonso Salmerón, present this night at the Price.
Mayte once again offered the intimate delivery, carrying on Valderrama's approach to perfection.  A star of flamenco singing who is not interested in large formats and displays.  In the ending bulerías, she knew how to fill the role and was absolutely masterful.  Above all the siguiriyas, and as mentioned, the ending bulerías.
She interpreted petenera, guajira and garrotín.  Fandangos and malagueñas recalled her early recordings.  But it was pure Mayte Martín when she allowed herself the pleasure of doing anything and everything to bulerías.  Had she wanted, she could even have translated the audience's cheering to compass.  Without a doubt, Tuesday was a much better night than last year at the festival on this same day.  Not to mention her guitarist, Juan Ramón Caro.  This guitarist's delicacy has not yet been sufficiently recognized despite recordings such as the one he brought out last year and which many considered the best of the crop.
And since Mayte and Juan Ramón have the keys to our hearts, once they had them all under control, they opened them up with their unforgettable "Ten Cuidao" for an encore. 
Catalonian flamenco beat the illustrious local Madrid team, although there were no goals to speak of.
More information:
Special Caja Madrid 2010 – All the information, program, reviews, photos.
---