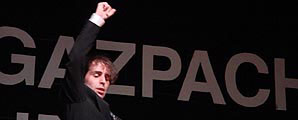 XLIII Gazpacho Andaluz
Centennial of the birth of Antonio Mairena
Saturday, August 1st, 2009. 10:30pm. Bullring, Morón de la Frontera

Text & photos: Estela Zatania
Cante: Canela de San Roque, Fernando de la Morena, Calixto Sánchez. Guitar: Antonio Carrión, Domingo Rubichi, Manolo Franco. Solo guitar: Paco Delgado "El Leri".  Fiesta group: Paco de Amparo, Luis Torres, Rosario Amador, "La Chiquetita", Luis Amaya. Flamenco cuadro of Pepe Torres: cante Enrique "El Extremeño", Moi de Morón, "El Galli", Miguel Lavis. Guitar: Rafael Rodríguez.
TRADITIONAL RECIPE FOR GAZPACHO
It's not the oldest cante festival, but one of the first, begun in 1963 when the concept of this type of event was just beginning to take shape largely thanks to the work of Antonio Mairena.  And it was precisely maestro Antonio whose centennial was honored this year at the 43rd Gazpacho Andaluz of Morón de la Frontera.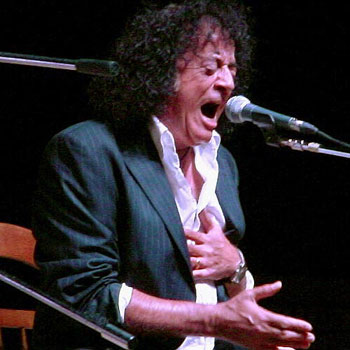 In this year of economic recession, even the most established festivals have had to adapt to a reduced perspective, and the absence of first-level stars is giving flamenco fans the chance to see and hear a greater variety of interpreters.  Seven years ago this venerable festival featured the complete cast of a large format theatrical flamenco company.  Some people considered it a costly error that pleased the general public but left conventional followers of flamenco scratching their heads.  The 2009 edition was closer to a classic program based on three singers and two groups in the traditional vein.
Guitarist Paco Delgado "El Leri" from this guitar-playing town opened with solo compositions of granaína, soleá, siguiriya and bulerías, showing the Morón influence and competing as best he could with the noisy pubs that surround the bull-ring where the festival was held.  Next up was Alejandro Segovia, "Canela de San Roque".  Avid Mairena follower, in the best sense, superb connoisseur of soleá, dense and weighty siguiriyas, an aggressive dynamic delivery.  This singer seeks, finds and delivers decisively each time he opens his mouth to sing, and always has the clear intention of putting all his cards on the table.  After siguiriyas, he interprets some fandangos of Chato Méndez, and Antonio Carrión on the accompaniment is in especially great form.  Canela closes his performance with bulerías, including some Mairena-style romances.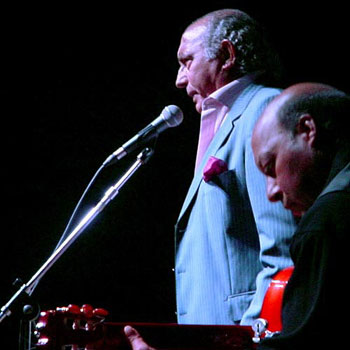 Another veteran with a solid reputation is the Jerez singer Fernando de la Morena who enjoys the admiration of Morón aficionados.  As is his custom, he began with trilla, and the backdrop of his own real-life experiences gave the touch of credibility.  In soleá, Fernando was singing with more pathos than usual, with a natural, sincere sound, rich in nuances.  With Domingo Rubichi on guitar, and despite serious problems with the amplification, the singer's fandangos personales were well-received, as was the siguiriya.  Bulerías started out without guitar, and the palma twins of Jerez, Luís and Ali, give all the necessary reference to squarely transport us to the good ol' days of the Calle Nueva and Cantarería when the neighborhood was vibrating with cante.  Through his voice, Fernando de la Morena paints the image of times past, and recalls an ambience that no longer exists.  A local group with the noteworthy participation of guitarist Paco de Amparo from Son de la Frontera offered festive cante to close out the first part.
The second part opened with Calixto Sánchez who could not be missing from a tribute to his hometown's maestro Antonio Mairena.  With the great Manolo Franco on guitar, he sang tientos tangos with classic styles and verses from contemporary poetry.  His smooth clean delivery is not everyone's cup of tea, but Morón's flamenco fans embrace a wide spectrum of offerings without hang-ups.  Intelligent siguiriyas, tasty alegrías and bulerías songs with a retro flavor left the audience enthused and appreciative.
| | |
| --- | --- |
| | |
The icing on this year's cake was a local hero whose reputation has crossed frontiers.  In addition to guitar, Morón is a dance town, and Pepe Torres, of the family of Joselero, Andorrano and Diego del Gastor, has a solid reputation in the panorama of traditional dance.  In his appearances with Son de la Frontera, he is wonderful, but with his own group and on his own, he's extraordinary.  The excellent team of singers included Enrique el Extremeño, Moi de Morón, David el Galli and Miguel Lavis, the latter, a young Jerez talent who deserves greater attention.  And as if that were not enough, Rafael Rodríguez on guitar.  Pepe Torres' dancing draws from his upbringing in Morón, the weddings and private parties; updated polished and with just the right amount of Farruquito influence thrown in.  The art of natural elegance, with a low-key approach in which the strength comes not from brute force, but from the compás.  Group members take turns at bulerías and dance themselves off-stage closing out the Gazpacho Andaluz of 2009 at a quarter past four in the morning.
---