XIX Concurso Nacional de Artes Flamenco de Córdoba. Gala ganadores concurso. Marco Flores / Javier Latorre
November 28, 2010
Twittear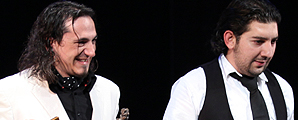 XIX CONCURSO NACIONAL
DE ARTE FLAMENCO DE CÓRDOBA
GALA FINAL DE ENTREGA DE PREMIOS
Saturday, November 27th, 2010

Text: Estela Zatania
Photos: Rafael Manjavacas
The awards night of the ninth Concurso Nacional de Arte Flamenco de Córdoba was a lengthy presentation of two and a half hours, despite there being only two winners this year.
The four dance finalists, a category that was declared vacant, each received diplomas, trophies, bouquets and two thousand euros, as did the three finalists in guitar and cante. Out of a global total of 103 contestants the winners were Antonio Mejías from Montilla (Córdoba) in cante, and Antonio Rey, born in Madrid but raised in Jerez, in guitar. A video showed fragments of each finalist's performance, and the various awards and prizes were presented by Javier Barón, Serranito and Fosforito among others.
Antonio Rey, 29 years old, son of singer and guitarist Toni Rey, has been playing guitar since childhood. Beginning in the tablaos of México, he eventually travelled to Japan with the company of Yoko Komatsubara, and later on was "discovered" in Madrid by Antonio Canales. In 2003 he won the Bordón Minero, highest guitar prize at the La Unión contest.
Rey played two original compositions, a rondeña "Al Tío Pepe Habichuela", and a taranta titled "Recuerdos", both free-form, lyrical, expressive and technically very polished. The guitarist graciously asked for applause for all the finalists, and then demonstrated his capacity for cante accompaniment with the aid of singer Antonio Zúñiga por granaína. He also offered a sampling of his dance accompaniment with dancer El Polito and the voices of his sister Mara Rey and Antonio Zúñiga.
| | |
| --- | --- |
| | |
Since 2003, singer Antonio Mejías has cultivated a discreet but dignified career, having received prizes from La Unión, performing alongside major stars and touring abroad singing for dance groups. This man, who henceforth will always be presented as winner of the Concurso de Córdoba, with Francisco Pinto on guitar, sang soleá apolá very much in the Fosforito mold, and malagueñas, before summoning three palmeros for a lively assortment of tanguillos de Cádiz in which he evoked Pericón de Cádiz and Chano Lobato. He was somewhat less convincing in siguiriyas, although he did finish off with such intensity that it provoked a sincere and enthusiastic ovation from the demanding Cordoban audience. Mejías ended with bulerías demonstrating his command of a wide variety of styles.
But the performances that sparked the greatest interest were those of Marco Flores and Javier Latorre, whose intervention covered for the absence of any winner in dance. Latorre interpreted his "Réquiem por Antonio" with a recorded Mozart composition. Afterwards, the two dancers shared martinete and cabales before launching into a long fiesta finale with the moving image of Latorre and Flores dancing together. Two generations, two geniuses of dance, two absolute winners of the venerable Concurso Nacional de Arte Flamenco de Córdoba which in this way reached its end until the next one in three years' time.
More information: