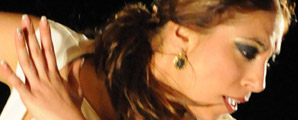 XIII FESTIVAL DE JEREZ 2009
Fuensanta 'La Moneta', "De entre la luna y los hombres"
Carmelilla Montoya
Thursday, March 5th, 2009. Jerez de la Frontera
Special XIII Festival de Jerez 2009. All the information
Text: Estela Zatania / Photos: Ana Palma Photo Gallery
Fuensanta 'La Moneta', "De entre la luna y los hombres"
Teatro Villamarta, 9:00pm
Dance: Fuensanta la Moneta. Cante: Eva Durán. Guitar: Miguel Iglesias, Paco Iglesias. Percussion: José Carrasco. Compás: Eléctrico, Torombo. Off-stage singing: Jaime el Parrón. Off-stage reciting: Ramón Aparicio
The first week of the Festival de Jerez ended with two wonderful dancers from two different generations, each with their corresponding perspective.
It's a sign of the times when the experienced veteran offers her version of classic flamenco in the reduced space of the Sala la Compañía, while young Fuensanta la Moneta took over the Villamarta Theater with a contemporary theatrical work with a powerful social message.
| | |
| --- | --- |
| | |
Watching "De Entre la Luna y los Hombres", I can't help remembering the old saying "If it ain't broke, don't fix it".  Since 2003 when Fuensanta won first prize for dance in the La Unión contest, and her name began to circulate, she has gone from one performance to another, surprising audiences with her communicative power, her physical beauty and her temperamental dance.  Seeing Moneta dance to guitar and cante is an unforgettable and electrifying experience.  But feeling the youthful urge to go beyond, she decided to put together a theatrical work to show off her boundless talent, possibly in order to stop being a cult figure and catch the attention of the general public.  But if the theater makes small artists big, it can also diminish the big ones, as happened with this dancer.
The powerful feminist message is represented with diaphanous white "sheets" that hang from above, a clever theatrical element that has the effect of diluting the intensity of Fuensanta's dance.  The existential filmed segment where the dancer observes herself, is well-done, but again, flamenco is sacrificed at the altar of good theater.  The same thing also happens when the image of a heart-uterus-navel is projected on the backdrop: even now the image is engraved on the retina of my mind, but I couldn't tell you what dance it was used for.
The singing of the wonderful Eva Durán acts as an anchor to keep the whole thing from floating off into the stratosphere, but the bottom line is "De Entre la Luna y los Hombres" becomes exactly what it means to denounce: the triumph of several men, the creators of the work, over one woman.
Carmelilla Montoya
Sala la Compañía, 12 midnight
Dance: Carmelilla Montoya. Cante: La Tana, María Vizárraga, Manuel Tañé. Guitar: José Acedo, Manuel Parrilla. Percussion: Javier Teruel. Music: José Acedo.
Once upon a time there was a couple called Lole and Manuel.  Lole's family, "Los Montoya", riding on the coattails of the couple's success, went on to give many performances with a type of homespun flamenco of high quality for audiences more accustomed to the polished presentations of Antonio or Gades.  Carmelilla Montoya, niece of La Negra, daughter of Carmen Montoya, was the very young dancer who always rounded out the show with her alegrías, tangos, bulerías or soleá in those family shows.
Fast forward to the new milennium.  Carmelilla, now a middle-aged lady, is one of the stars of the show "Gitanas", where she holds her own among a cast of fine female dancers of temperament and personality such as La Farruca and Angelita Vargas. And now she comes to the Festival de Jerez with a lifetime of experience under her belt, as evidenced in the legendary series Rito y Geografía del Cante where Carmelilla, ten years old, sings and dances at an informal family gathering.
At the Sala la Compañía, she gave a sincere recital, with good singing and guitar, noteworthy alegrías and siguiriyas, flamenco for regular people that continues to raise goose-bumps and shows no signs of expiring when administered with knowledge and tender loving care.
We were able to continue enjoying a similarly classic line at the peña Chacón, packed full of flamenco fans for the performance of Beatriz Morales' group with Luís el Mono at one A.M.
Special XIII Festival de Jerez 2009. All the information
---