Silvia Cruz Lapeña
Photos: Ana Palma
Compañía David Coria "El Encuentro" with Ana Morales in special collaboration
XXI Festival de Jerez – Teatro Villamarta
Special 21 Festival de Jerez – All the information
David Coria isn't a good dancer.  He's an amazing dancer.  He has the ideal look on stage, strong precise legs, and is also elegant.  He pushes hard, but never too much, and executes the most beautiful pirouettes in flamenco today.  All these things that make him special, contribute to making the 45 minutes he dances alone seem to go a long way.  True enough that El Encuentro, "ten short stories of friends", is a group work, but with this project, Coria leaves his fans wanting more.
The "fiesta" begins with a recorded pasodoble, and touches of genius.  In the line of so many other shows being presented at the Festival de Jerez, this one also relies on a script, humorous scenes and some recitation.  That music, like the jazz-swing of the ending, seems to have come from an old record-player, and along with the women's long dresses, the men's jackets and a vintage-style microphone, it all seems like a chapter out of The Great Gatsby of F. Scott Fitzgerald, or an improvised musical soiree in a New York apartment.  The opening, with the entire company of dancers on stage, alternates contemporary dance movements with flamenco details, until the record stops and the musicians appear.
From that moment on, the story becomes deeper and the series of sketches begins: from the "conversation" between a man and a woman, to the "chat" between friends, and even the confrontation between men, the scenes take place one after another, and each of the dancers has his or her moment.  Coria's comes with the farruca with the wonderful accompaniment of Jesús Torres, who also composed the music for this show.  Coria nails each movement.  He digs his knee into the floor several times, in a gesture that is seemingly brusque, but which is sheer poetry.  The eloquence of his body reaches those extremes, which he uses in the alboreá and the caña, and dancing tanguillos de Cádiz with tremendous grace, accompanied by an impeccable Rafael Ramírez to return to martinete in another noteworthy performance.
The special guest artist for El Encuentro, is dancer Ana Morales, a favorite of Coria's, and with whom he has such a good artistic rapport.  Her tangos solo was a delight.  Dressed in red, with a sheer floaty dress, she appeared on stage backed up by the reliable voice of Londro, who sang Rafael Farina's "Vino Amargo", verses with which she adopts gestures and looks that hint of witchcraft.  She appears at times delicate, seductive and dangerous, always suggestive.  She dances squatting, with castanets that she uses now and again at very carefully chosen moments, a sound that ends up making her character appear to have the power of a soothsayer.
The strong point of this work is the high level of the dancers.  For example, Paula Comitre, placed in a secondary position, nearly devours her companions.  Her presence is very flamenco, but also precise, she grabs you with something that, in addition to being a dancer, makes her an artist.  Overall, some risk-taking was missing, details that would have given the show personality, and not have been so reminiscent of the Ballet Flamenco de Andalucía, where these two performers are from.  The audience applauded and gave a standing ovation for a Coria whose generosity speaks well of him, but in El Encuentro that same generosity made him a mere link in the conversations he narrates, rather than main character, and it's a shame because with his ability and strength, he was clearly born to shine.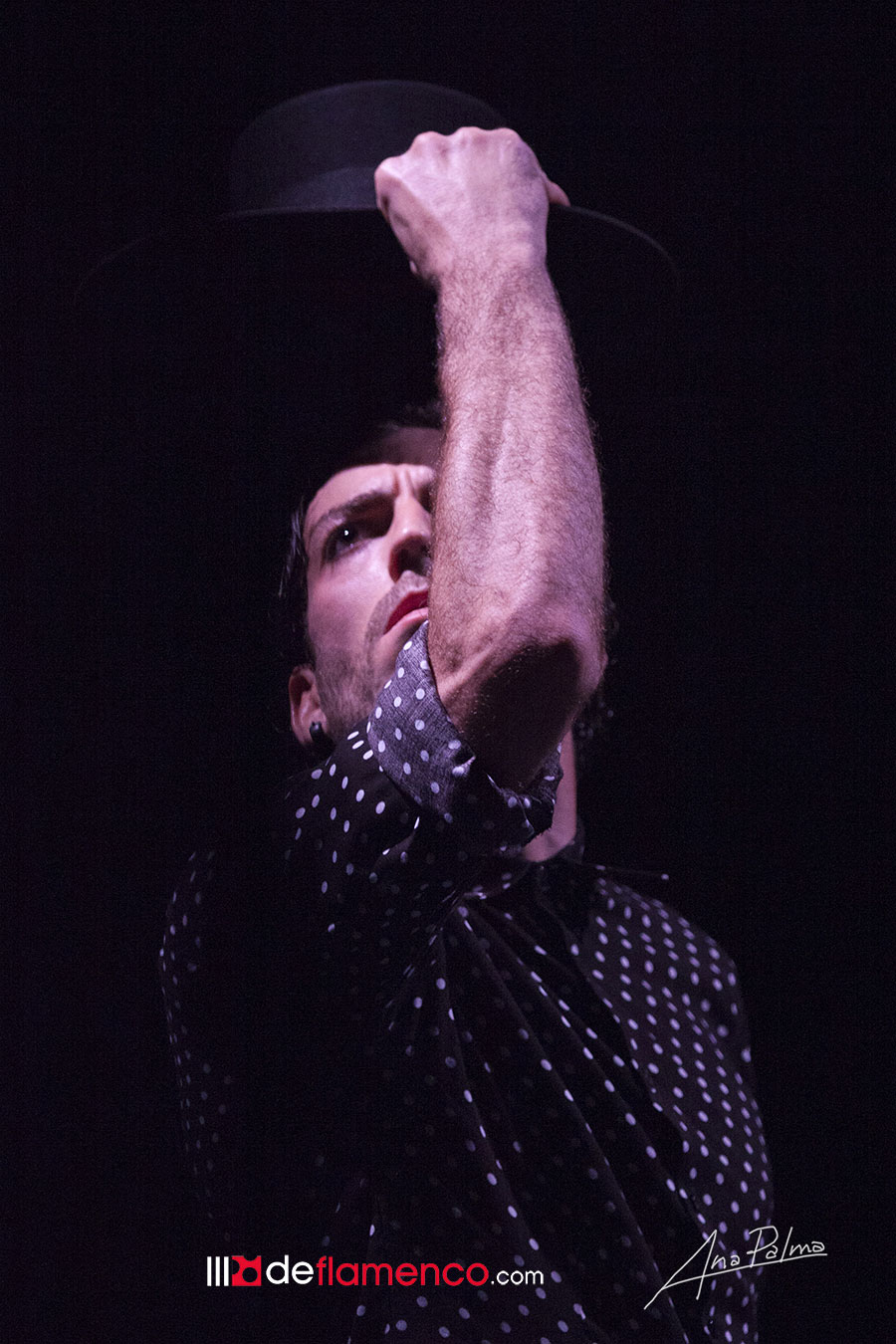 Photo Gallery – David Coria – by Ana Palma
---