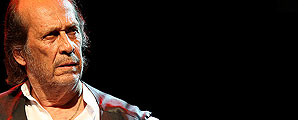 Paco de Lucía
June 29th. Puerta del Ángel. Madrid
VERANOS DE LA VILLA 2010
Guitar: Paco de Lucía. Second guitar: Antonio Sánchez.  Keyboard and harmonica: Antonio Serrano. Cante: Duquende and David de Jacoba. Bass: Alain Pérez. Percussion: Piraña. Dance: Farruco
Text: Pablo San Nicasio
Photos: Rafael Manjavacas Lara
Pause, take stock and take charge
It had been a long time since he last appeared in Madrid.  The maestro Paco de Lucía, as all living legends in general, is one of these people who speaks with his silences and triggers rivers of ink, although this man disdains much of the attention.
And all the while, about five years, the only thing he's done is live, avoid the paparazzi, take care of his children and, lastly, perform once again.
And even so, rumors were flying every week about an upcoming record, his change of residence, collaborating artists who would come and go…this is the result of being a true star who fuels a good part of the classy dignity flamenco has today.  And in the end, he came and was seen.  In person.  Let's not forget he's a flesh and blood person.
With an idea not too far removed from the last time he came through, which was at Las Ventas, the man from Algeciras came on stage, guitar in hand, to kick off "Los Veranas de la Villa".  It was a soccer night, but the Casa de Campo was filled to overflowing.
The crowed was full of flamenco fans, and plenty of guitar freaks; people who come carrying spyglasses just in case.  Everyone with the added aggravation of Madrid's underground service curtailed due to a strike, distraught and needing to unwind.
As so it was, just when it was looking like things were going well in South Africa, Paco came on like a football player himself.
And he started out with his rondeña "Camarón".  Getting a feel for the strings long before getting down to business, and getting more and more caught up in the rhythm.  When many people were still getting seated, Paco began a tug-of-war with his guitar, coming up a winner every time.
His playing seemed weightier, more restrained in the bursts, and with a noteworthy desire to tone down a bit.  In this sense, the tremolo was the best proof that there is something in him seeking change.  And everyone, hardcore followers, guitarists and the audience in general, are, despite themselves, always looking for the superhuman guitarist of the eighties, the be-all and end-all.  But he was more concerned with the small things, and that's where he shined.
In "Antonia", his soleá por bulería, people were on top of him every moment, and cheered each flourish.  And the group…  Singer David de Jacoba, with his expressive gypsy sound.  And one of the maestro's nephews, Antonio, a respectable second guitar with that sound of lots of fingers.  A chip off the old block.
The first high point of the night was bulerías.  Stringing together falsetas from "El Chorruelo", "Río de la Miel", "Compadres" and several new pieces.  You could tel Paco de Lucía was hot, especially by the way he would stop and take up falsetas.  It was what we were most grateful for, because you could appreciate his good taste and command of compás.  And once again we could sense a logical progressive change in his playing.
We'll have to be on the lookout for his next recording where genius will surely reinvent itself once more, it would be typical in him.  Perhaps his strength is in how he establishes the musical discourse.  He will no doubt continue to be the boss, but more measured and controlled, much more.  And so much art.
Alegrías with legendary falsetas.  The kind guitarists whistle and hum, the one from "La Barrosa" and "Calle Munición".  A long time will have to pass before another artist comes along so able to reconcile technique and flamenconess.  Paco is all those things.  The alegrías showed this.
Bulerías again, with the whole group to wind up the first part.  And then, a cameo appearance.  The icing on the cake.
What a stroke of genius getting Farru for his group.  And what a fine job the Seville dancer did.  In just 30 seconds he got the audience to their feet.  Flamenco on display for all to see.  Everything needed to reach the most hidden corners of the blood, as the poet said.
It was without a doubt the most memorable moment, the turning point of the recital.  It was not only the staunchest followers who got swept away.  After intermission, you could see the good vibes between the members of the group, at times sublime.  And stands vibrated with the beat.
In this part it was mostly rumba.  And especially delightful was "Chanela", a great achievement that is nearly thirty years old.
"LuZía", "Ziryab" and the ever-present encore of his "Entre Dos Aguas" closed out the concert with the maestro reunited with his people.  The ones who watched him grow as an artist, something that will never be forgotten.
Everyone happy, with things to comment on and the desire to celebrate yet another point for flamenco.  Paco de Lucía brought us together once again, and we could shed some stress.  It's because he's a very special being.  Human above all else.
---