Mujeres de Hoy. Dance: Silvia Cabeza, Maite Correas. Cante: Erminia Fernández Córdoba, Carmen Fernández. Guitar: Michel Gillain
February 12, 2008
Twittear

Mujeres de Hoy
Tuesday, February 12, 2008. De Regentes Theater, The Hague.
Text and photos: G. Copier
Dance: Silvia Cabeza, Maite Correas. Cante: Erminia Fernández Córdoba, Carmen Fernández. Guitar: Michel Gillain. Percussion: Marta Flendrig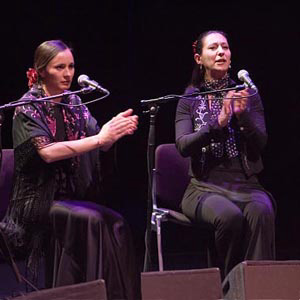 "Women of Today" is what the title means in Spanish, and true to the name, this flamenco dance performance illustrates contemporary women's deepest thoughts, frustrations, concerns, fears and sorrows, all of which are translated into movement by an international cast of all-female artists with the exception of the guitarist.

Long and often hilarious conversations about the things in life that touch these artists most, are led by Michel Gillain (the only male artist on stage) to unite the central themes as a source of inspiration. In this way the show "Mujeres de Hoy", slowly but steadily unfolds. Flamenco dancing, singing and guitar-playing, all about and by women; a range of feelings that represent the female soul, from the most intimate to the most intense flamenco.

The artists, all of whom have their own style and personality, present very differing aspects of a contemporary woman's life, running the gamut from sad to playful. Lead dancer Silvia Cabeza, a Spaniard who teaches dance in Utrecht, complemented the style of Mayte Correas, while Erminia Fernández Córdoba did a fine job on the vocals along with Carmen Fernández, orginally from Utrera, but now living in Germany.