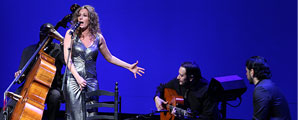 María Toledo / Arcángel
20th Festival Bankia Flamenco 2012
February 11th, 2012 – – Teatro Circo Price (Madrid)

Text: Pablo San Nicasio Ramos
Photos : Rafael Manjavacas
MARÍA TOLEDO, Voice and piano. Jesús del Rosario, guitar; Lucky Losada, cajón; David Moreira, violin; Yelsy Heredia, upright bass
ARCÁNGEL, cante. Miguel Ángel Cortés and Daniel Méndez, guitar; Antonio Coronel, percussion.
Great and greater
The final curtain came down on the Bankia 2012 festival to the sound of fandangos.  A grand finale that glorified Arcángel's hometown while at the same time courting the Madrid audience which responded with a resounding "I do".  The summit.  And it augurs to be a long-lasting love affair.  We have a flamenco singer here folks.
Important conclusions, and more so in a festival which was fair to middling, and which had few high points.  But Mr. Arcángel Ramos knew it.  He had it in his head and in the bag.  Some people still think this is about race.  And so it is…what this man puts on the stage is the domain of only a very few chosen ones.  And that has to hurt some people.
The weekend brought to the Price theater (they say next year we'll have yet another change of venue) two young talents who, with completely different backgrounds, have to get past the hairy issue of the galloping lack of direction in flamenco.  They themselves never stop reminding us that too many major stars are disappearing in too little time, and the medals have to be distributed among those who are left.
María Toledo is a performer whose inclusion in this venerable festival could have gotten some people riled.  Certainly her approach does not allow for a "jondo" repertoire, this is impossible to overlook, but what is undeniable is that she won over the audience fair and square.
In our opinion, María Toledo is best when she moves in the terrain of "flamenco-style song", and with her group better than one on one, and seated at the piano more than chasing down the depths in vertical swagger.
The carefully cultivated image, and the extraordinary backup musicians (Jesús del Rosario, bless your heart) also count for a lot.  That, combined with the fact that María is getting better with time (not everyone does), contribute to the fact that this woman's shows have no down time and are richly varied.  At least it creates a debate in which she can only come out on top.
A bit of soleá por bulería, the repertoire of Granada tangos and petenera with verses aimed at the audience at the end of each piece.
Much better in the siguiriya de Triana and cantiñas that followed, and definitely right at home when she launched into her now famous "Con el Tiempo".  Bulerías with a wink and a nod for Capullo, evoking her much-admired Lole and a verse or two about money…this is, after all, the Bankia festival.
And on to Huelva….
From the moment Arcángel came on stage, I closed my notebook.  Nothing but listening pleasure and talent throughout seven cantes that bring audiences together and make you want to stop taking notes.  Imagine what it was like when he began with the malagueña de Chacón with Frasquito to end, a cante most singers put in the middle of a recital in no-man's land so it can be best appreciated, and yet he got everyone's attention as if it were the end of the recital.  This was Arcángel, with his unmistakable expression and way with the cante.  And with two top-notch guitarists.
Because Miguel Ángel Cortés and Dani de Morón are two of the greats.  The former, already at the top, and the latter, about to arrive.  Their guitars exalt the art of accompaniment to the level of duet concert music to back up a singer with novel technique and harmony.
The soleá of Charamusco, tangos, seguiriya, bulerías and fandangos.  Everything out on a limb, but solid and excellent.  No fakery or anything "in the blood".  This time you got your money's worth.  We could go to bed having experienced something important.  Arcángel turned us into marionettes, first clapping, then standing, then shouting.
Paco Toronjo, the illustrious singer from Alosno, can rest easy wherever he is, if only thanks to the respect Arcángel has for this man.  Wonderful singer.
---