Text: Silvia Cruz Lapeña
Photos: Ana Palma
Teatro Villamarta – 20th Festival de Jerez
Special 20 th  Festival de Jerez – All the information
Director, choreography, production: Marco Flores. Stage director and choreography: Juan Carlos Lérida. Guest collaborator in artistic direction and choreography: Olga Pericet. Guest artists: Carmela Greco, Alejandro Granados. Dirección Musical: Marco Flores Original music: Jesús Torres, José Almarcha. Dancers: Claudia Cruz, Agueda Saavedra, José Manuel Alvarez, Alejandro Granados, Carmela Greco, Marco Flores.
Time and the mirror
This show begins at the end. A fiesta finale with dances that never end, which are cut and then picked up again, which include farrucca and continue with bulerías.  The pace of the passage of time is not a choice, and in this show, it's completely random. This is why the pieces begin and don't end, or vice versa, and the artists speak with whom they once were, or whom they one day will be.  Fear not, it's not as complicated as it sounds.  And it's also beautiful.  Because God is in the details of that choreography created by Marco Flores and directed by Juan Carlos Lérida.
Everyone dresses in red for this party, and there is a diversity of ages and inclinations among the guests.  A sort of intergenerational dialogue.  But the conversation is much deeper.  It's the conversation that anyone might have, if they could, with whom they once were and whom they will be.  A meditation on the capriciousness of time and the calendar which is reminiscent of Fellini at times in the aesthetic, at other times in the need to recapture the past.
There are a lot of people on stage, but really they are all one. And possibly the same one.  Marco Flores guides and controls.  With his hand, he pushes or stops the dancers whom he forces to look at each other, to see, to stop or to dance, depending on his indications. And what dancers.  Carmela Greco and Alejandro give a lesson in elegance and generosity, and their dances are so beautiful that at times you get chills, they seem to be talking to themselves in the past, or maybe a present which is already the future.
Fabulous dancers each and every one, but Claudia Cruz and José Manuel Álvarez deserve special mention.  Dancing alegrías they explained without words, how to stop time.  Time only stops in love. They loved each other in every glance, every turn of the head, every embrace, showing a complicity that the audience even applauded with their feet.  What terrific placement Álvarez has with his svelte figure. What great moves Cruz has, so eloquent.
And after duets, partner changes, high-class singing and moving dancing, Marco Flores ceased to be to the moving force that made the others dance, and was alone on stage. It's hard to explain what Flores did if you haven't seen it.  Marco was the same as always, but different. He was the motor and the gears.  Anchor and escape route.  He danced better than ever, but more than that, he ascended a level. There was something special in his movements, always precise, at each point and heel-beat, each step.  Marco filled that stage so difficult to fill.  He was precise in each movement, and yet warm. There was another elevation in his dancing, another look.  It's always beautiful to see a man grow, and yesterday Flores stretched tall, without a doubt.
The work ended, or perhaps not, who knows, with Flores trapped in time which up until moments earlier he had controlled.  He stopped being the all-powerful narrator, to become a puppet of time: in other words, a human being.  And there, in that unsettling, collective red ending, one last thought crossed the theater: and what if time is nothing more that a mirror?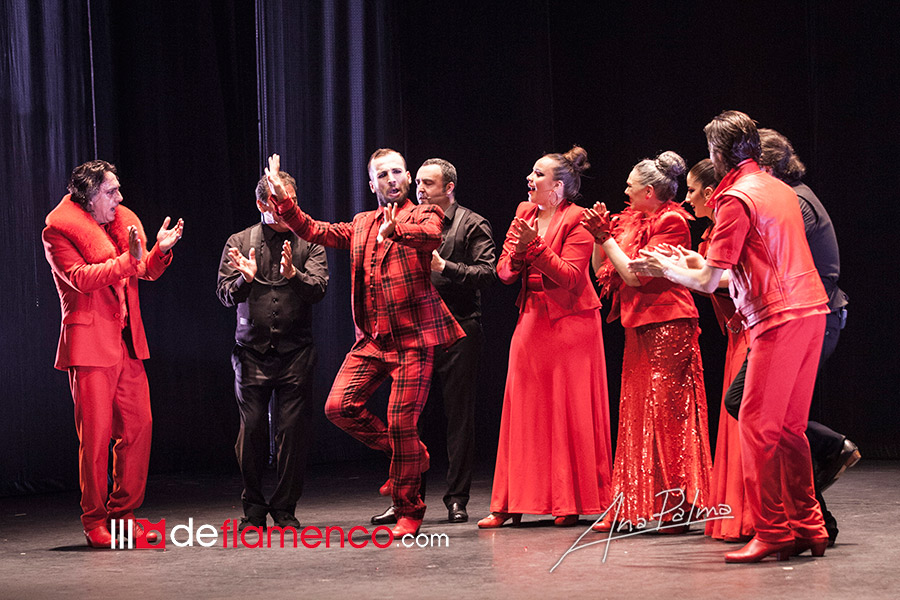 ---