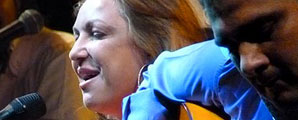 LV POTAJE GITANO DE UTRERA
Saturday, June 25th, 2011. 10.30pm.
Colegio Salesiano, Utrera
Tribute to Juan Carmona "Habichuela"
Text: Estela Zatania
Photos: Steve Kahn
Cante: Pansequito, Niña Pastori. Piano: David "Dorantes". Dance: La Farruca.
UN POTAJE SIN HABICHUELA
With its second half-century well underway, the oldest of all flamenco festivals has achieved the miracle of organizing its 55th edition with a quality line-up and one thousand four-hundred tickets sold.  Which in turn, represents one thousand four-hundred servings of "bean stew with lots of garlic", as the tradition goes, eaten last night with wooden spoons.  With the painful losses, one after another, of the great Utrera flamenco singers, the most representative element of this town is now the Potaje Gitano de Utrera itself.
This year the venerable festival's tribute was for Juan Carmona "Habichuela", about to turn 78, one of the most beloved figures of flamenco today, and the first guitarist so honored in the long history of the Potaje.  But the Granada maestro, winner of the Córdoba guitar prize in 1974, Cátedra de Jerez in 1976, "Calle de Alcalá" in 1995, eleventh Compás del Cante prize in 1996 and honorary member of the Claustro de las Artes of the University of Alcalá de Henares among many other distinctions, was unable to attend the Potaje due to health issues.
But the show brought no disappointments, at least within the expectations that correspond to the year 2011.  The programs of thirty years ago, with fifteen or twenty top artists, that some people long for and others condemn, can no longer be.  This third year of economic crisis, you hardly noticed any change in the ambience of the patio of the Colegio Salesiano, except that it was an audience with more serious interest in flamenco, less anxious to see the celebs who populate the fringes of flamenco.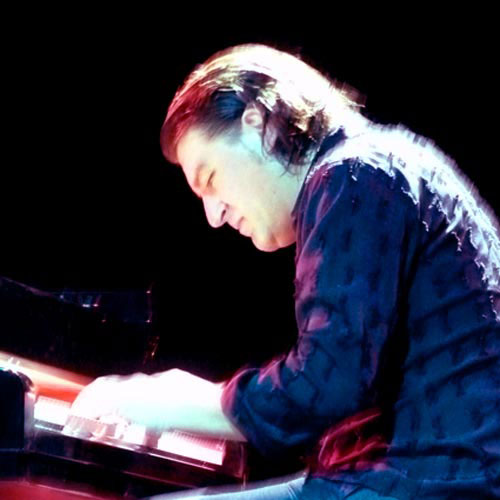 David Peña "Dorantes"
David Peña "Dorantes" opened.  His presence at the Potaje is almost more of a sentimental nature than artistic, because strong family and emotional ties unite the Lebrija pianist with Utrera, although his music, his lovely music, may not have been the most apt for an event of this nature.  It's not for me to decide what is and is not flamenco, but without a doubt the irresistible beauty of his compositions, especially his masterwork "Orobroy", was the perfect overture to a long night of flamenco.
José Cortés "Pansequito", next to take the stage, was impeccable with Manuel Parrilla on guitar.  Now, you could indeed close your eyes and remember decades ago when this voice, even now full of power, was the harbinger of a new flamenco era populated by Camarón, Turronero, Juan Villar and Rancapino among others, that impressive group of young singers who would all too soon be eclipsed by an even newer approach. Yet, Pansequito is still as fresh and relevant as the mint leaves that right now sit on my kitchen window.  Those personalized alegrías of his, a form where he is always in search of the "jondo" feeling despite the customary lightness other singers give.  Soleá, with his voice rich in color, taranto, personalizing and creating, with bulerías he stretches you out, hangs you up, squeezes you and finally delivers you to the most flamenco territory.  One of the great masters who remains.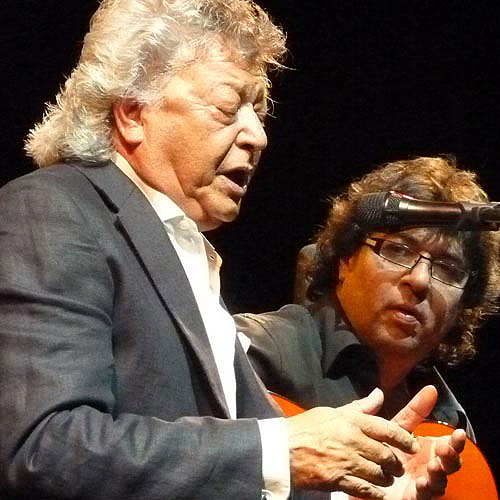 José Cortés, "Pansequito" with Manuel Parrilla
The third figure of the night was Niña Pastori from San Fernando to satisfy a certain sector of the audience that has, perhaps, less patience with the classic forms.  With the brilliant guitar of Diego del Morao, the "niña", now a woman and a mother, deployed her alegrías cantiñas with good taste and knowledge, sounding very flamenco.  Diego del Morao is a miracle, he just as soon plays the most classic style of Jerez, as he backs up the most contemporary cante, although his beach-thongs did raise a few eyebrows.  Pastori was crisp in her bulerías, with Caracol-style fandangos to close.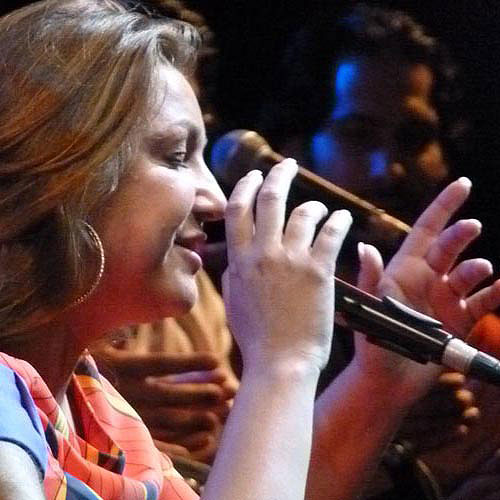 Niña Pastori
After the edible potaje was dished up, la Farruca came in for a landing.  This dynasty of dancers doesn't know how to do things half-way.  Alegrías as presentation woke us all up with a good selection of voices that also characterizes the family: Mara Rey, el Granaíno and Manuel el Zambullo, with Juan Requena on guitar.  Bulerías cante, and we recall the good impression el Granaíno made just a few months ago at the last Festival de Jerez.  And the astonishing Farruca laid down the law with her soleá.  All this despite the appalling sound of the stage – if only they would bring back unamplified stages.  Farruca was determined to hold nothing back, and to display her profound knowledge, strength and very flamenco criteria.  At the end, the numerous audience showed their approval and gratitude shooting to their feet as if on command.
A brief audiovisual presentation was shown of Habichuela, and an excellent group of local artists, with the noteworthy appearances of Antonio el Cuchara, current patriach of Utrera flamenco, Tomás de Perrate, who just made a new record and veteran Ana Peña among others, closed out this 55th Potaje Gitano de Utrera.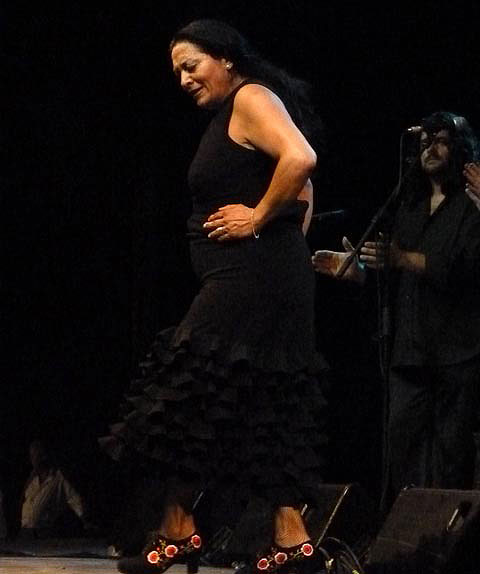 La Farruca
---