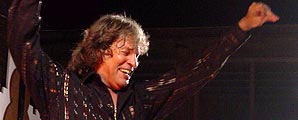 JUEVES FLAMENCO DE CÁDIZ
José Mercé, Mariana Cornejo, María Moreno
Thursday, August 26th, 2010. 2230h.
Baluarte de la Candelaria, Cádiz
THE "FESTIVAL DE CÁDIZ" ENDS WITH A BANG
Baluarte de la Candelaria. Cante: Mariana Cornejo, José Mercé. Guitar: Pascual de Lorca, Diego del Morao. Dance: María Moreno and company.
Text and photos: Estela Zatania
It's not called a "festival", but the seven weekly flamenco shows that take place each year at the beautiful Cádiz sea-wall called the Baluarte de la Candelaria, a series that has been held every year for the past 28, add up to a well-established world-class event which has featured flamenco's top stars.  It's an alternative festival format, no conferences or exhibits, just cante, dance and guitar of the highest quality.  And it works.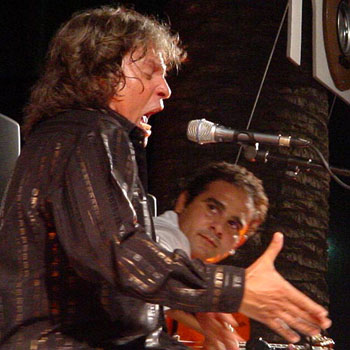 The series reached its climax this week after stars such as Pansequito, Aurora Vargas, Juan Villar, Cancanilla and Carmen de la Jara, among many others, had taken the big stage in previous weeks.  And the final gala would have pleased the most demanding flamenco fan with just two names: Mariana Cornejo, instinctive and expansive, matriarch and continuity of the glorious history of Cádiz cante which for years was in the doldrums, but is now beginning to make up for lost time.  José Mercé does the same for Jerez.  The only major cante star from a generation that was strangely paralyzed by the outsized talent and popularity of Camarón, Mercé is the absolute and undisputed leader of the pack among singers between the ages of 40 and 60. 
The night began with a young but experienced dancer, who spent years in the company of Eva Yerbabuena.  From Cádiz, but without being a "local talent", María Moreno makes a show of her reverence for classical flamenco, while maintaining a contemporary perspective.  The 1930's hairdo and the large embroidered shawl crossing her torso speak of the past, but the force of her personality, and the choreographic richness are of the new millennium.  With the excellent voices, also from Cádiz, of Miguel Rosendo and Emilio Florido, and Juan Campallo on guitar, she began with a briskly-paced soleá.  After a very brief rest, Moreno returned to the stage to lay out her version of old-style tangos which had the feel and aroma of neighborhood patios of Triana and Santa María, enhanced by the special power afforded by the a capella singing.  Intelligence and good taste.
Mariana de Cádiz, la Cornejo, is always a delight.  Her extravagantly Cádiz-tinged personality, and her instinctive grace and wit make her one of the few authentic voices left from that generation.  An out-sized red flower on the top of her head was the crown the queen of Cádiz cante wore to break in a new bulerías song written for her with reference to Cádiz and its singers, including Mariana herself.  A little repartee with the audience serves as prelude to alegrías and cantiñas, and all the while, the wonderful guitar of Pascual de Lorca providing the energy of Jerez.  Soleá comes and goes without much ado, but with the classic tangos of Cádiz, Mariana finds her thread again, and standing now she sings bulerías that include an assortment of tidbits that include Anda Jaleo, campanilleros and cuplé of Juan Villar and Perla among others.  
The spacious patio of the Baluarte was filled to the proverbial rafters (we're outdoors actually), and it was the fault of the next artist up.  José Mercé took the stage, graciously accepted the huge ovation which greeted him and sat down.  At 55, he has a foot in each of two worlds; on the one hand, the most classic sort of cante learned from his venerable family, and on the other, the world of pop music which he has managed to conquer with a series of wildly successful songs.  But he came to Cádiz with his best traditional repertoire, singing better than ever, with his unwavering capacity for delivering the goods with intensity that is almost scary.  Malagueña with a  bittersweet Jerez flavor, carefully controlling his powerful voice to avoid overkill.  Soleá, impeccable.  Mercé is a singer who has excellent days, good days and less good days, but never bad ones; his consistency is as admirable as it is surprising.  With alegrías and mirabrá, he once again demonstrates that it's not impossible for someone from the other side of the bay to give the right flavor to these forms, but it's in the siguiriyas where he reaches the sublime heights, delivering a kind of cante fans are desperately hungry for.  José's natural duende continues to flow in bulerías, all this ladies and gentlemen, and still there are people who would criticize him for his pop repertoire.  As far as I'm concerned he can sing the happy birthday song in his free time, or "Aire" which he saved for the encore.  The superb guitar of Diego del Morao accompanied wisely, although his father Moraíto was missed.
And thus ended the best flamenco series of the summer, hands down.
---