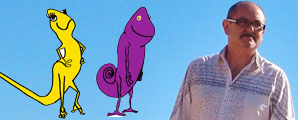 Interview with
JOSÉ LUIS MONTÓN
(FlamencoKids)

Interview: Pablo San Nicasio Ramos
"JUST LOOKING AT A COPY OF THIS RECORD, I'M HAPPY"                                                
He's into everything.  It just comes natural to him.  His best friend Mayte Martín says he's incredible, his capacity to work, his desire to get down to business and pull money out of so many projects that come his way.
And now José Luis Montón is embarking, along with his wife Teresa del Pozo, in the pioneering "Flamencokids".  A record conceived, worked and put together bit by bit, with no hurry, almost informally, among flamenco friends and without great expectations.  Wait and see, the most grateful people are going to be our future flamenco artists.  The ones who are children now.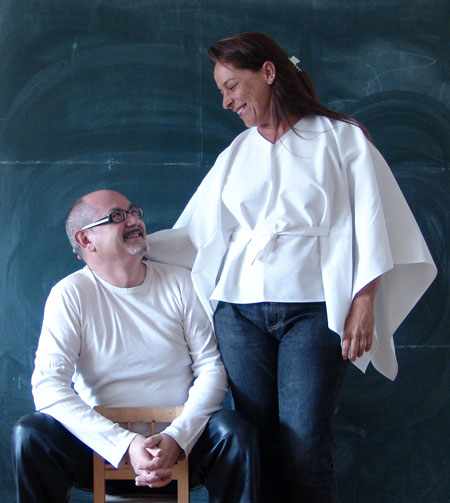 José Luis Montón and Teresa del Pozo
And all along I thought flamenco was music for grown-ups…
Well, that is of course the traditional image.  And even if there was a child performing, it was always a rare and special event.  Children with privileged artistic qualities who could act like grown-ups, like when Potito would sing with the voice of an old man…something strange, moving, but isolated and well-defined.  Children who have always heard a lot of flamenco, went on to express it as adults, with no problem.  The thing is, they were the "son of" or the "family of", flamenco relatives with a long tradition.  The rest of the children, the majority, were always apart from this music, and only came to know it after the passage of time.
Teresa is a school-teacher, and more or less at the heart of this…
More or less, no, she's the heart and soul.  Teresa, aside from being my wife, is a woman of many talents.  She's worked in film, she has a degree in fine art and is also a teacher.  And I won't say anything else, let her tell you.  In any case, like I said, Teresa worked with child prodigies, and with children who have learning difficulties, and I conceived this work for children based on those elements.  The verses are nearly all hers and her mother's, a really great writer.
So what happens…well, my vehicle of musical expression is flamenco, so it turned out to be a record of flamenco directed at children, almost without meaning it to be.  And the idea was to do something that wasn't the same old things they always do for kids.  We wanted something different, and we played it by ear, little by little, two years of work.  It's a project I didn't want to talk about until it was completely finished, and here it is.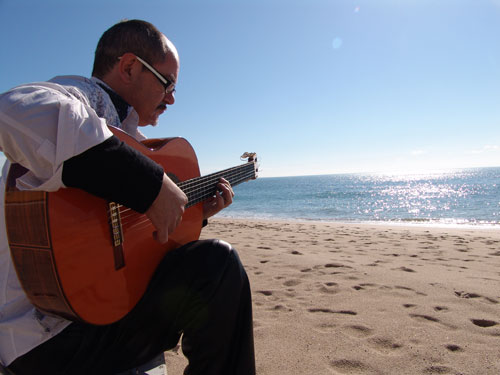 After two years, you must have been able to come out with exactly what you wanted…
All the details are very elaborated, it came out to our satisfaction.  There are ten pieces with ten short stories, each one with a different flamenco form and its own feeling.  Obviously we didn't put any siguiriyas, fandangos or taranta.  It's bulerías, tanguillos, rumba, alegrías, tangos…
The collaborators were also carefully chosen.  I would see that a certain person would be good for this or for that, and we went along doing it without any haste.  José Anillo, Carmina Cortés, Noemi Humanes, Gabriel de la Tomasa, Ana Salazar, Ramón el Piti, la Chirigota del Mago…I called each one of them and asked if they would lend me a hand.  This was a self-produced product, with no kind of support other than those who worked with me shoulder to shoulder.  But of course if I had to find a chirigota of Cádiz, I'd have called my buddy Ruibal, and he would have put me in contact with Selu…but I saw the budget would get out of hand, so I got my friends to pitch in, from the local fiestas and such…
And the designers.  Jesús Acevedo, a group Austrians…the truth is, making this record cost twice as much as a record would normally cost to make….lots of work, work, work.
And no support for the big record companies…
I remember when I recorded "De la Felicidad" with Ara Malikian, the "big record company", which shall go unnamed, hardly paid any attention.  And the recording was awarded an important prize, but instead of capitalizing on the prize, the record was shelved.  They hadn't printed a large number, so it didn't interest them, can you imagine?
So I had to be very careful about expenses.  And then I lost all control when it was the Chirigota, inviting everyone to dinner, it was the least I could do, and naturally I wasn't going to ask everyone to pay afterwards.  So I had to pay quite a few rounds…[laughter]
"I play falsetas any guitarist can play.  On this record it would be no problem to stick in a different guitarist, anyone at all, because the music is technically within reach.  Maybe I'm different from the rest in intent".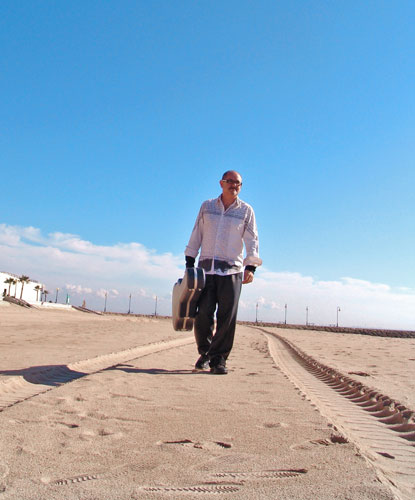 And you were pioneers…
It was by accident really. I didn't know we were doing anything pioneering, but that's how it was.  We're not trying to pull the wool over anyone's eyes here, passing off old stuff as new.  This is music made for kids.  Flamenco never addressed children, sad but true.  The emotions of flamenco have always been tragic or happy, but always in an adult context.  I don't know if it was because no one felt like doing something like this, or because it wasn't profitable…but there is a market.
There are some pieces with titles that seem more than just a coincidence…
I guess you mean "Camarón Opaco", the fourth piece.  We weren't actually thinking of José Monge, although it's true he was famous for his shyness and being a quiet type.  The fact is, Teresa based her stories on imaginary people from around Cádiz bay, the area of Rota where's she's spent so much time.
The record is full of winks to real people.  There's Camaleón Daltónico, who's incapable of fitting in with his surroundings, Erizo Bailarín who's not graceful but wants to dance, the Cangrejo Moro, two nanas that are just right for bed-time…
It's only logical, no?
Well, there are some nanas that rather than make you want to sleep, they keep you awake, with gut-wrenching singing and the cantaor giving his or her all.  They're fine, but they aren't relaxing.  These no, these are real lullabyes for fallling asleep.
Have you considered this work as a project that goes beyond a mere recording?
Of course.  This is a project which for the moment we'll present at the FNAC on the 12th, with corresponding recital.  It's a good idea for theaters, to bring whole schools.  As a record, although we have limited distribution, wherever it's offered it sells out.
Years hence, you might remember these things more than your work with the big record companies.
Just seeing this kind of record on the market makes me happy.  With all the work that went into it, all that's included…it's a rewarding feeling because it's one of my most complete pieces of work, where I've invested the most time.  Then, if there's a tour, and a lot of concerts, if we sell the records, well look, all the better, because I live from my projects.
The most interesting thing José Luis Montón has to offer is ideas, you do things out of the ordinary.
I play falsetas any guitarist can play.  On this record it would be no problem to stick in a different guitarist, anyone at all, because the music is technically within reach.  Maybe I'm different from the rest in intent.
I suppose you're already thinking of other things.
Yes, buy there isn't much I can say.  As I commented before, I don't like to say anything until I see it before my eyes.  For now, we'll present this with Mayte Martín on the 22nd at the Teatro Español…and we'll see how it goes…
Some of the characters from Flamenco Kids

Camarón Daltónico

Camarón Daltónico

El Camarón Opaco

La Urta mellada
More information, store on-line, audio:
---