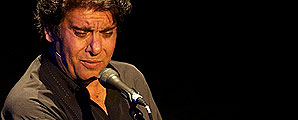 I DUBLIN FLAMENCO FESTIVAL
Helix Theatre, Dublín, Ireland
July 23 to 31, 2011
Text: Manuel Moraga
Photos: Damian Power
After months of hard work, nerves and above all, lots of faith, on July 23rd the curtain went up at Dublin's Helix Theater, and Rafaela Carrasco's company presented "De un Momento a Otro".  Thus began the first edition of a festival that has been quite a luxury for the Irish cultural scene, and for the promotion of flamenco in this part of the world.  In addition to Rafaela, the Camerata Flamenco Project, Antonio Campos, Manuel de Paula and the Company of María del Mar Moreno opened the doors to flamenco in Dublin.
This first Dublin Flamenco Festival comes from the initiative of the El Indalo Peña Flamenca under the direction of Natalia Moyano and Damian Power.  The program aimed to cover the existing wide range of styles, from the most traditional flamenco, to the most contemporary aesthetic.  And the offering was rounded out with dance and rhythm courses, and an introduction to flamenco.
1st Part: Exploration
Rafaela Carrasco is a dance manual that serves as a reference for anyone wishing to take up dancing, perfect their art or simply enjoy being a spectator.  Her style is unmistakable, which means she makes a mark all her own, in other words, she not only dances, but constructs a biography and makes a creative and interpretive universe all her own.  Well backed-up by guitarists Cano and Jesús Torres, the singing of Antonio Campos and the percussion of Luis Amador, Rafaela showed a good part of the markers that define her approach to flamenco dance.  This Seville dancer is able to squeeze out the possibilities of space and time in dance, that is to say, to seek forms in the empty space that surrounds her as she literally dances through time.  This is what she demonstrated with "De un Momento a Otro" on Saturday the 23rd.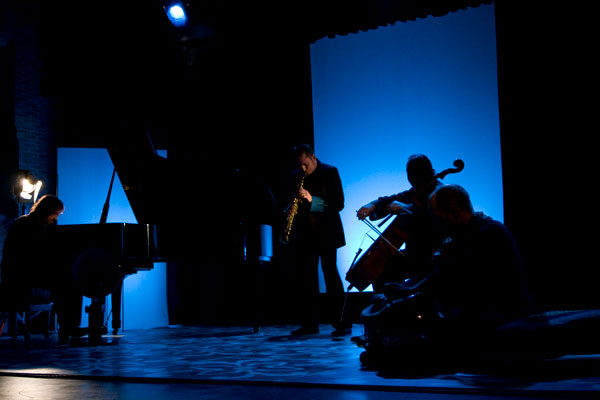 Camerata Flamenco Project
Sunday the 24th brought two welcome surprises.  Camerata Flamenco Project, a band of accomplished musicians, opened the program.  Musicians with a capital M, with different backgrounds, but who come together in flamenco territory via different paths.  The one most directly related to flamenco is pianist Pablo Suárez, from whom we hope to have a solo recording some day.  Camerata itself has a record in the works, their first recording to see the light.  Anyone with a minimum of sensitivity has to enjoy this group's music, which is simply exquisite.  In addition they had the collaboration of dancer Concha Jareño in whose identity we find this exploration of other kinds of movements and concepts, aside from the purely flamenco.  It's surprising how in such a short time that was available to prepare this dialogue, Jareño was able to give graphic representation to the music of Camerata.  If the record has the quality and warmth we saw in Dublin, and it surely has, it will be a special opportunity to enjoy the beauty of this cross of languages.  In the end, Antonio Campos also joined in as guest artist, bringing the flamenco touch with his gypsy voice.  But the best of Antonio Campos was yet to come.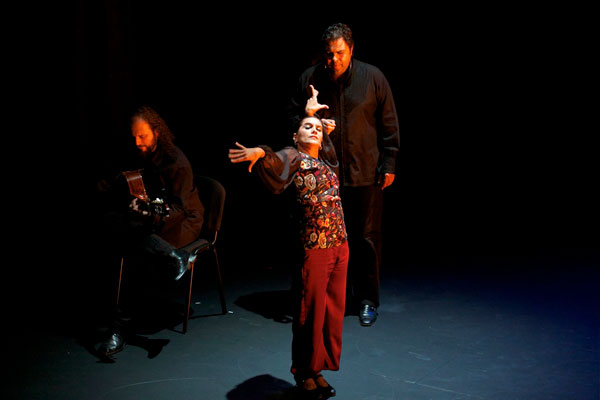 Cano, Rafaela Carrasco, Antonio Campos
The second part of Sunday's program starred the Granada singer in a presentation titled "5 Jotas" and in which he shared the stage with guitarists Juan Antonio Suárez Cano and Jesús Torres, the cellist of Camerata, José Luis López and Pablo Suárez, also of Camerata, on piano.  On this occasion there was the special collaboration of Rafaela Carrasco.  The show had two parts, a before and after.  In the first, Antonio Campos took on the universe of Lorca with pieces like Cuatro Muleros, Café de Chinitas, etc.  And in the second, the singer offered a repertoire of traditional flamenco singing.  The "before and after" was the taranto.  Antonio was singing well, feeling good, but in the taranto, after a very expressive bit of music by Jesús Torres, Antonio bared his soul, he let open the floodgates of emotion and cried, literally, through the second verse.  It was an unforgettable moment, the kind that stays in your heart forever.  On stage a special energy came from Rafaela Carrasco who knew how to give continuity.  If the day before she had danced with great professionalism, now, with Antonio Campos, she was uninhibited, free-wheeling and magical.
2nd part: Tradition
The most serious and traditional facet of the festival was shown the second weekend.  Manuel de Paula, probably the person who can today best defend the flamenco of his town of Lebrija, began with soleá with verses of Antonio Machado.  Thus began the recital of a selection of styles and varied forms.  Cantiñas, tientos tangos, tarantos, bulerías of his own musical creation although many singers interpret them without knowing the source, impressive siguiriyas and romances.  The guitar of José Luis Medina, and the palmas of Marcos Vargas and Manuel Valencia backed up some great moments in Dublin's Helix Theater.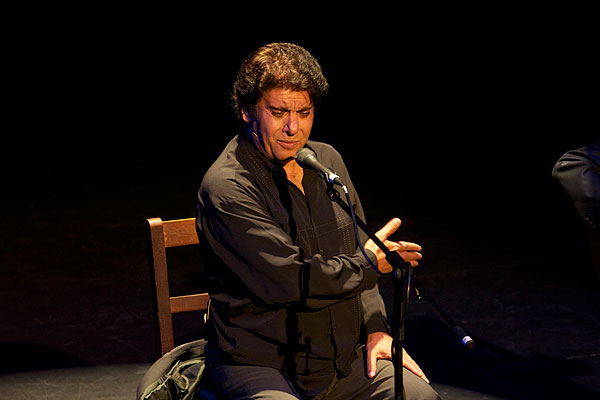 Manuel de Paula
More great moments were shared Sunday with the company of María del Mar Moreno.  The Jerez approach to dance, guitar and cante as expressed fluidly and with absolute sincerity in this dancer's work.  She believes in what she does, and that's her personal challenge: to continue in her line without falling into monotony.  In actual fact, she's not short on inspiration.  The clout Jerez carries in flamenco is her almost limitless prime resource.  Antonio Malena and David Carpio added gravity and depth to the singing, as did Santiago Moreno and el Malena on guitar, and Luis de la Tota keeping rhythm.  Jerez and Lebrija, two geographically close towns, with strong ties between them – their gypsy families have woven a tangle of cross-influences that today are hard to sort out, yet which present different concepts when it comes to understanding and expressing flamenco.  This is one of the main justifications for flamenco being a World Cultural Heritage as it was recently declared.
Educational activities
Jerónimo Utrilla gave his personal classes in palmas, as well as a series of introductory talks about the world of flamenco.  This music teacher has developed a special method that is easy for everyone, and which he not only takes to schools and festivals throughout the world, but which have been recorded on DVD.  He is also the author of the book "El Flamenco se Aprende".  This formative facet of the festival was rounded out with dance courses given by Rafaela Carrasco, Concha Jareño and María del Mar Moreno.
Media and resources
In this way the Dublin Flamenco Festival kicked off with its first edition.  Without the grants and public support other international festivals receive, the Indalo Flamenco Peña – headed by Natalia Moyano and Damian Power – managed to open a new space for flamenco.  And they did it with intelligence and professionalism, and those of us who love this art-form can all feel proud.  One bit of information that augurs well for the continuity of the Festival de Dublín, is the interest triggered in both Spanish and Irish media.  In addition to this magazine you are reading, Deflamenco.com, the festival was also followed by Radio Exterior de España (via the program Callejón del Cante), Irish radio such as RTE Radio 1 (the government-run channel of Ireland), newspapers such as The Dubliner, Irish Independent, The Irish Times and The Guardian, in addition to digital media like Flamencotv, Guitarristasonline and Ireland.com among many others.
These days it's not easy to find backers for this kind of activity so far-removed from the regular flamenco habitat (no flamenco festival has ever been held in Dublin), so it is only natural to thank the contribution of The Arts Council, the European Union (via Fondos Feder), the Instituto Andaluz del Flamenco, The Liffey Trust, Walton's New School of Music and The Best Western Dublin Skylon Hotel among others.
We wish long life and success to this new event which has been firmly incorporated into the international flamenco agenda.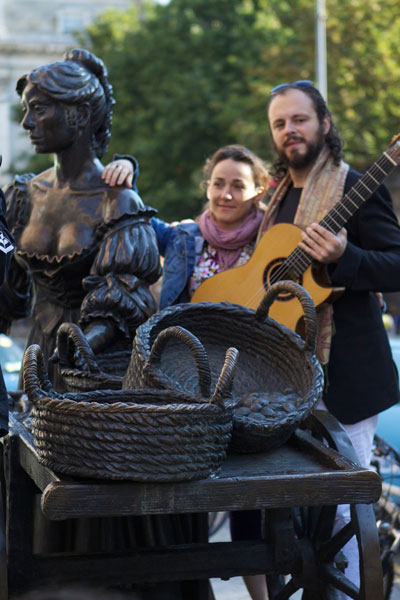 Concha Jareño & Cano en Molly Malone
---