Text: José Manuel Gómez Gufi
Photos: Rafael Manjavacas
Flamenco Monumental is born in Madrid.
Teatro Monumental. December 12th and 13th, 2015.
A place for glory
A new festival has been born in Madrid with an apparently old format, that of the tradotional festival our elders talk about wherein a constellation of stars each has his or her 15 minutes on stage.  The thing is, only old-timers will remember that at the Monumental Theater great shows were staged of rock, jazz and flamenco.  An event organized by Juan Verdú who recently published his book "El jardín del Flamenco" in which he talks about his friendship with Sabicas and Enrique Morente, and the starting up of memorable initiatives such as the Cumbres Flamencas, the concerts of Camarón at the Goya sports venue, the series in the Retiro of the 1980's, the flamenco Mondays at the Revolver, the Sala Caracol in the 90's and most recently the Suma Flamenca.  Like nearly everything in culture in this country, Verdú is beginning anew and is counting on the artists' complicity.
The Monumental Theater is the home turf of the RTVE, so the venue was actually on loan.  The first night José Mercé came to the rescue of Verdú whom one spectator verbally attacked for the delay in getting the show underway for the first edition of this festival.  On a stage without logotypes or sponsors, he began with soleá, and continued with free-form fandangos.

Gerardo Núñez began with rondeñas and announced "whatever comes to mind", and from  his tremendous guitar came jazz harmonies and improvisation with the complicity of Cepillo, a percussionist who commands the skill of dynamics and silence.  We were left with the feeling that Gerardo needs to be paid more attention, listened to more carefully and more often.
The impeccable Carmen Linares had her night, beginning in Moguer with the verses of Juan Ramón Jiménez, and it was also the night of La Moneta, a dancer who sings with her feet, reminding us she belongs to the school of racial force, according to the categories laid out by Juan Vergillos, who distinguishes between "being" and "doing", and Moneta is definitely in the category of doing.  As we said, Moneta sings with her feet for the very modern guitar-playing of Luis Mariano.  Then it was the singers' turn with the contrasting voices of Juan Ángel and Sergio Gómez "El Colorao" to bring us back to classic flamenco and trigger well-deserved cheering and applause.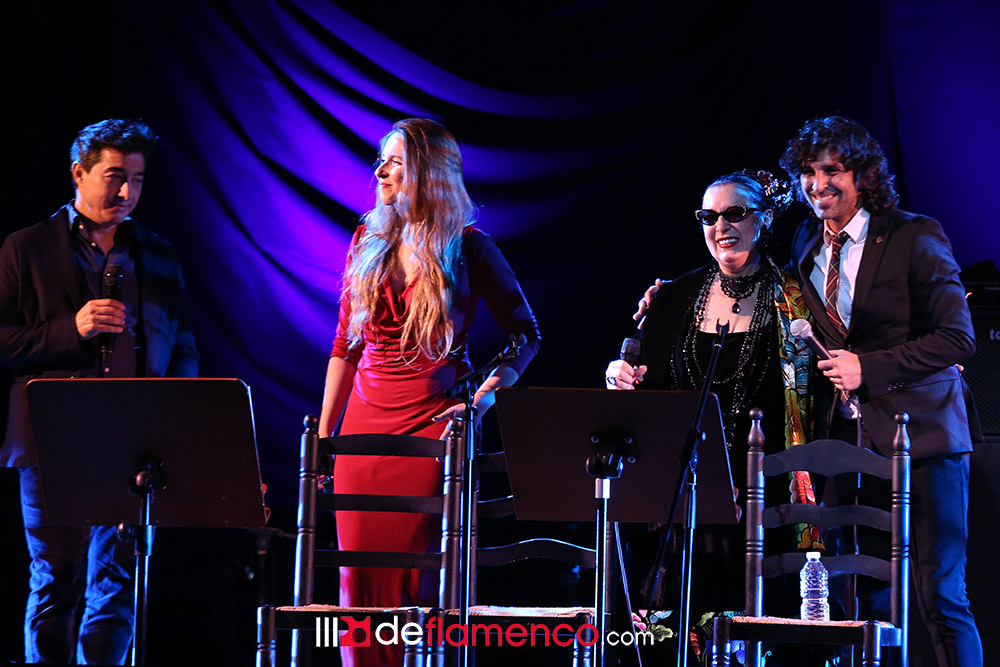 AND THAT'S WHAT FIVE YEARS FEELS LIKE
The second night began with the revival of the trio made up of Carles Benavent, Jorge Pardo and Tino di Geraldo, pulling out a mini-recital and bringing back that sound, that swing and that compás, half flamenco jazz, half jazz flamenco.  This time the presenters appeared.  First Juan Verdú with José Manuel Gamboa, then Juan Luis Cano, who ceded the stage to Martirio who reminded us it had been five years since Enrique Morente left us, and Raúl Rodríguez and his flamenco tres with the guitar of Mario Más, followed in the line of Enrique: "carte blanche to invent something new", and he presented some fandangos from the colonial era before anyone was dreaming of flamenco, and the strings recalled ancestors like Ravi Shankar from India, Zyryab, Al Andalus and Seville rock musicians from the Alameda.  Raúl spoke with dignity, and one of his interpretations was applauded with deafening silence.  It was as if no one wanted to miss a single note.  He closed with "Negro Curro", which sounded different without the band, and without pelvic movement.  As he was leaving the stage, some wiseguy shouted out that he should change the chorus to "looking for work".
Rocío Márquez was accompanied by Miguel Ángel Cortés, with the addition of Raúl for guajira.  It wasn't her best night, dealing with a developing cold.  Arcángel ended with Dani de Morón in an apparent upstaging while the singer was doing his thing, the guitarist was doing his for quite some time, while Arcángel sang verses of Morente and Leonard Cohen, ending with "Aurora de Nueva York".  Right before that, Juan Valderrama defended his father in every sense of the word, and brought part of the cast together to interpret "El emigrante" , and once again, Martirio and Arcángel were outstanding.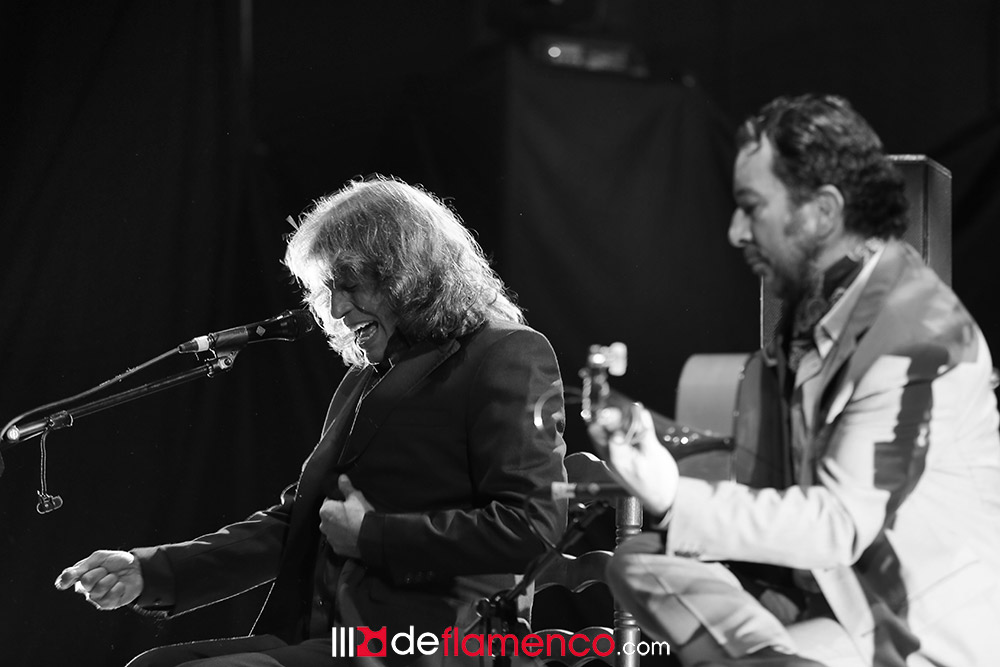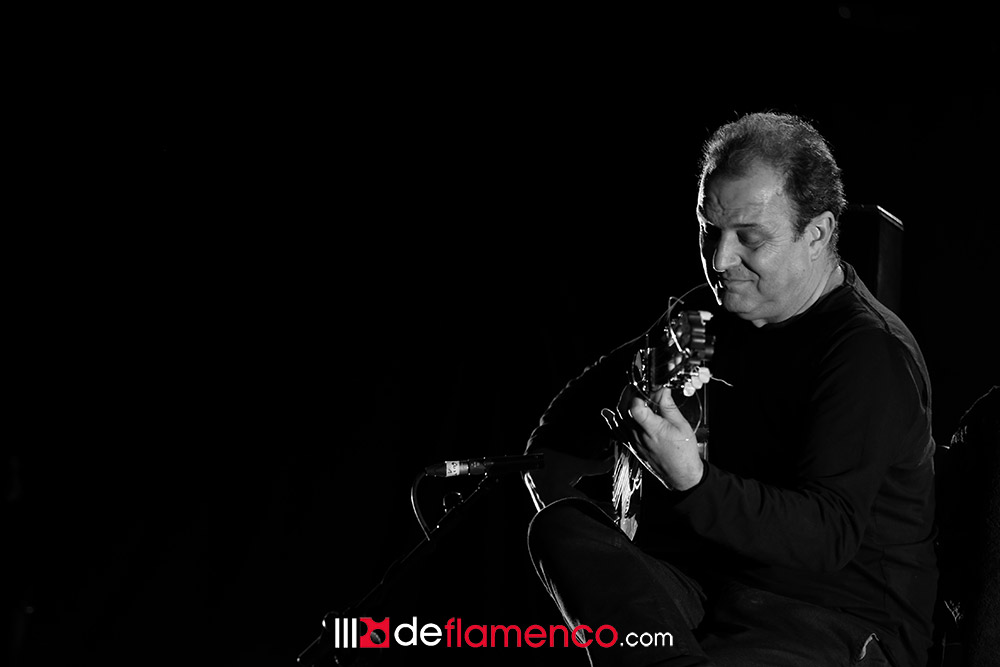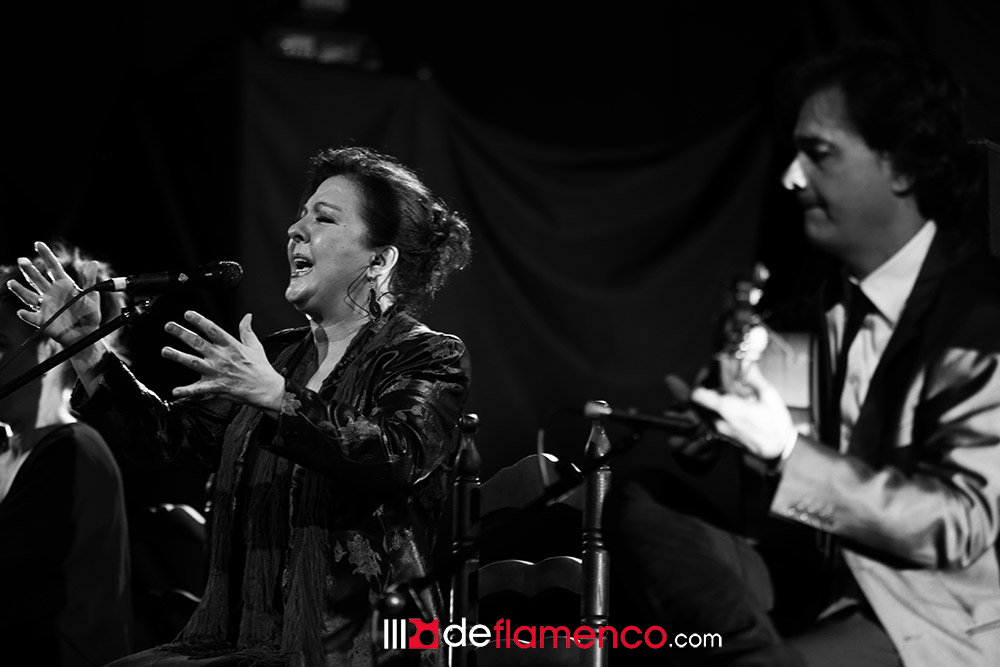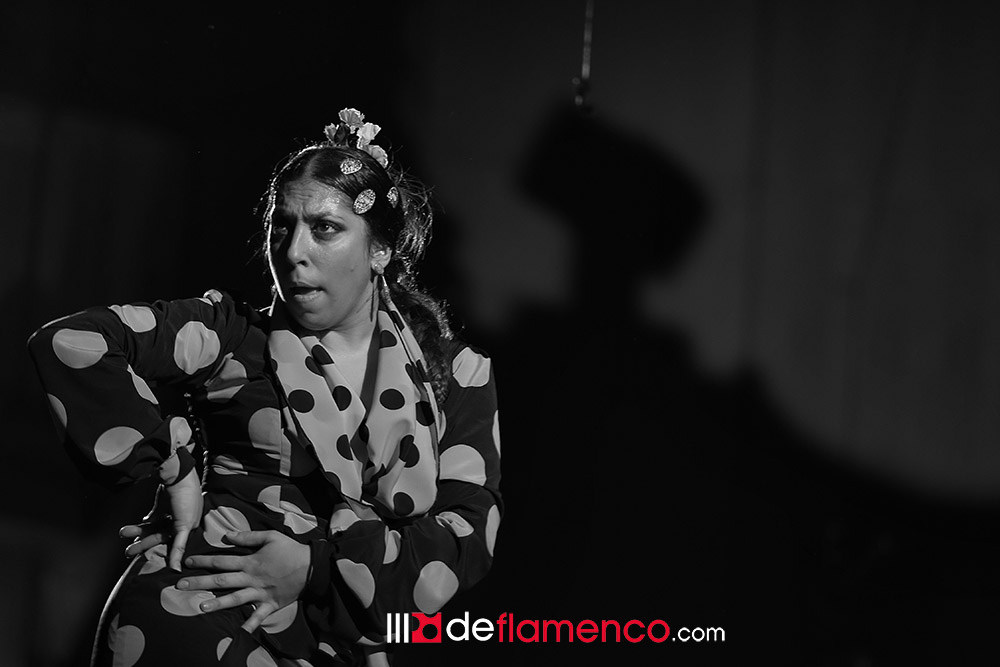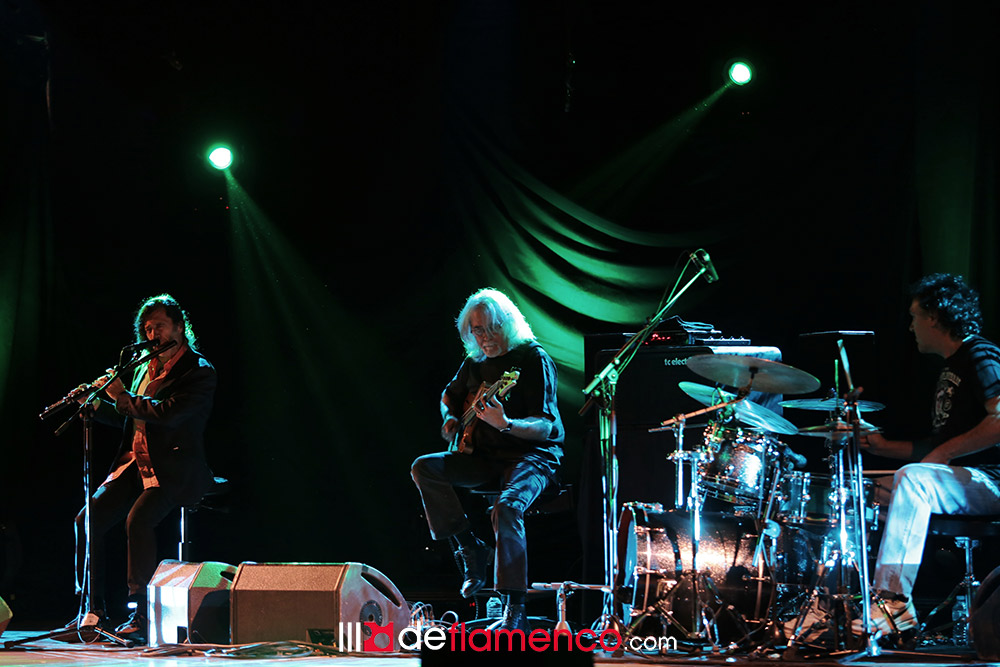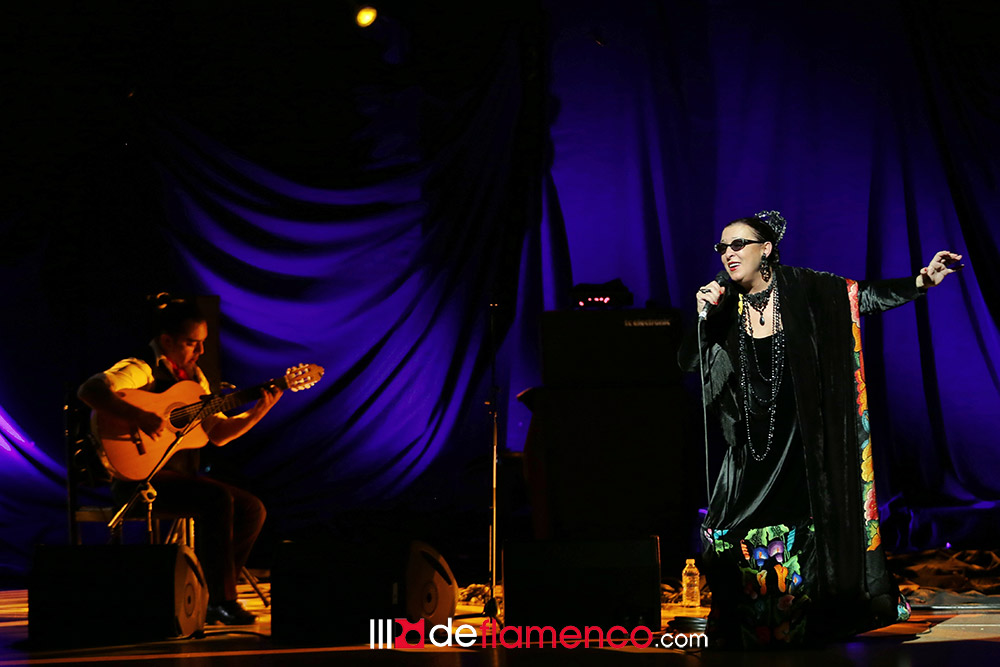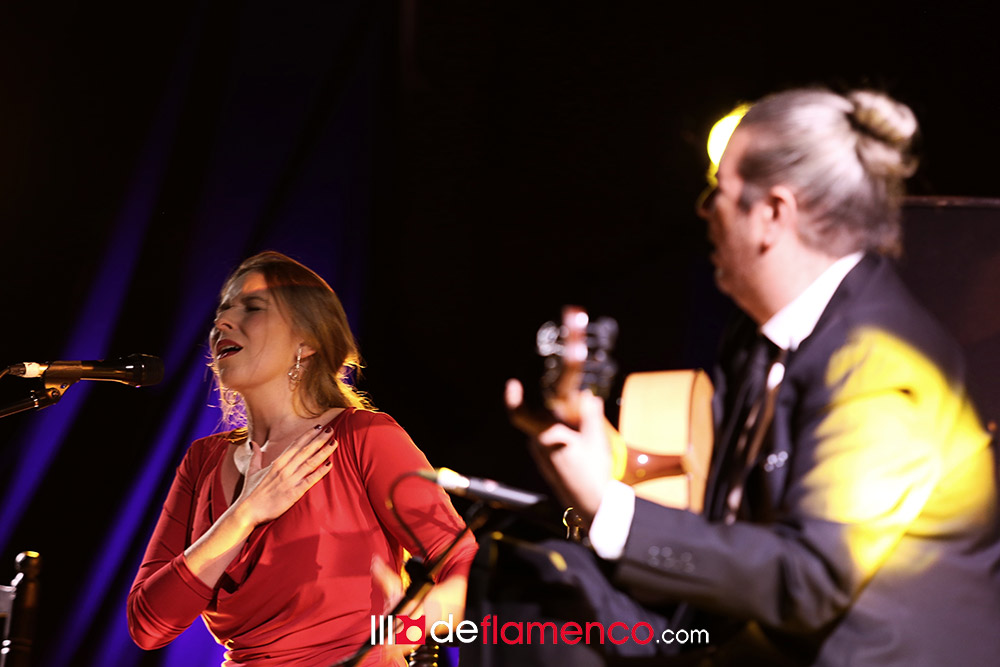 ---