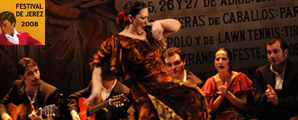 "¡Viva Jerez!"
Friday, February 22nd, 2008. 9:00pm Teatro Villamarta, Jerez.
Text: Estela Zatania
Photo: © Ana Palma
LET THE FIESTA BEGIN…
Dance: María del Mar Moreno, Mercedes Ruiz (guest artists), Miguel Téllez, Angelita Gómez (special collaboration). Cante: Fernando Terremoto (guest artist), Antonio Malena, Londro, Mateo Soleá, El Pescaílla. Guitar: Santiago Lara, Santiago Moreno, Manuel Valencia Pascual de Lorca. Piano: José Zarzana. Percussion: Pedro Navarro. Palmas: Luis de la Tota. With Luisa Terremoto, Rosario, Juani Peña, La Bastiana. Original idea, libretto, script: Francisco López. Music coordinator: Paco Cepero. Choreography: Javier Latorre.
The 2008 edition of the Festival de Jerez has cut the inaugural ribbon with a production of its own sponsored by the Agencia Andaluza para el Desarrollo del Flamenco.  As is the custom, the first show of the two-week series dedicated to flamenco and Spanish dance, was a calling-card for Jerez with strong localist references.
Jerez loves itself.  All the towns and cities of the world love themselves.  But Jerez, more so.  And we love Jerez for loving itself so much, because you can't help but admire that kind of innocence.  Nevertheless, that same ingenuousness can be an obstacle when it comes to constructing a coherent, balanced stage presentation.  Every artist knows the worst artistic crime is falling in love with one's own work.
"¡Viva Jerez!" exhibits the best intentions of a series of outstanding professionals: Javier Latorre did the choreography, Paco Cepero coordinated the music and Francisco López directed and coordinated the entire project.  If you take the elements individually, each of the respective directors did a fine job.  But despite some excellent moments, it's a very uneven show.  Some intensely and effectively staged numbers compete with others that fall like a tedious ton of bricks.  A long nana and trilleras, both a capella, have us looking at our watches when the show has barely begun, and nine or ten martinetes in a row, without dance, is excessive, in spite of the admirable interpretation of Fernando Terremoto and the other singers.  Suddenly, a short verdiales with dance leaves you scratching your head…verdiales?…without alleviating the overall glacial pace, and María del Mar's siguiriyas would have been twice as effective with half the length.  When finally Luisa Terremoto shouts out "that's enough doom and gloom, long live Jerez!", you sense a collective sigh of relief, and the antidote for all the melancholy is street-wise tanguillos with the delightful comic dance of Luis de la Tota.
The ambience of a typical turn-of-the-century café cantante is created for tangos of Granada, Triana, Piyayo and Extremadura.  One of the expressed aims of the director was to "tear down artificial geographic frontiers […], as well as creative and existential ones".  The musical diversity is welcome, and this is where we detect the wise control of Paco Cepero.  There's a milonga, Terremoto's malagueñas, a Caracol zambra in which María del Mar recreates the histrionic dance of Lola Flores, there's magic when Angelita Gómez "dances" sevillanas seated on a suitcase as she waits for a flight to Tokyo, there's a light-hearted version of the romance of Gerineldo, María del Mar's tablao-style interpretation of "Piensa en Mí" to represent a fiesta at the Jerez fair and Pescaílla's wonderfully comic number in which he sings and dances bulerías on one single floor tile that he himself provides.  Special mention is in order for Miguel Téllez, definitely a dancer worthy of attention.
But the big winner of the evening, the person who stole all the applause, was Mercedes Ruiz, with her elegant and very flamenco dance.  She is one of the few current dancers who manages to translate traditional flamenco dance for contemporary taste, without making a fuss about it or resorting to contrivances, with good taste and intelligence.  Dressed in an off-white bata de cola, wrapped in a large shawl, she gave us classic alegrías which at midway through the show, indeed, right in the middle of the dance, already had the audience on its feet, cheering and clapping in rhythm.  Her very slim figure allows and obliges her to discover new forms that never cease to fascinate.
This show would benefit from cutting back on dead weight to make the numerous highlights shine all the more brightly.  But the inevitable fiesta finale with the round ladies rights a lot of  wrongs, and the overall impression is positive.
---