Text: Estela Zatania
Photos: Ana Palma
Wednesday, March 6th, 2013. Jerez de la Frontera
Special 17th Festival de Jerez – All the information

PERCUSSION, DANCE AND BARE-BONES CANTE
COMPAÑÍA RAFAELA CARRASCO "CON LA MÚSICA EN OTRA PARTE"
Teatro Villamarta, 9:00pm
Dancers: Pedro Córdoba, David Coria, José M. Maldonado, Ricardo López, Rafaela Carrasco. Cante: Antonio Campos. Guitar: Jesús Torrres, Juan Antonio Suárez "Cano". Palmas: José Miguel Téllez. Special collaboration: Camerata Flamenco Project. Piano: Pablo Suárez, Cello: José Luis López. Flute and sax: Ramiro Obedman. Upright bass: José Miguel Garzón. Percussion: Karo Sampela.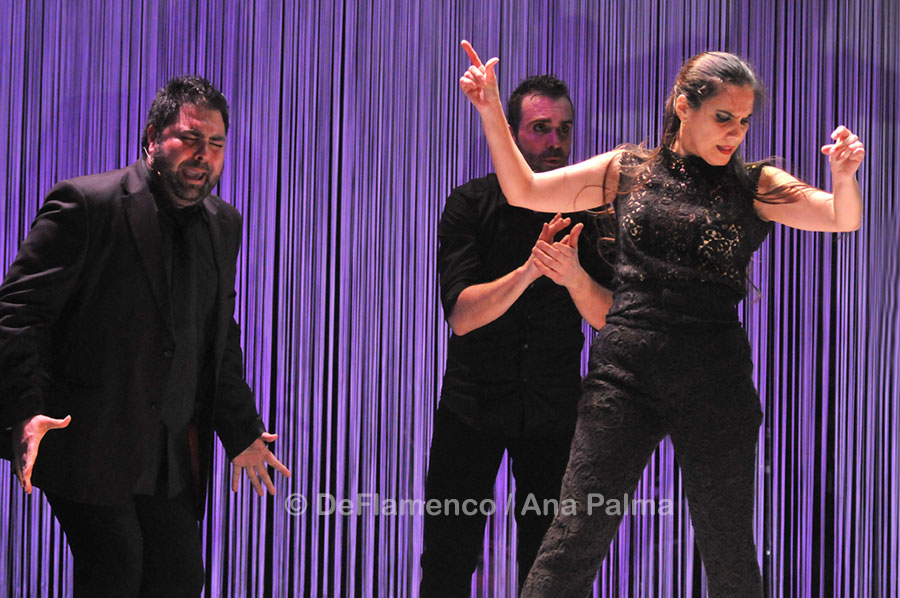 Seville dancer Rafaela Carrasco last night presented her newest work, "Con la Música en Otra Parte".  That's not a typographical error in the Spanish cliché that would normally translate as "elsewhere with the music".  Here, it's written to mean "with the music elsewhere", to reflect Rafaela's intentions.  In fact, a great deal of the show is interpreted with no music at all, but don't think that means it has an old-fashioned feel, because the human voice is also extremely scarce.  What's left are geometric poses and footwork combinations, the virtuoso elements which are Carrasco's path to her flamenco identity.  These are priorities that also appear in the group choreographies of the four male dancers.
 
The libretto makes much of the relevance of "color", but "Con la Música en Otra Parte" is yet another work in the current fashion of black and grey.  The one number no one will ever forget, was a contemporary dance in pitch-black darkness in which the dancers wear self-illuminated shoes that are independently controlled, giving a sort of chorus-line effect, an entertaining detail that was a respite from the austerity of the rest of the work.
 
An original stage-set in the form of a curtain of long fringe where the artists' shadows were projected, or which almost allowed you to see what was behind was an effective detail.  Also noteworthy was the saxophone which substituted for the vocals and music of bulerías, an interesting farruca, the brilliant guitar-playing of Jesús Torres, the music of Camerata Flamenco Project, the final number that included a wink to us critics and the splendid though underused singing of Antonio Campos.
---
RICARDO FERNÁNDEZ
Ciclo:  Los conciertos de palacio
Palacio Villavicencio, 7:00pm
Ricardo Fernández from central Spain made a clean sweep at the contest of Las Minas last year, carrying off several important prizes, including the coveted Lámpara Minera, as if it were the most natural thing in the world for an outsider.  However, it wasn't only his singing that caught the judges' attention, but also the fact that this man accompanies himself on guitar, and does so convincingly.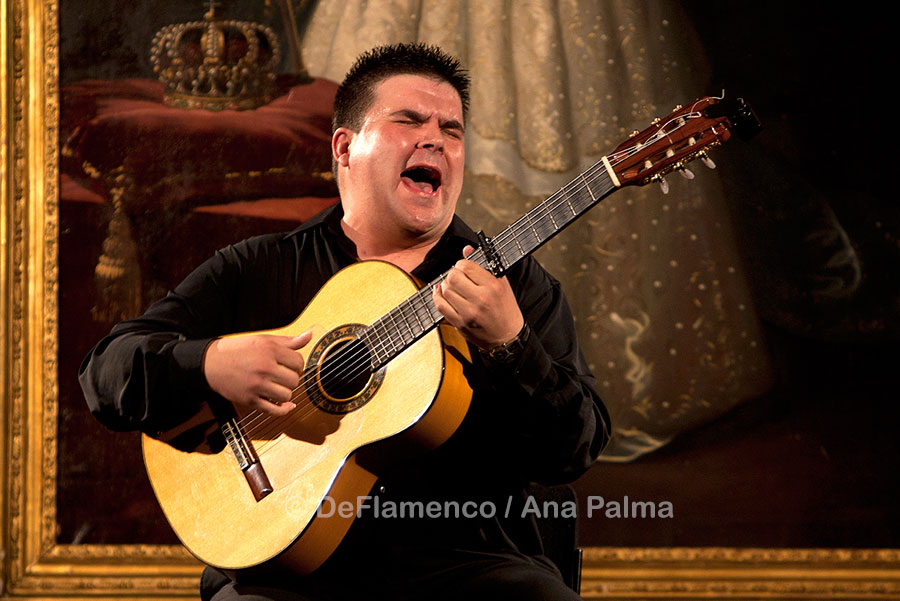 here have been many singers who accompanied themselves, but normally they have referred that someone else do the honors in order to concentrate on their singing, or have limited themselves to the lighter forms.  Ricardo Fernández is unique in the world of flamenco because he accompanies himself by his own choice.
 
He opened his recital with soleá, and the first thing you notice is the perfect separation of functions.  With an assortment of styles from Alcalá, Utrera and Cádiz, his cante is shaded and sensitively phrased, and the guitar adds an intelligent and tasteful backdrop.  Malagueña, petenera, fandangos and minera were equally successful, alegrías and bulerías without palmas or backup of any kind were less so, but admirable all the same.  A brief guitar introduction for tonás underscored the mayor key of these forms.
 
He prefaced each cante with a brief explanation, which was a nice touch.  His playing is in the most traditional line, with strums and techniques from several decades ago.  In the conventional arrangement of singer and guitarist, the music is a complement.  Ricardo Fernández turns the guitar into an extension and reiteration of his singing.
 
At least he can't pin the blame on the guitarist. 
---
JUAN PARRA, ANA GARCÍA 'ANAMARGA'
Ciclo:  Paso a dos, maestros y jóvenes
Sala Compañía, 12 midnight
At the Sala Compañía, another installment of the series "Paso a dos, maestros y jóvenes", on this occasion, with the beloved Jerez dance teacher, Juan Parra, and young Cordoban Ana García, who goes by the name "Anamarga".
Parra, the elegant veteran, measured and deliberate, with beautiful clarity of movement, danced classic alegrías and siguiriyas, the latter, with castanets and dramatic percussion.  Anamarga was competent in the taranto, and wonderful in the soleá where she exhibited her subtly sensual flamenco style.
A bulerías finale with the trio of singers Rosi la Divi, Rafael Reguera and Luis Vargas "El Mono", and the guitars of Miguel Pérez and Jesús Álvarez closed out the show.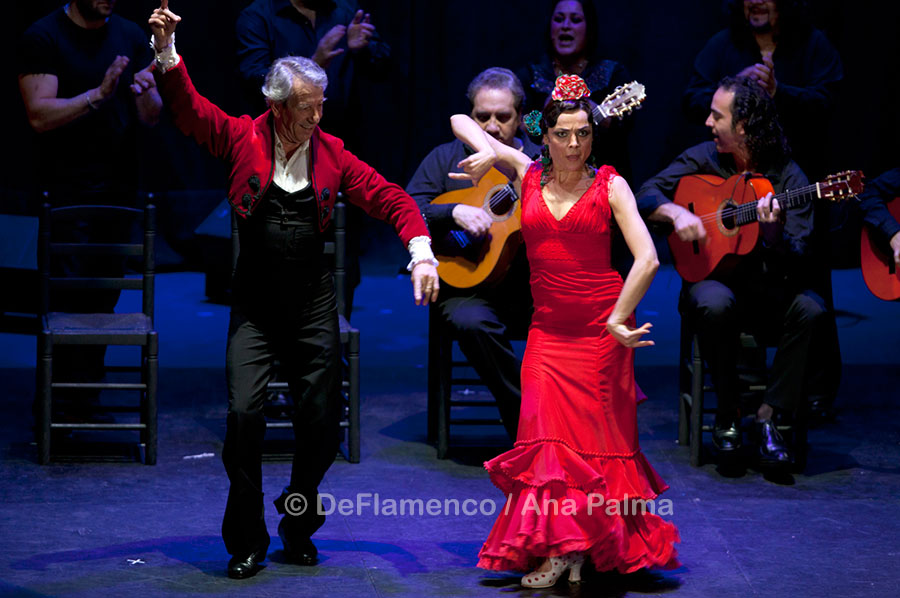 ---