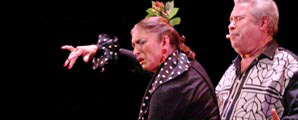 FESTIVAL DE FLAMENCO DE NIMES
Homenaje a José Galván
Friday, January 23rd, 2009. 9.00pm Teatro de Nimes (France)
Dance: José Galván, Eugenia de los Reyes, Israel Galván, Pastora Galván.
Cante: David Lagos, José Valencia, Javier Rivera.
Guitar: Alfredo Lagos, Rafael Rodríguez, Pedro Sierra.
Text: Estela Zatania
Photos: Copyright Jean-Louis DUZERT
Things that happen at the Festival de Nimes.  The historic first of bringing together Israel Galván's entire family in one same show on the same stage to pay tribute to patriarch José Galán caught the fancy of the packed house at the Nimes theater on Friday night.
The image and artistic personality of Israel Galván have been known internationally for years.  For this reason, the chance to see the source, the roots that feed the audacious creativity that so fascinates the dancer's admirers, was irresistible.  On this same stage one year ago, José Galván, Israel's father, pressed the buttons of French flamenco fans and the audience went wild with his brief appearance in a tribute to Pepe Linares.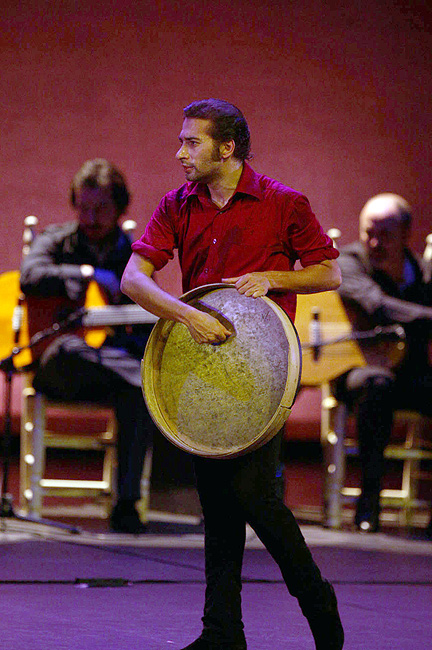 Long before large format companies existed, when there was no public sponsorship, and no tours of Japan, when even the concept of "works" hardly existed, but rather you danced to cante and guitar hoping someone would pay you for it, Galván senior developed a dignified career in tablaos, night-clubs and the occasional tour of North or South America.  He teamed up artistically and sentimentally with dancer Eugenia de los Reyes, and for more than three decades the couple has been running one of the most prestigious dance schools in the country.  The story of Israel's background is similar to that of other current Seville dancers, such as Andrés Marín via his father of the same name, or Pepe Torres via his uncles Pepe Ríos and Andorrano.  Flamenco times have changed, and dance is served in a different way, but the guiding force of preceding generations keeps the trip right on course.
And what a trip.  In addition to the extraordinary Israel, is his extraordinary sister Pastora, who, despite the mega personality of her brother, has managed to carve out a place for herself.  The work "La Francesa" which Israel mounted for his sister, a surprising tour de force, was her artistic coming-out party and professional consolidation, and ever since, Pastora shines with a light of her own in various works and collaborations, most recently as guest artist with Diego Carrasco at the Dutch Flamenco Biennale.
A sort of presentation number to tangos – first, Israel, then, Pastora, then their father and finally the three together – in addition to being absolutely historic and moving, is so brimming with art you wish you had another set of eyes to take it all in.  The Galvanic concept is on view in three stages of formation, without it seeming to be a journey from past to present.  It could more aptly be described as three facets of a single philosophy that complement and reinforce one another.
But the night belongs to José Galván, and with a brilliant back-up that includes singers David Lagos, José Valencia and Javier Rivera, and guitarists Alfredo Lagos, Rafael Rodríguez and Pedro Sierra, he delivers his soleá dance.  Strength, both physical and spiritual, brilliant details, aplomb and maturity; "masterful" is the word that comes to mind.  Then, Pastora in a pistachio bata de cola with pink fringed scarf to lay out her alegrías cantiñas.  You spot moments of Israel in her dancing, but always passed through the creative sieve of Pastora who does not move in anyone's shadow.
Israel arrives on the scene to display the complete catalogue of his famous moves, with a couple of new things as well.  He works the profiles constructing hieroglyphic forms, employs occasional touches of humor, and with the innocence of a small boy appears to be saying "look what I can do!"
And now it's the mother's turn, Eugenia de los Reyes, dark and intense.  José Galván surprises us all singing "Limosno de Amores" for her, and quite nicely thank you.  It's a magic moment, the two veterans who have transmitted their knowledge to so many, the husband singing for his wife's temperamental dancing.
Some lesser numbers lead to tonás in the voice of David Lagos to prologue a lengthy siguiriyas of José Galván.  The dancer's presence fills the whole theater, and the audience is hanging on every moment.  Galván bows, full of emotion and gratitude, and announces a fiesta finale that incorporates various members of the family, Israel's wife, brother and cousin, each one with a little bulerías dance, and to finish melting our hearts, the little grandson, Israel's son, pulls off some moves alongside his grandpa, Israel sings, and then dances with his wife, José sings to his other son, high flamenco adventure is flowing and no doubt whatsoever remains that we can speak of a "Galván dynasty".
There's no mistaking the message; art isn't in the blood but rather it exists wherever it is loved and cultivated.  Things that happen at the Festival de Nimes.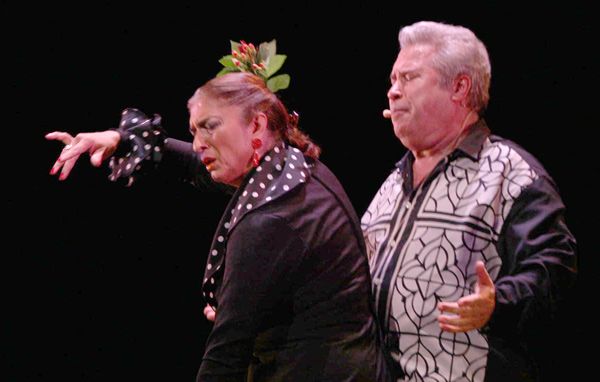 ---