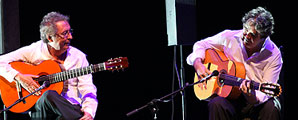 Los Veranos de la Villa 2010
Enrique de Melchor & Rafael Riqueni
August 12th 2010 – Jardines de Sabatini – Madrid
Enrique de Melchor: guitar. Rafael Riqueni: guitar. Luismi: segunda guitarra. El Guille: percusiones. Leo Triviño: Cante. Carine Amaya: dance. Juan Parrilla: flauta. Lola y Marta Heredia: coros y palmas     
Text: Pablo San Nicasio Ramos
Photos: Rafael Manjavacas
Flashes of brilliance…in the distance
The "Lágrimas de San Lorenzo" are the shooting stars of August.  Fleeting sparks of the universe that illuminate little and infrequently, and you have to keep an eye out lest you miss a rare show that disappears in the night.
The series Veranos de la Villa whose program has this year gone up a notch in ostentation, last night, on paper at least, offered a golden opportunity for guitar fans.  The kind who wait patiently for juicy moments like this.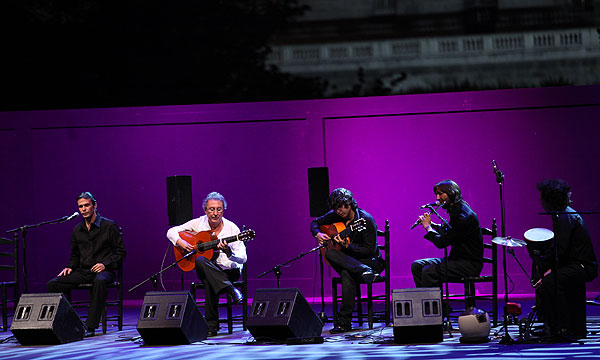 On-stage were two major constellations of the guitar.  Two old hands who have seen better days due to different reasons, but still in possession of secrets that make this an art-form that sometimes shines brightly or even dazzle.
It was quite an occasion to have Rafael Riqueni on such an important stage.  If only recently we saw him almost incognito alongside Enrique Morente, last night it was time to be the guest artist and go beyond mere back-up presence.
For non-flamenco-followers, Riqueni no longer has a name, he's a star from long ago, the end of the nineteen-eighties.
Yes, he might have popped up here and there, but it didn't register.  Nevertheless, for guitarists and flamenco fans, Riqueni is an angel who fell flat on his face in a world that does not pertain to him.  Sensitivity that goes beyond the norm, and one of the greatest living flamenco artists.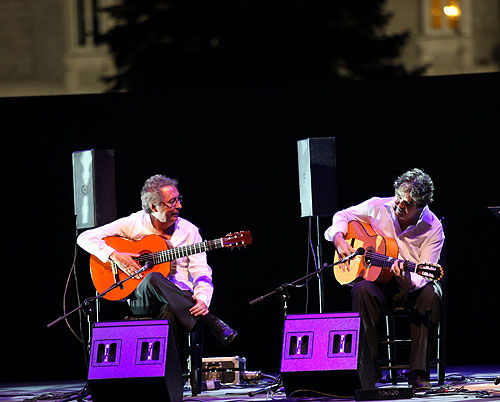 With him, and heading the program, his friend and protector, Enrique de Melchor.  Straight-ahead Seville guitar which reaches the heights, triumphant wherever he goes, winning the respect of the gods and slowly becoming wizened and inhabiting a little piece of the history of guitar.
Two stars who were bound to make sparks, no one expected more, but perhaps they stopped a bit too short of the ecstatic moment some ingenuous souls were hoping for.
Too little.  In the first place we were barely able to enjoy the guitar on its own.  Except for Enrique's rondeña in the beginning, much in the style of Paco de Lucía, the rest of the recital was a compendium of compás and group choruses where at least we could see the son of Melchor de Marchena better prepared than in last winter's performance, with more picado and better continuity.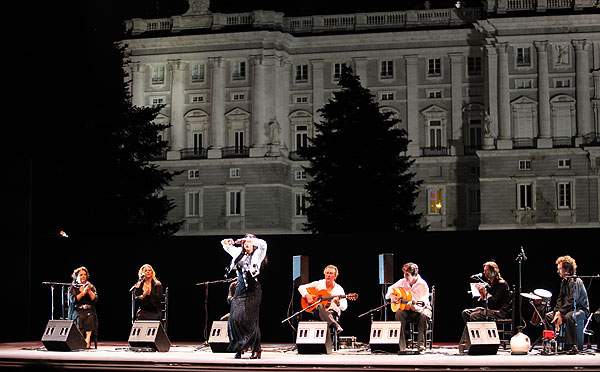 A succession of the Seville guitarist's most popular pieces was punctuated by the focal point of a soleá choreographed by Carine Amaya.  This dancer got people right out of their seats, interpreting, along with her guitarist and husband Luis Miguel, the high point of the starry evening.
After a break, it was Riqueni's turn, and we were a bit more attentive.  But it was just two classical pieces with the support of Parrilla's flute.  The playful colombiana, and everyone following closely.  Perhaps in the siguiriya, playing along with his friend Enrique, he marked out something a bit more substantial…but it vanished, there was nothing to grab onto.  And the wind picked up sending many on their way home.
An inoffensive fiesta finale, improvised and somewhat comical.  The cold took over, and in general the evening was a bit of an anti-climax, even for astronomers.
---