Text: Silvia Cruz Lapeña Photos: David Mudarra (Suma Flamenca)
Dorantes & Marina Heredia "Esencias"
Teatros del Canal – Sala Verde
June 28th, 2016
Killing with sweetness
Marina Heredia and Dorantes came to the Suma Flamenca with a well-prepared show, and not because they had given more than one performance of their latest work, Esencias, but because the work, so natural, almost seems to exist before they do.  Marina and David arrived and began calmly, with a beautiful nana in the subtle version of Marina's voice.  From that point on, it was all a crescendo.  They had fun with alegrías and turned serious with siguiriyas.  That was the first piece that really grabbed the audience, as Marina sang with unusual accompaniment, that of a piano, that was almost percussion, although on-stage there was a master: Javi Ruibal.
With the energetic tangos, Heredia already had her voice and positioning, perfect for exhaling lines like these:
Haces conmigo herejías,
tú de mi no te adoleces
a ninguna hora del día.
(You give me a dressing-down and feel nothing for me at any time of the day)
…
Yo navego buscando tu piel
con mis dedos temblando de sed.
(I navegate seeking your skin with my fingers trembling from thirst)
 
Palma players Anabel Rivera, Jara Heredia and Ruibal, left the stage to the pianist and singer.  The woman from Granada took her shoes off and sang a granaína soported by the piano that made the whole room shake at the Teatros del Canal.  The fandangos that followed got the audience shouting in approval almost non-stop.  This happened because between the two of them the sound of "Orobroy" crept in, and as Heredia stated, it's one of the most identifiable melodies of twentieth-century flamenco.  The singer cheered Dorantes on, he was in top form and at the end of the piece, she didn't acknowledge the applause but joined in on it to recognize the enormous talent of the man from Lebrija, who backed up her voice in such a way that no one missed there being a guitar.
The show stuck to sure-fire things with a classic repertoire, well-organized and balanced.  Each one had a moment, including the back-up musicians who demonstrated their singing abilities and their good compás.  Ruibal did as always, highlighting the best of the artists for whom he kept rhythm, and his dialogues with Dorantes were much applauded.
The group ended with bulerías remembering Lole and Manuel with a potpourri of verses of various songs popularized by the most daring couple from Triana that flamenco has known.  The audience wanted more, and then Marina gave an encore with Rocío Jurado's "Se nos rompió el amor" to the compás of bulerías.  Marina really opened up and found her voice, what an interpretation.  David looked at her feeling the impact, but not surprised, because this show had been on the back burner for years begging to be taken on by these two first-class artists who killed with pleasure an audience that cheered frenetically.  And all without going over the top, just with sweetness: she with the honey of her lips, and he with that of his fingers.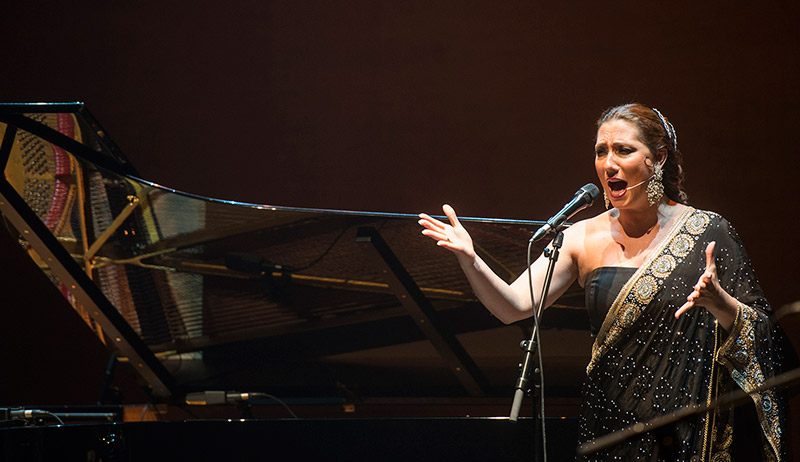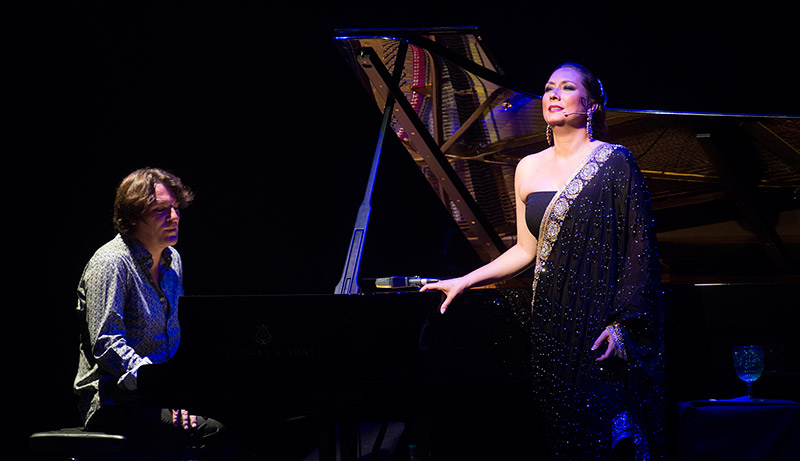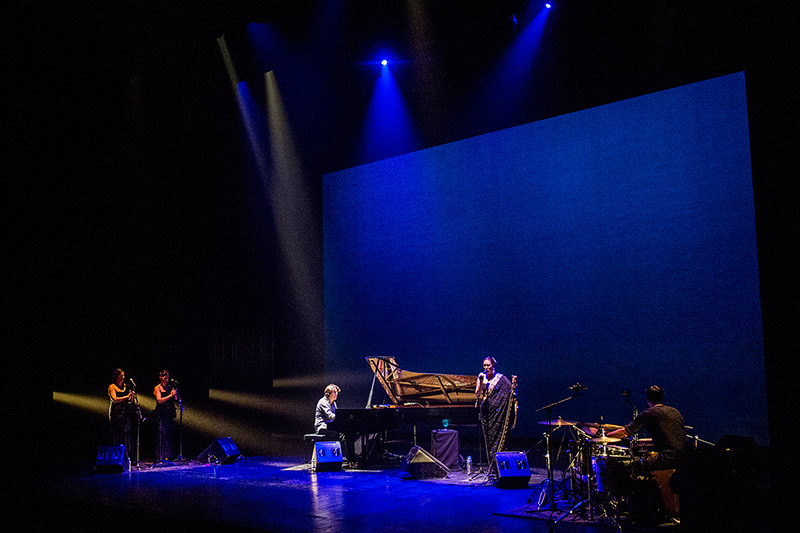 ---