17 Bienal de Flamenco
Saturday, September 8th, 2012. 2330h
Special 17th Bienal de Flamenco de Sevilla – All the information
Text: Estela Zatania
Photos: La Bienal
"Triana all decked out"
Cante: El Vareta, Guillermo Manzano, Mari Vizárraga, Herminia Borja. Dance: Bobote, El Eléctrico, Torombo, Joselito Fernández. Guitar: Paco Iglesias, Ramón Amador, Eugenio Iglesias, Emilio "Caracafé". Cajón: José Carrasco. Director: José Jiménez Bobote, Eugenio Iglesias.
If you're reading this, it's because you have a certain interest in flamenco, and most likely a weakness for the flamenco of some specific geographical zone. That's how it goes, some places on the flamenco map develop their own special flavor, and it's like hot pepper, once you get a taste for it, you might enjoy other flavors but everything seems a little flat by comparison.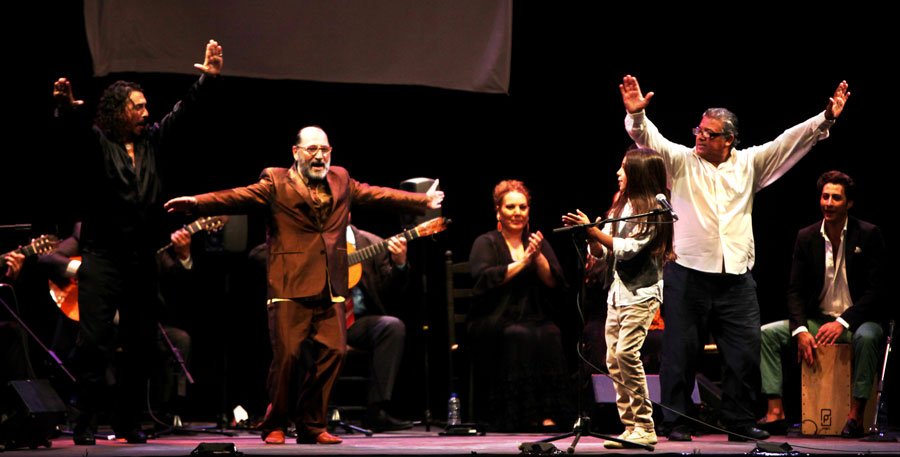 Triana, the area that borders the western side of the river in Seville, with its stories of tile-makers, gypsies, sailors, blacksmiths and bullfighters, floods, earthquakes, various expulsions, corrals and communal dwellings, has a wealth of references to fire anyone's imagination. And the kind of flamenco that evolved in this framework is one of the genre's most recognizable, although nowadays, due to social and economic pressures, the people originally from Triana live in outlying neighborhoods, most notably the one called Las Tres Mil Viviendas.
Which explains the title of the show we saw last night in the historic neighborhood: "De Triana a las Tres Mil", with the subtitle "Boboterías", an allusion to José Jiménez "Bobote", the mischievous energetic dancer and palmero known and loved by all flamenco fans, and director of this show along with Eugenio Iglesias. A "show" which, except for a few seconds of palmas, cante and dance with shouts of "Viva Triana!" staged on one of the balconies, was a conventional flamenco cuadro. Any staging or script would have been superfluous.
The previous night on this same stage another presentation, "Triana Toca, Canta y Baila", felt like a sort of prologue to "Boboterías". Guitar genius Rafael Riqueni was to have played, but for medical reasons this was not possible, and the evening turned into a tribute to this Triana artist thanks to the participation of local flamenco stars such as singer Paco Taranto, the popular singer Remedios Amaya and Carmelilla Montoya who danced and also sang several songs from the recording she made last year.
Last night "Boboterías" was rather like a reduced, more concentrated version of the show we saw in the last Bienal, "Ensayo y Tablao", that had similar objectives. A choice selection of Triana's best flamenco artists, had a few notable absences such as Juana Revuelo and her late husband Martín Revuelo who died earlier this year, and Angelita Vargas who is recovering from illness. But there was essence. The fine line-up of interpreters saw to that, people relatively unknown but highly competent, with big personalities and communicative power. What could anyone possibly object to in singers like el Vareta, Guillermo Manzano, Mari Vizárraga and Herminia Borja? Names that may not mean much to the casual flamenco fan, but artists of absolute integrity and long experience. The same could be said about dancers Joselito Fernández, brother of Esperanza, elegant and masculine in the style of Rafael el Negro, and the always surprising Torombo. The guitar department was also superbly represented by veteran Ramón Amador and the Iglesias brothers, Paco and Eugenio, in addition to Emilio "Caracafé" who played several solos. The rhythm man known as "Eléctrico" delighted the numerous audience with his extravagant dancing, and Bobote did Bobote, that's all we ever ask of him and it was more than enough.
Between one thing and another, it was a wonderful sampler of Triana flamenco, the only notable omission being the characteristic tangos del Titi. A very promising young boy put the finishing touch with his singing, and all I can say is if fusion is what you enjoy, good for you…I much prefer the menu of distinct flavors where Triana is one of the best main dishes.
---