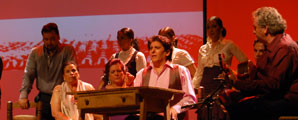 'Caracolá Lebrijana'
Friday July 23rd and Saturday July 24th 2010
Plaza del Hospitalillo Lebrija
Text: Gonzalo Montaño Peña
Photos: Gabinete de Comunicación Ayuntamiento de Lebrija.
The 45th edition of the Caracolá festival continued with its new philosophy of alternating local talent with major national stars, so we were able to enjoy the singing of Pedro Peña, Manuel de Paula, Miguel Funi and Inés Bacán, local personalities just as important as top names like Esperanza Fernández and Pitingo.

If there is anything noteworthy about Lebrija cante, it is without a doubt the adherence to traditional forms of flamenco singing, dance and guitar, which are never forgotten in this town.  In this line, and with a format in keeping with current trends, two nights of performances took us back to times past and the locals' perspective of this art.
On Friday there was a double bill.  First, Manuel de Paula presented his most recent work, "Ancá Paula", a preview of what will be seen at the Bienal.  A show which defends the flamenco way of life, rhythms knocked out on wooden tables, old and new existing together.  The staging recalls Manuel's own upbringing and the secrets of the art of Lebrija and its cante families.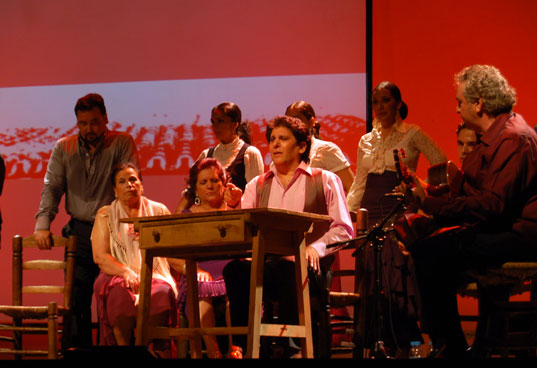 Ancá Paula
Manuel is in great voice as he demonstrated in the corridos and soleá.  He was also accompanied by José Valencia who left his mark with some mining cante.  Anabel Valencia summoned up all her energy for bulerías, and patriarch Miguel Funi once again did his thing of highly personal singing and dancing that got everyone wrapped up in what he was doing.
Without a doubt, this is a show of authenticity which seeks out real cante to offer it without frills, as is, in an attempt to show feelings instead of technique and systematic premeditation, something basic in flamenco but which the flamencos themselves seem to have forgotten about for a long time now.
Then Esperanza Fernández, descended from Lebrija people showed why she is where she is, which is no small achievement.
 
This singer is a grand professional, and she left a wonderful impression with her tangos de Triana, and in bulerías, where she definitely is on top of things.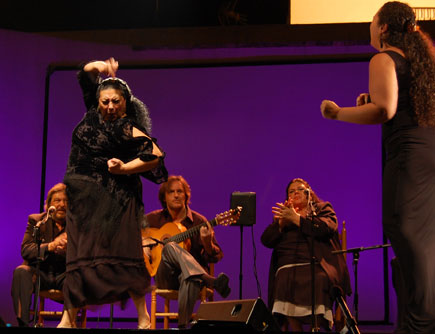 Concha Vargas
On Saturday there were three shows in one.  First, the youth of Lebrija headed by Anabel Valencia, Luís Chimenea and Fernanda Carrasco left no doubt that new sap is being drawn from what went before, and there's plenty of talent to draw from.  It's no surprise this town has produced, and continues to produce the stars it has, and it's thanks to the elders they look up to.
The show "Primos y Hermanos", another Lebrija contribution to this year's Bienal de Sevilla, shows the roots of the cante of Lebrija and its flamenco families.  In this case, it's the Peña family.  Two cousins carry the weight of the cante, Pedro Peña and Inés Bacán, who share a way of understanding flamenco as a way of life, expression and intercommunication of vital necessity.  The primitive bulerías dancing of Concha Vargas is bone-chilling, the capacity of Diego de la Margara, the guitar talent of Pedro María and Izán and the family-style dancing of the Pelaos and Funi.  A well-structured fiesta with no more pretext that the enjoyment of an unusually rich artform.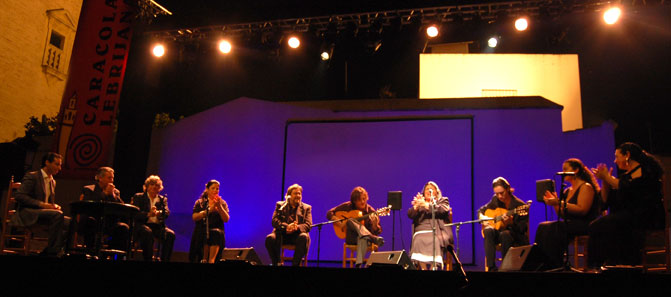 Primos y Hermanos
To close out the night, singer Pitingo added a little glamour with his unique style.  Knowing where he was, he came on prepared to dispel any possible doubts there might be about his flamenco capacity, and he started out with traditional cante, fandango and soleá, showing his dedication to the art, before giving the audience a little of his famous "Soulería", a fine ending to a magnificent evening of cante.
It's very interesting that Lebrija continues to base its flamenco on the forms it knows best and dominates, and in which the singers are unique, that is to say, the art as cultivated in the families…of Antonia Pozo, la Rumbilla, la Perrata, Tío Juaniquí, Chache Bastián Bacán, Tío Vicente Peña, El Chozas, Tía Luisa la Cabrillera…  This is what was on display in the shows "Ancá Paula" and "Primos y Hermanos".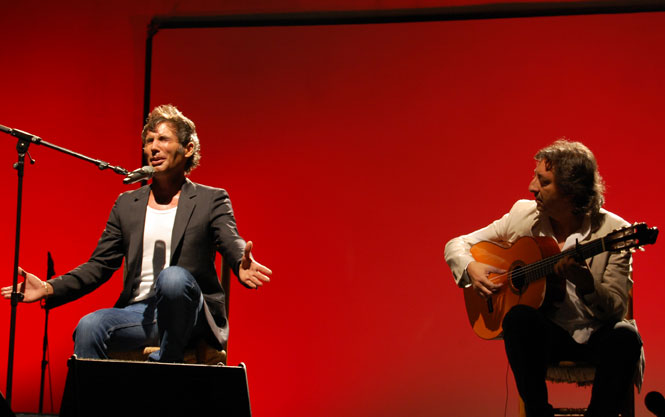 Pitingo & Juan Carmona
---