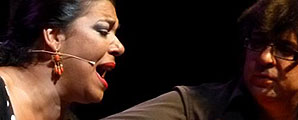 46th Caracolá Lebrijana
In honor of Curro Malena
Friday, July 23rd, 2011. 11:00pm. Plaza del Hospitalillo, Lebrija
FESTIVAL ON A SHOESTRING, BUT WITH A WEALTH OF ART
Text and photos: Estela Zatania
Reporting on a flamenco festival without alluding to the galloping economic crisis seems impossible this summer.  But instead of spilling tears over the disappearance of some of these events, or the very discreet programs of others, we should celebrate the creativity of surviving organizations, and their sincere desire to cultivate this cultural treasure despite the absence of cold hard cash.
| | |
| --- | --- |
| | |
| Eva Ruiz | Joaquín el Zambo |
Flamenco in summer is a tradition as firmly rooted in Andalusia as red wine with soda pop or a paella at the beach.  And if we're talking about Lebrija, one of the most important flamenco towns, with its heart divided between Jerez and Utrera, where people still sing just because it's fun, then you know the lack of resources won't put a damper on the enthusiasm.
The complete program of activities which covered nine days, from the 15th to the 23 of July, was dedicated in its entirety to the fine veteran singer Curro Malena.  Parallel activities included the presentation of a book by Ricardo Rodríguez Cosano about the artist who last week was named Favorite Son of Lebrija.  Conferences and a graphic exposition fleshed out the week, and it all came to a head with performances on the 22nd and 23rd representing the focal point of the venerable Caracolá Lebrijana on its forty-sixth anniversary.
Friday night promised to be the most interesting and complete, and the small budget was administered with intelligence and integrity.  As in other festivals this year, the program was full of young hopefuls, most of them little known, but with a good level.  Eva Ruiz, a local singer, filled the long first part with a varied repertoire accompanied on guitar by Salvador Gutiérrez and a Cuban percussionist.  Local singer and product of a singing academy…good thing I gave her the benefit of the doubt despite my worst fears.  The lady sings well, she has compás, knowledge and that rarest of qualities these days: personality.  She put her clean sincere voice at the service of malagueñas, alegrías, taranta, soleá apolá and bulerías.
After intermission, came two and a quarter hours of classic flamenco under the title "Al Compás de Cuatro Tierras".  Four "lands" which communicate in flamenco as one: Lebrija, Jerez, Utrera and Morón, a nucleus within a larger area with a common unifying thread.  Some people complained about the length, something I don't understand…it's like criticizing a restaurant because they put too much food on the plate.  For yours truly, the only heavy-going element was the amateur attempt to organize exits and entrances with pseudo theatrical details, or even "jaleos" as we used to call it when all the performers sing a chorus to supposedly smooth over the transitions.
| | |
| --- | --- |
| | |
| Jesús de la Frasquita | Chimenea al cante, Pedro María Peña toque |
But not even that could spoil the noteworthy moments…like Joaquín el Zambo's siguiriya with Pedro María Peña on guitar, the romance sung by Chimenea, the fandangos of Jesús de la Frasquita with a wink to our dear Fernanda de Utrera and the contemporary tangos of Felipa del Moreno dressed as a gypsy princess.  Tomás de Perrate paid tribute to his town and his legendary father with soleá of Utrera, although the accompaniment of Pitín was oddly ethereal for such an earthy style of singing.
Two artists managed to grab the audience, both "de la Frontera".  Accompanied by Manuel Parrilla on guitar, Jerez singer Tomasa la Macanita, no longer a young girl, her voice nicely frosted, dressed in polkadots with her hair pulled back and all her flamenco-ness on display, she sang her characteristic soleá por bulería with soleá, managing that mix she manages so well of a Jerez delivery with Utrera cante; now there's fusion for you.
| | |
| --- | --- |
| | |
| La Macanita & Manuel Parrilla | Pepe Torres |
And the other "frontera", the one of Morón, birthplace of Pepe Torres, heir to the art of his town and family, not only in dance, but also guitar, a sampling of which he offered in public on Friday for the first time.  He pulled out some achingly wonderful sounds and the nostalgia was served before laying down the law with his classic dancing, a style that unites informal fiesta and stage dance more efficiently than anyone else nowaways.
On Saturday night the Caracolá Lebrijana of 2011 wound up with a moving tribute to Curro Malena, and the presentation of the shows "Raíces y Alas" and "Malenísimo", in addition to the performance of José de la Tomasa and Chiquetete.
| | |
| --- | --- |
| | |
| Tomás de Perrate | Felipa del Moreno |
---