Text and photos: Estela Zatania
June 8-14, 2014 Albuquerque, Nuevo México USA
"Out of the ashes" is the phase that marked this twenty-seventh edition of the prestigious Festival.
The great flamenco machine moved by the National Institute of Flamenco, under the direction of Eva Encinias and her family and team, once again managed to present one of the most important events of its kind outside of Spain.  This year, with even greater effort and resolve than ever, and despite the disastrous fire in December that consumed the organization's headquarters along with much priceless material, the Flamenco Festival took place with its usual high standards.
Eva Encinias and her people seem to feed on adversity, and an absolutely complete program was offered with top stars and an admirable schedule of more than 30 workshops and courses for all levels, film screenings, performances by local artists and other parallel activities.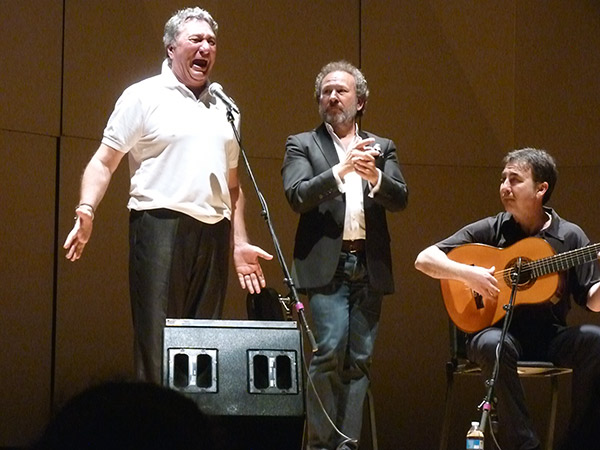 The program began with the symposium "New Perspectives in Flamenco", two days of lectures by Cristina Cruces, Estela Zatania, Dr. William Washabaugh, Sir Brook Zern, Meira Goldberg, Ninotchka Bennahum, Nancy Heller and Theresa Goldbach, culminating in a round-table talk to discuss the role of improvisation in traditional and contemporary flamenco.
On Monday afternoon June 9th, Eva Yerbabuena kicked off the series of performances with her work "Ay!", with the excellent accompaniment of Paco Jarana on guitar, the cante of Enrique el Extremeño, Juan José Amador and Alfredo Tejada, the percussion of Antonio Coronel and the violin of Vladimir Dmitrienco.  With an expanded cast that included Eduardo Guerrero, Christian Lozano, Lorena Franco and María Moreno, Yerbabuena again performed on Wednesday, with her show "Lluvia".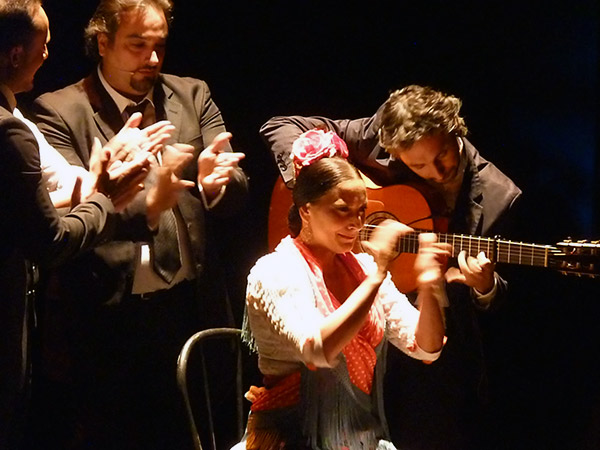 Tuesday, Málaga dancer Lupi with her company presented "RETOrno", her personal vision of flamenco, full of life and color.  She was supported by Curro de María on guitar, Emilio Florido and Cristo Heredia on vocals, the percussion of David Galiano and the violin of Nelson Doblas.  After Lupi's performance, Enrique Extremeño and Juan José Amador offered a recital of classic cante accompanied on guitar by Paco Jarana.
On Thursday evening, it was Alfonso Losa's turn, along with his company to present the show "Tendencias", with the participation of dancers Jesús Carmona and Nino de los Reyes, the guitar of Pino Losada and the singing of Fabiola Pérez and Zambuyo.
Two days were set aside for the gala closing show, the big "Fiesta Flamenca", with the noteworthy performance of Farruquito, in addition to the resident company Yjastros, and nearly all the artists who had participated throughout the week.
---