19th Festival de Jerez. Ruben Olmo "La tentación de Poe" / Los Carpio / Ivan Vargas "Savia nueva"
Rubén Olmo - La tentación de Poe
Alfonso Carpio y José Carpio. Los Carpio "Mijita"
Iván Vargas - Savia nueva
March 1, 2015
Text: Silvia Cruz
Photos: Ana Palma
Twittear
Special 19th Festival de Jerez - All the information
Friday was a full day at the Festival de Jerez, offering a variety of ways to enjoy flamenco. The program got underway at 7:00pm with two Carpios, Alfonso and José, who gave a recital at the Palacio Villavicencio, demonstrating, just in case anyone didn't know, what the flavor of the San Miguel neighborhood is like. A good solid command of the material, and the artistry to know how to interpret it. Bulerías, first with Alfonso, then José, leaving the audience in the mood for fiesta.

Photo gallery - Video Alfonso Carpio - Video José Carpio
Midnight was also a time for gypsies, but not from Jerez. Iván Vargas, straight from Sacromonte, danced at the Sala Compañía in the series "Savia Nueva" with first-class back-up: singers Miguel Lavi, David el Galli and Simón Román who sang so well, and so long, they nearly eclipsed the star dancer. Special mention for the violin of David Moreira who plays with exquisite taste and sounds very flamenco. Iván was outstanding in the farruca, clearly inspired in the family line and choreographed by Manolete no less. Photo Gallery - Video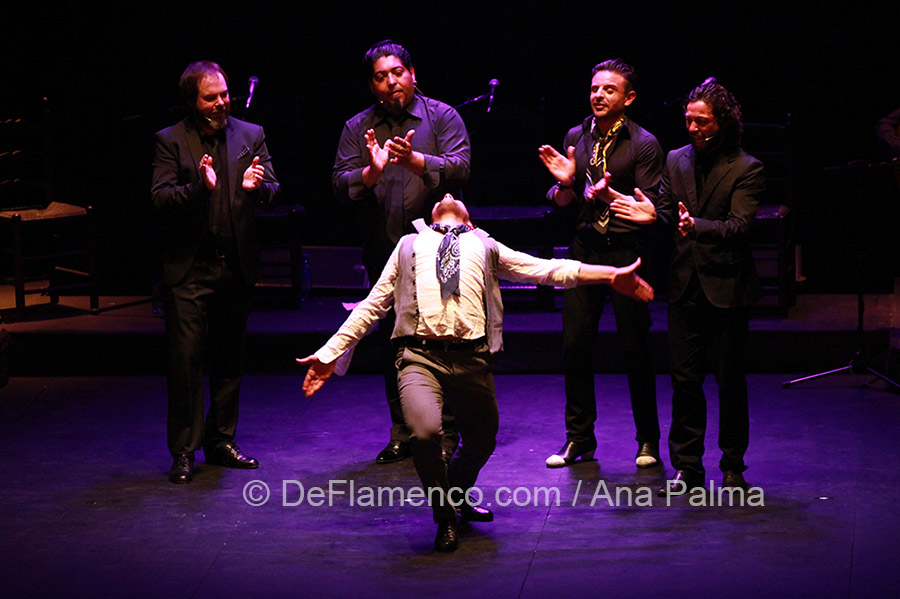 Olmo versus Poe

The show at the Villamarta Theater was diametrically opposed to the previous ones. Rubén Olmo presented "La Tentación de Poe", a work that tells the story of the American writer's last days. With a flourish of virtuoso dancing, Rubén did an exceptional job with his mind and body. Virginia, the poet's wife, was brought to life in the person of Sara Vázquez, who was delightful interpreting a woman more ghostlike than flesh and blood.

The music was exceptional, all live, following the frenetic rhythm of Rubén. Agustín Diassera's percussion, impeccable and spot-on, was present throughout the entire show, in every scene, such as that of the magnificent group of ghosts who harass Poe, confronting him with his fears, carrying him to his death. The cello of Sancho Almendral and the violin of Bruno Axel were quite synchronized with the rhythm, precise and perfectly adapted to the story narrated in an exercise of perfect backup music-playing.

The staging was sober, nearly frigid. But Rubén was there to warm things up in a state of grace. The most flamenco moment of the work was the singing of Juan José Amador. Rubén danced, both flamenco and non-flamenco, with passion and drama, and was capable of transmitting the anguish of the creative genius contemplating his work, the death of his lover, his drinking, his delirium... He truly suffered, and managed to concentrate the audience's attention on the story being told. An audience that rewarded him with energetic applause.

It was a first-class work of a high interpretive and conceptual level. The dancer was only missing something that Poe was very good at: a touch of humor. The entire work was a constant quake, a journey to hell with almost no respite. And with all the madness, sickness, addiction and anguish, it was strange to see such a neutral tone on stage. It's possible that in addition to humor, a little blood might have been missing, that element that Poe employs so often in his writing. It's possible Rubén consciously used that sleek staging to reinforce the exercise of stylization he carried out in this work, not only in the story and concepts, but also in the flamenco. An exercise that seemed to want to demonstrate that with a sharp eye and knowledge, you can give life to a story, and to a concept or to flamenco by merely grazing the surface.