19th FESTIVAL DE JEREZ - Fuensanta la Moneta "Paso a paso"
Teatro Villamarta
Monday, February 23rd, 2015. Jerez de la Frontera

February 24, 2015
Texto: Estela Zatania
Fotos: Ana Palma
Twittear
Special 19th Festival de Jerez - All the information
LA MONETA FILLS THE VILLAMARTA THEATER WITH THE FLAVOR OF GRANADA
The fourth day of the Festival de Jerez brought the opening of the series "Los Conciertos del Palacio", a series of recitals of acoustic cante and guitar that got underway with Cádiz singer José Anillo (video - photo gallery), accompanied on guitar by Rafael Rodríguez with the palmas of Roberto Jaén and Abel Harana. The "Off Festival" at the Guarida del Ángel has programmed four shows daily for every day of the festival, and last night the main performance was by singer José Méndez with the guitar of Domingo Rubichi.
FUENSANTA LA MONETA "PASO A PASO"
Teatro Villamarta. 9.00pm
Dance: Fuensanta La Moneta. Guest artist (dance) Javier Latorre. Cante: Miguel Lavi, Juan Ángel Tirado, El Mati. Guitar: Luis Mariano. Percussion: Chema del Estad.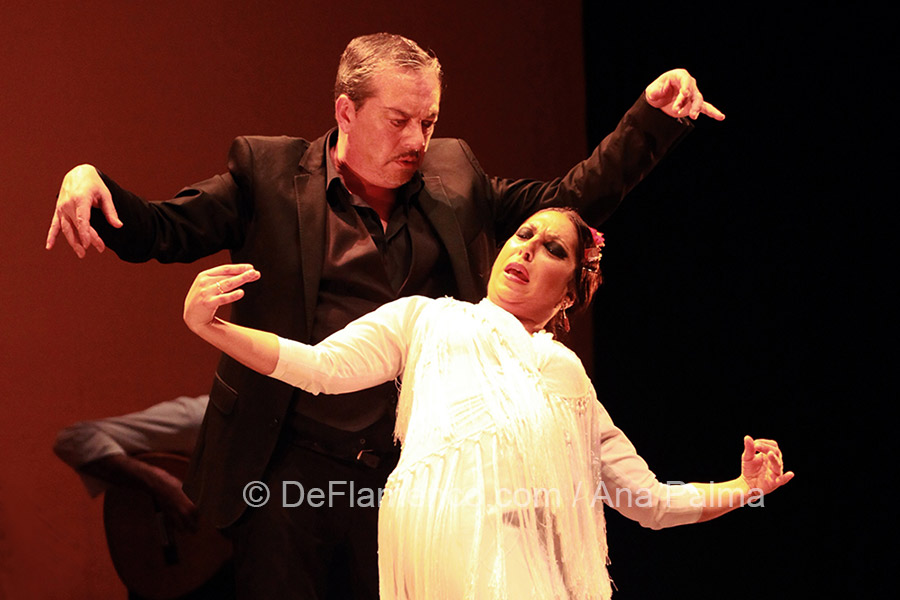 At the Villamarta Theater, popular dancer Fuensanta la Moneta presented her show "Paso a Paso". This is another work whose debut we attended at the last Bienal de Sevilla, and here in Jerez it felt more cohesive. The theater didn't fill up for the Granada dancer, but those who attended expressed their gratitude with heartfelt applause throughout the performance.

The beginning of the show, three dances in a row by Moneta in a short black dress and with scant illumination, felt long and dense. It's when the expression "less is more" comes into sharp focus. The rest of the work flows better. There was an excellent trio of singers: Miguel Lavi from Jerez, maturing artistically by leaps and bounds, Juan Ángel Tirado, little-known outside of Granada, but deserving of attention, and young Matías López with his irresistibly bittersweet delivery.

Javier Latorre was received with an ovation when he appeared on-stage to dance soleá apola with Moneta who wore a white bata de cola, and once again Lavi was noteworthy.

Juan Ángel Tirado sang martinete and debla to prologue Moneta's siguiriya. This dancer embodies the classic Granada image of the gypsies of Sacromonte...the caves, the moonlight, the dark glances and temperamental dancing...Moneta inhabits Lorca's entire imaginary microcosm.

Granaína, and the typical Granada abandolao folk music lead to an Andalusí fantasy with tangos azambrados...only Granada artists know how to do these things without falling into kitsch. Soleá por bulería with jaleo extremeño is a true work of fusion, and the abrupt acceleration in the style of Carmen Amaya also fits in just right.

Percussioinist Chema del Estad provides an admirably subtle rhythmic backdrop, and special mention for guitarist Luis Mariano who manages all of the above without the help of another guitarist, in addition to playing a beautiful solo composition.