Saura and Flamenco are once again united, this time on stage with 'Flamenco Hoy'
Carlos Saura is preparing a new project, "Flamenco Hoy", to be presented as a live show that will bring together pianist Chano Domínguez, choreographers Rafael Estévez and Nani Paños, set designer Laura Martínez and wardrobe designer Antonio Alvarado.
May 9, 2009

Twittear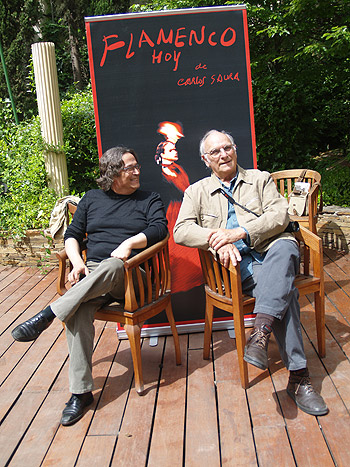 "Flamenco Hoy" will be presented from August 18th to 23rd closing out the summer program "Veranos de la Villa de Madrid". The show is being prepared during these months for the Madrid premiere, and a tour of Spanish and international stages is in the works.

On this occasion, Saura is placing his bets on flamenco's young hopefuls of the 21st century. The music director is Chano Domínguez, and other performers include Antonio Rey and Daniel Jurado on guitar, Piraña on percussion, and singers David Palomar, Jesús Mendez, Israel, La Tremendita and Alba Carmona, among other participating artists.
The choreography is by Rafael Estévez and Nani Paños who also participate in the show, and will be assisted by Rocío Molina and Pastora Galván. The corps de ballet includes names such as Olga Pericet and Concha Jareño among others. The project is being overseen by José Luís Ortiz Nuevo, and is to include nanas, tangos de Triana, sevillanas, peteneras, farruca, saeta, fandangos, guajira, malagueña, siguiriya, soleá, zambra, alegrías, bulerías and rumba, a program of straight music and dance, with no story line, held together by the lighting which marks a timeless arch that reveals the process of birth, youth and maturity.