Flamenco benefit for Curro de Jerez
A benefit gala for the Jerez guitarist will be held Tuesday, October 29th, 2013, at 8:00pm in the Marcelino Camacho Auditorium of the CC.OO on Lope de Vega Street, 40 in Madrid.
October 25, 2013
Twittear

Guitarist Curro de Jerez has serious health and economic problems, and his colleagues from the world of flamenco have decided to offer this well-deserved tribute.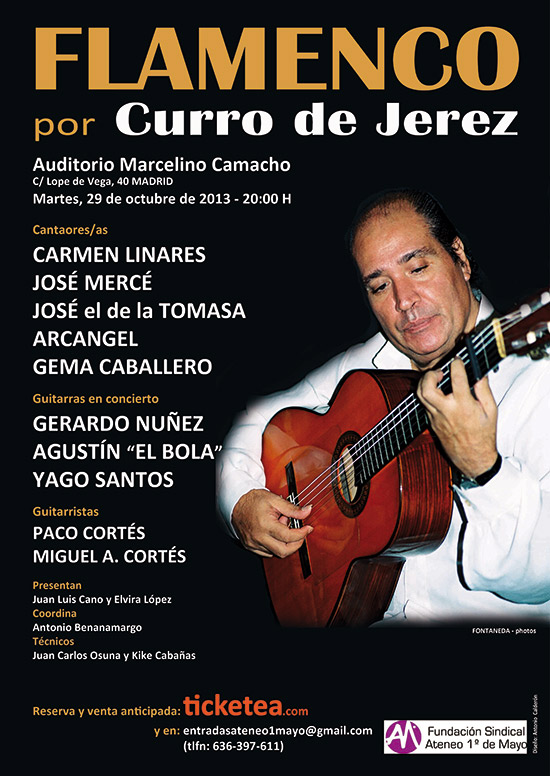 Tickets may be purchased in advance at ticketea.com and entradasateneo1demayo@gmail.com (telephone 636.397.611)
---
The son of singer Sernita de Jerez, he is married to the dancer and singer Carmen Loreto. He debuted at the age of 14 in the ballet of Antonio with whom he traveled the world. With Antonio he made his first recording alongside Melchor de Marchena, Chano Lobato and his own father. He won the National Guitar Prize awarded by the Jerez flamenco association Los Cernícalos. He is a fine accompanist of flamenco dance with years of experience in tablaos, as well as participating in the company of Blanca del Rey. He made numerous recordings with singers such as his father-in-law Pedro Montoya, in addition to Manuel Agujetas, Cancanilla and El Gitano de Valladolid. He also performed with sevillanas groups, often as second guitar to Félix de Utrera. He made sporadic appearances as soloist, and made a solo recording released by Alía in the year 2000, "Guitarra Suena". He lives in Madrid.

J.M. Gamboa. Guía libre del flamenco