1969 – 2010
Estela Zatania

At five in the afternoon… the fateful hour
F. G. Lorca
Like the bullfighter in Lorca's poem…  That's how Fernando Fernández Pantoja, "Fernando Terremoto" left us Saturday, February 13th, 2010 at five in the afternoon, with his fifth decade on this planet just getting underway.  Even when this man is so admired and loved by flamenco fans, it's a difficult task, being right here in Jerez, to explain the magnitude of the loss.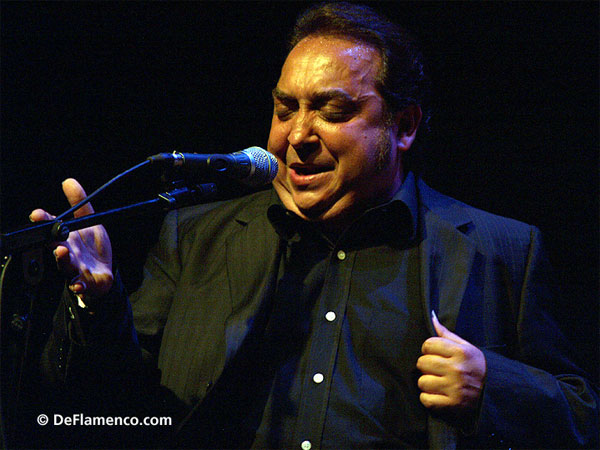 It is impossible to forget the sudden premature death 29 years ago of the father of the same name and nickname, also at the peak of his ability and creativity, a wound not yet healed even after all this time.  Between father and son if you add up the years lived, it's less than many people get, but their contribution has been great.  Do we need to repeat the list of achievements going round the world right now as you read this?  Fernando junior debuted as a flamenco singer almost accidentally in 1989 at an unscheduled performance at the Don Antonio Chacón flamenco club.  Moved on-lookers soon gathered clogging the surrounding streets, and Fernando then understood clearly that his calling was not the guitar as it had been up until then, but cante.  From that point on there were countless appearances at festivals, peñas, Madrid's Zambra tablao, the 1994 Seville World's Fair, first prize in the contest for young flamenco artists at the 9th Bienal de Flamenco, the intense collaboration with Israel Galván, most notably in La Edad de Oro where he was a fundamental and irreplaceable member of the small cast.
Then there were the recordings: "La Herencia de la Sangre" (1989), "Cantes de la Campiña, Bahía y Sierra" (1991) and "Cosa Natural' (1997)".  And his stunning triple victory at the 15th Córdoba Contest in 1998 when he won the Manuel Torre prize for siguiriya and martinete, the Niña de los Peines prize for soleá por bulería and bulerías and the Antonio Chacón prize for malagueña and taranto.  He appeared at the most prestigious festivals including the Bienal de Flamenco de Sevilla, Mont de Marsán's Festival de Arte Flamenco, the Flamenco Festival of Nimes, the Fiesta de la Bulería in Jerez, the festival of Mairena del Alcor, the Potaje Gitano de Utrera, recitals throughout Europe at the most important venues, and in his hometown he was awarded the Copa Jerez of the Cátedra de Flamencología.
.
Well-endowed for flamenco singing, with a long family background to back him up and the intelligence to bring it all together with good taste, Fernando invented his own personality despite the outsized dimension of his father's fame, never letting himself get carried away by platitudes or prejudice.  Many would have liked to see the son become an exact replica of the father, but Fernando junior fought to create an identity that would reflect his own spiritual and artistic needs.  In the end, this concept of honoring the past while looking to the future won him an important niche among flamenco followers of the present.  Rigorously classic cante alternated with his own creations and those of others.  He brought us the famous "black sounds" of Jerez singing, the most authentic bulerias with dance included, just like his legendary father, and the malagueñas of Mellizo with more power than they had ever been done, but he also wrote pop songs for himself and others.  His updated arrangement of Camarón's "Canastera", a piece which was wildly but briefly popular more than 35 years ago when Fernando was a small child, and which is to be included on a posthumous recording, could possibly become the classic Camarón himself was never able to make happen.
And Jerez mourns the loss of yet another favorite flamenco son who had to leave before time.  And the world of flamenco mourns a loss which cannot possibly be assimilated in these precarious times for the art.  And a family mourns…brothers and sisters, aunts and uncles, cousins, a wife and a small daughter who stole our hearts last September when her father gave an informal recital for family and friends at the Terremoto peña as a way of getting back into circulation after a long period of hospitalization.  The unforgettable image of Fernando asking his daughter to sing for his dance, when the shy child didn't want to, but Fernando lovingly insisted and the child pulled up a voice that really made you think this might be in the blood after all, and the father danced, and the daughter sang to him: "For whom shall I sing? I'll sing for my father, it's the only right thing", and let me tell you, not a dry eye in the house.
And I too mourn the loss of friendship of a sincere and affectionate human being, and the pleasure of hearing that electrifying voice that stood hairs on end.
Las heridas quemaban como soles…                 The wounds were scorching
y el gentío rompía las ventanas                         and people went crazy
a las cinco de la tarde. FGL                              at five in the afternoon.  FGL
---