"Hibiki" is the title of the new show set to premiere on January 8th at the Teatro Nacional de Tokyo, with a repeat double performance the following day. The flamenco piano of Dorantes and the Daikos (Japanese drums) of Eitetsu Hayasi will sound flamenco thanks to the collaboration of Yoko Komatsubara's dance company.
Two pioneering musicians with their respective instruments, each one familiar with his country's musical tradition expressed in the most contemporary way, representing two lands that bring together the richness of two cultures, traditional Japanese and flamenco.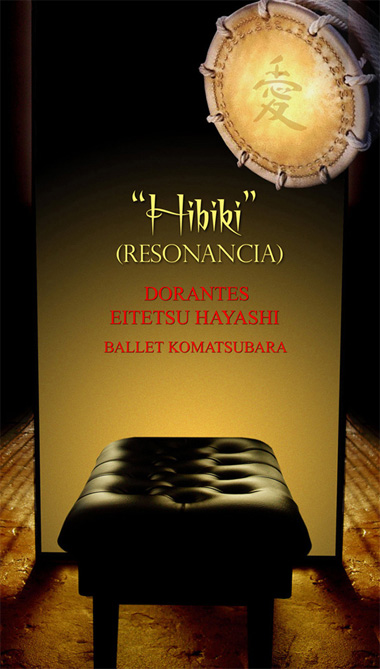 EITETSU Hayashi, native of Hiroshima, founder of the legendary groups "SADO-ONDEKOZA" and "KODO" of which he was artistic director and president for more than 15 years, is the most important name when one speaks about Taiko in Japan.  Hailed as the Prime Minister of Japanese Taiko, he is also the first and only Taiko soloist in the world, and creator of the "O-Daiko" method that requires new techniques and special physical training, previously unknown amongst traditional Tayko interpreters, and which now form a regular part of all the great Taiko musicians' performances.
DORANTES.  This Seville musician (Lebrija, 1969) has been brave enough to successfully explore a formerly unknown path in flamenco, never betraying the teachings of a family tradition with a name of its own within traditional Andalusian music.  Although his family tree shows an undeniable link to flamenco (grandson of María la Perrata, son of Pedro Peña, nephew of Juan Peña El Lebrijano and relative of Fernanda and Bernarda de Utrera), this pianist has managed to impress everyone on his own merits.  Scrupulous technique, innovative composition and perfect execution, Dorantes is already a force to be reckoned with in the world of flamenco piano.  He was recently awarded the prize for Young Creator of 2009 by the Spanish Cultural Ministry and the Public Foundation for Gypsy Culture.
YOKO KOMATSUBARA was born into a family of traditional Japanese musicians.  In her youth she studied to be an actress and classic ballet dancer.  Her life took a different turn after she attended a performance of the company of Pilar López in 1960.  Having decided to devote herself entirely to flamenco, she traveled to Spain to study with the masters of flamenco and classical Spanish dance such as Victoria Eugenia, Paco Fernández, Enrique el Cojo, Matilde Coral, Manolo Marín…  She had a successful debut in Japan and managed to make a place for herself in the flamenco circuit in companies such as those of Rafael de Córdova, and later on with her own company.  She always surrounded herself with the best singers, and was backed up by cantaores like Fosforito and Naranjito de Triana.  The biggest names in flamenco passed through her tablao over a period of 25 years in her country's capital, and she became known as one of the main international promoters of flamenco.  In recognition of this work, she was decorated in Spain in 1977 with the Ribbon of the Order of Isabel la Católica.
---