Text: DeFlamenco.com
Photos: Pacolega
The evening of November 6th the «Flamenco Hoy» prizes for 2011 and 2012 were presented at the Madrid venue Cantares.
The Flamenco Hoy prizes have reached their 14th edition, although not without difficulty.  In the end it was possible to stage the event to present the prizes for 2012.  Last year, for logistical reasons, it was not possible to present the prizes for 2011, so both editions were held jointly this year.
The jury was made up of more than 70 flamenco journalists and critics who each year vote for the best in flamenco from the previous year. 
Categories included best flamenco record, flamenco book, DVD, instrumental recording, record producer, best newcomer, best debut record, guitar recording, accompaniment, male and female dancer, promoter and distribution of information in the media.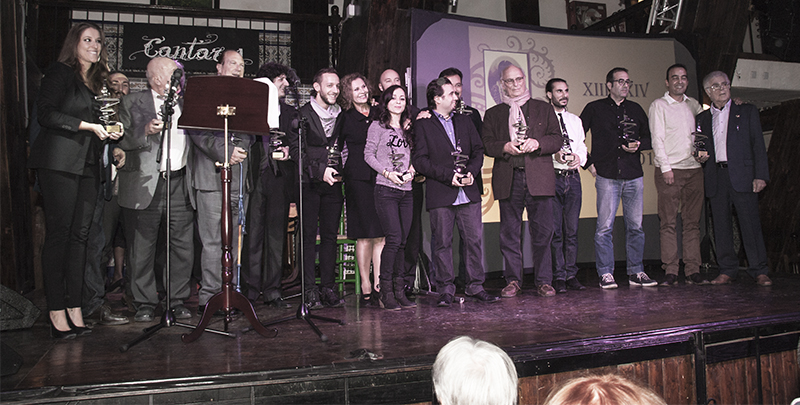 List of winners for 2011 and 2012
On the stage of the recently opened tablao "Cantares", formerly Corral de la Pacheca, top flamenco stars, winners of the two previous editions, 20 prizes in all, made for quite a show.  Noteworthy was Granada guitarist Miguel Ángel Cortés who won for best guitarist in both years.  He also picked up two prizes for Arcángel, making him one of the central figures of the evening.  The organization also chose to award a prize for lifetime achievement to dancer Merche Esmeralda.
Presented by Teo Sánchez of Duendeando and Teresa Vallejo, Miguel Poveda, Argentina, Manuel Liñán, Olga Pericet, José Valencia, José Anillo, Carlos Saura, Pablo Rubén Maldonado and Cañizares collected their prizes honoring their respective achievement over the last two years.  Winners not able to be present, in addition to Arcángel, were dancer Israel Galván, José Queveda "Bolita" and guitarist Dani de Morón.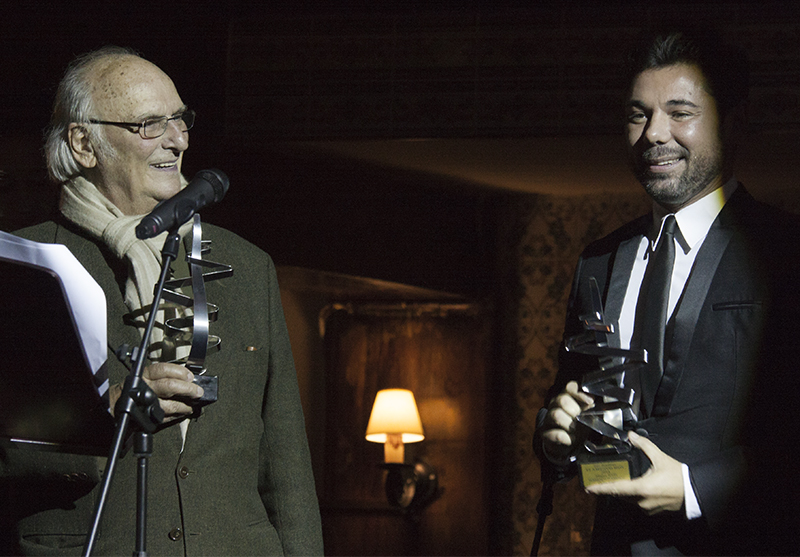 Other prizes went to Paco Roji and Paco Fernández for their biography of Repompa de Málaga, Curro Albaycín for his book "Las Zambras de Granada", journalist and writer Alfredo Grimaldos for best distribution of flamenco information in 2011, and to our very own DeFlamenco.com for the same prize corresponding to 2012.  The Festival Bankia and Armando Rey from Corral de la Morería won for best promotion of flamenco in 2011 and 2012 respectively.
The evening was sadly marked by the death of singer Mariana Cornejo that very afternoon, and everyone present recalled the beloved woman from Cádiz.
---