With the slogan "The Cutting Edge of Flamenco", the 6th edition of the Flamenco Bienal of Netherlands was presented.
It is to take place January 13th to 29th in the cities of Amsterdam, Rotterdam, The Hague, Utrecht, Amersfoort, Eindhoven, Maastricht and Antwerp.
For the sixth time, the Bienal de Flamenco de los Países Bajos is presenting an international selection of flamenco artists.  The Bienal de Flamenco Netherland has championed the latest advances in flamenco since its creation in 2006, with major artists of the genre, as well as newcomers.  This edition of the festival will offer a wide range of contemporary flamenco, with shows based on tradition, modern dance, jazz, classical, baroque, Indian and other types of music.  For more than two weeks the festival will present the most diverse performances in over twenty venues in eight different cities.  Forty shows and concerts complemented with an extensive program of master-classes and workshops, conferences, films and documentaries and amateur shows by children and adults.  An ambitious and original program that includes two in-house productions, interpreted by a new generation of flamenco artists who look beyond the limits of flamenco.
Rocío Molina, standard-bearer of avant-garde women's flamenco dance, accustomed to offering radically experimental performances, is always challenging herself, modernizing the flamenco tradition.  Her new show "Caído del Cielo", commissioned by the Théâtre Chaillot of París, strips flamenco of all routine and limits.  Molina with be the "Dancer in Focus" of the current edition.  The young generation of flamenco dancers is represented by Manuel Liñán who, along with José Maldonado, changes roles in the show "Reversible".
Isabel Bayón will present her show "Dju Dju" directed by Israel Galván, which she presented at the 2016 Bienal de Sevilla.  Bayón and two young dancers, Alicia Márquez and Nieves Casablanca will take on "demons and obsessions from flamenco's inner world", in order to exorcise them.  Indian dancing, flamenco and modern dance will come together in Rebels Cross, the work of Dutch choreographer Kalpana Raghuraman for three dancers: Sooraj Subramaniam, Kamala Devam and Sara Cano.  In this Festival de la Creation 2017, Raghuraman and Cano seek news means of expression, based on each one's different dance contexts, classical Indian dance and flamenco respectivamente.  Sara Cano will also present her own work, a short solo piece titled "A Palo Seco", in which she unites Butoh dancing and flamenco with the help of a live flamenco singer and an audible landscape.
The Festival opens and closes with Fantasy for Violoncello and Flamenco, a joint production with the Bienal del Cello of Amsterdam, bringing together musicians from Spain, Iran, Turkey and Netherlands.  Singer Rocío Márquez, Austrian-Iranian violoncellist Kian Soltani, Dutch violoncellist Ella van Poucke, Turkish virtuoso Derya Türkan and multi-instrumentalist Effén López, strings from all over the world will dialogue brilliantly with flamenco.  Dancer Leonor Leal brings the spirit and rhythm of Southern Spain with unusual accents for this Creation del Festival 2017.
Rocío Márquez is the "Artist in Residence" for this edition, and she's launching her new record with singer-author Niño de Elche. Baroque guitarist and lutist Enrike Solinís and Euskal Barrokensemble and the new singing talent, María José Pérez will interpret classic historical music.
Venues: Amsterdam/Muziekgebouw aan 't IJ, Bimhuis, Tolhuistuin, Podium Mozaïek, OBA, Lloydhotel /Rotterdam/De Doelen, Rotterdamse Schouwburg, LantarenVenster, Grounds, Codarts / Utrecht/ Schouwburg Utrecht, TivoliVredenburg, Rasa, Instituto Cervantes/ The Hague/ Zuiderstrandtheater, Nieuwe Kerk, Korzo, De Nieuwe Regentes /Eindhoven Muziekgebouw Frits Philips/ Amersfoort / Theater De Lieve Vrouw/ Maastricht/ Theater aan 't Vrijthof, AINSI/ Antwerp, De Roma.
6th Flamenco Biënnale Netherlands
13 – 29 January 2017
Amsterdam: MGIJ, Bimhuis, Podium Mozaïek, OBA, De Hallen, Frascati, Conservatorium A'dam, Tolhuistuin, Dansmakers, Chassé Studio, Lloyd Hotel | Rotterdam: Rotterdamse Schouwburg, LantarenVenster, De Doelen, Conservatorium Codarts, Grounds | Den Haag: Zuiderstrandtheater, De Nieuwe Kerk, De Nieuwe Regentes, Koninklijk Conservatorium | Utrecht: Stadsschouwburg Utrecht, TivoliVredenburg, RASA, Instituto Cervantes | Eindhoven: Muziekgebouw Frits Philips | Maastricht: Theater aan het Vrijthof, Ainsi | Amersfoort: De Lieve Vrouw | Antwerpen: De Roma
---
Fantasía para violonchelo y flamenco
co-production by Flamenco Biënnale / Cello Biënnale Amsterdam
13/01/2017 – 20:15 – De Doelen, Rotterdam
14/01/2017 – 20:15 – Muziekgebouw frits Philips, Eindhoven
29/01/2017 – 20:15 – Muziekgebouw aan 't ij, Amsterdam
---
Tino van der Sman Quintet
CD Presentation Curioso Impertinente
14/01/2017 -20:30 / RASA, Utrecht
15/01/2017 -15:00 / Rotterdamse Schouwburg, Rotterdam
---
Luna Zegers Kwartet
CD Presentation Entre dos Mundos
14/01/2017 – 20:30h /RASA, Utrecht
15/01/2017 – 20:30h / Korzo, Den Haag
---
Compañía Sara Cano / Kalpana Raghurama
Double Bill: A palo seco / Rebels' Cross
14/01/2017 – 20:30 – Rotterdamse Schouwburg, Rotterdam
15/01/2017 – Rasa, Utrecht
20/01/2017 – 20:30 – De Lieve Wrouw, Amersfoort
26/01/2017 – 20:30 – Theater aan het Vrijthof, Maastricht
28/01/2017 – Korzo Theater, Den Haag
---
Óle Óle suitcase
Flamenchica Mundi
15/01/2017 13.00h / Grounds, Rotterdam
22/01/2017 12:00h / De Lieve Vrouw, Amersfoort
25/01/2017 14:30h / De Nieuwe Regentes, Den Haag
29/01/2017 13:00h / RASA, Utrecht
---
Manuel Liñán / José Maldonado
Reversible (Dutch première)
15/01/2017 – 20:15 – Rotterdamse Schouwburg, Rotterdam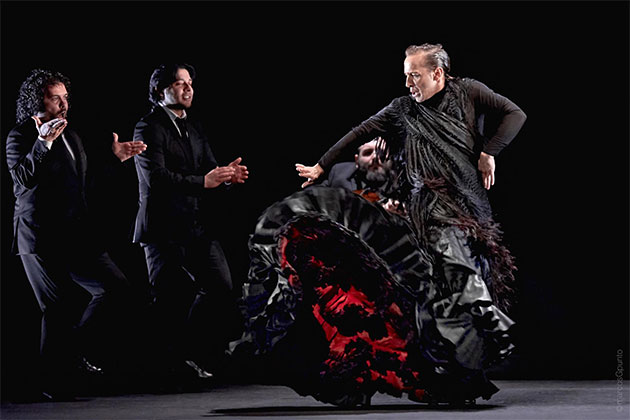 ---
Fado flamenco
Casa Ibérica

18/01/2017 – 20:30h / De Doelen, Rotterdam
22/01/2017 – 16:00h / Theater De Lieve Vrouw, Amersfoort
27/01/2017 – 20:30h / De Nieuwe Regentes, Den Haag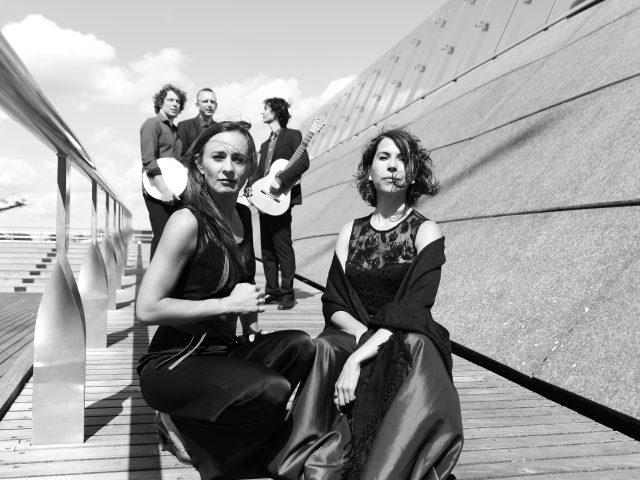 ---
Orquesta Chekara: Flamenco Andalusí,  con María Ángeles Gabaldón
19/01/2017 – 20:15 / De Doelen, Rotterdam
20/01/2017 – 21:00 / Podium Mozaiek, Amsterdam
21/01/2017 – 20:30 / RASA, Utrecht
22/01/2017 – 15:00 / De Roma, Antwerpen
---
Tiempos Nuevos
feat.Ben van Gelder
20/01/2017 – 21:45 / Tivoli Vredenburg (Cloud Nights), Utrecht
26/01/2017 – 20:00 / De Nieuwe Regentes, Den Haag
---
El Amor Brujo
Enrike Solinís, Euskal Barrokensemble
20/01/2017 – 20:15 / De Nieuwe Kerk, Den Haag
22/01/2017 – 15:00 / Tivoli Vredenburg, Utrecht
---
Orilla del mundo
Alfonso Aroca quitet
20/01/2017 20:30 / Tivoli Vredenburg, Utrecht
21/01/2017 20:30 / LantarenVenster, Rotterdam
22/01/2017 20:30 / Bimhuis, Amsterdam
---
Made in Rotterdam
20/01/2017 / De Doelen, Rotterdam
---
La guitarra de Pepe Habichuela.
Pepe Habichuela and Kiki Morente
21/01/2017 / Bimhuis, Amsterdam
---
Parpadeos
La Compañía Parpadeo
21/01/2017 – 20:30 / Theather De LIeve Vrouw, Amersfoort
---
Compañía Flamenca Isabel Bayón
Dju dju  – Dutch premiere
21/01/2017 – 20:00 – Zuiderstrandtheater, Den Haag
---
Recital
Alfredo Lagos and Pepe Habichuela
22/01/2017 – 14:00h / Grounds, Rotterdam
---
Compañía de Rocío Molina
Caída del cielo
24/01/2017 – 20:00 – Theater aan het Vrijthof, Maastricht
28/01/2017 – 20:15 – Muziekgebouw aan 't ij, Amsterdam
---
Recital
Rafael Riqueni
25/01/2017 – 20:30h / Bimhuis, Amsterdam
27/01/2017 – 20:30h / RASA, Utrecht
---
Rocío Márquez
Presents El Niño
26/01/2017 – 20:30h / Bimhuis, Amsterdam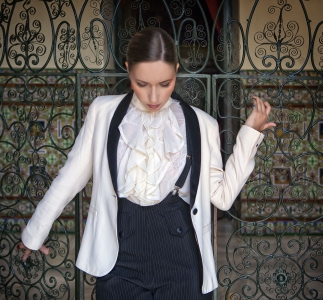 ---
David Lagos, Mercedes Ruíz, Diego de la Margara
Made in Jerez
26/01/2017 – 20:00 – Stadsschouwburg Utrecht
---
En Directo
José Valencia and Special guest Antonio Canales
27/01/2017 – 20:15 – Muziekgebouw aan 't ij, Amsterdam
---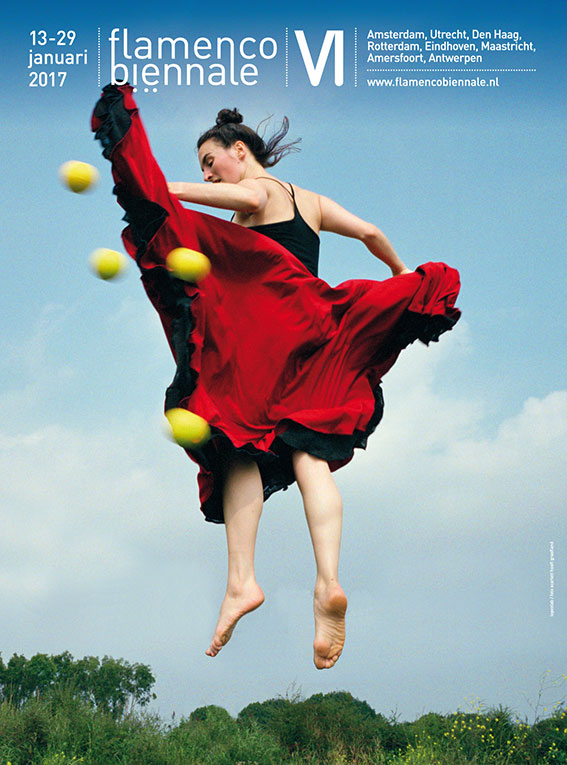 ---