11th 'Flamenco Hoy' Critics' Choice Prizes
Tuesday, February 23rd, 2010. 9:00pm. Gran Teatro de Córdoba
February 25, 2010

Twittear
Text: Estela Zatania
Photos: Rafael Manjavacas
Alter last year celebrating its decade of annual editions, the awards ceremony of the "Flamenco Hoy" prizes given by critics was held for the eleventh time, on this occasion at Córdoba's Gran Teatro.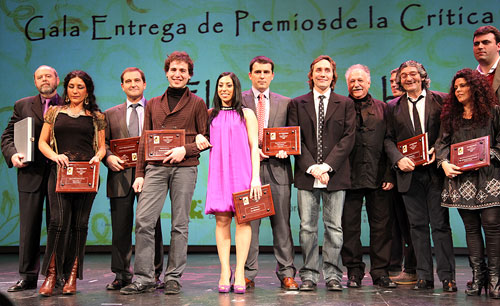 Surprisingly, the theater was nearly full for this event which is modeled after Hollywood's Oscars. Between anecdotes and good humor, master of ceremonise Alfonso Eduardo Pérez Orozco called up distinguished members of the audience to present each prize, and images of all the finalists were projected in each of twelve categories. Three performances offered a change of pace and kept tension high during the two and a half-hour presentation: a local dance group, a young dancer from Málaga and most noteworthy, pianist David Peña "Dorantes" with the cante of his illustrious uncle Juan Peña "Lebrijano".
In earlier years the awards ceremony had been held in Madrid and Jerez. Córdoba was an apt choice this time as it highlighted the imminent inauguration of the Centro Flamenco Fosforito, honoring the singer from Puente Genil whose career is so closely linked to Córdoba and who was not only present, but was asked to present one of the prizes. The city of Córdoba also hopes to be named the Cultural Capital of Europe in 2016, and this autumn the prestigious contest of cante, guitar and dance, held every three years since 1956, is scheduled to take place.
The winners of the "Flamenco Hoy" prizes were selected by vote from a jury of specialized critics. This year, two young dancers managed to break the former winning streak of big stars and carry off the respective dance prizes: Marco Flores and Fuensanta la Moneta, respectively, Best Male and Female dancers.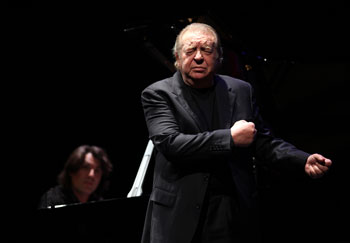 Best Solo Guitar Recording was for Vicente Amigo for his "Paseo de Gracia", and for the second consecutive year, the prize for Best Cante Recording was for a production sponsored by the BBK bank for "Mujerez" with the outstanding cante of Juana la del Pipa, Dolores Agujetas and Macanita. The same recording brought the prize for Best Guitar Accompaniment for the much-admired Jerez maestro Moraítio.
The prize for Best Book went to Luis Clemente and his "Kitsch y Flamenco", and Best DVD, to Estrella Morente for "Casacuela-Antología". Other prizes were for Best Recording by a Newcomer for David Lagos who is currently on tour in the United States, and Best Instrumental Recording for Josele, who was also unable to be present for professional reasons.
COMPLETE LIST OF WINNERS
OUTSTANDING MEDIA WORK: Paco Sánchez
PROMOTION OF FLAMENCO: Instituto Cervantes
FLAMENCO BOOK: Luis Clemente for "Kitsch y Flamenco"
DVD: Antología "Casacueva" of Estrella Morente (Virgin, 2009)
BEST RECORDING BY A NEWCOMER: David Lagos for "El Espejo en que me miro"
GUITAR ACCOMPANIMENT: Moraíto for "Mujeres"
INSTRUMENTAL RECORD: Niño Josele for "Española"
PRODUCER: Ricardo Pachón for "Sólo por eso" of La Macanita
MALE DANCER: Marcos Flores
FEMALE DANCER: Fuensanta La Moneta
SOLO GUITAR RECORDING: Vicente Amigo for "Paseo de Gracia"
CANTE RECORDING: "Mujerez" (BBK), Juana la del Pipa, La Macanita and Dolores Agujetas