Text: Ángel Yance
Editing: Estela Zatania
INVESTIGATION – Luis Yance – Historic profile of a guitarist
My name is Ángel Yance Peñalva and I live in Madrid on Antonio López street.  Luis Yance was my grandfather's brother although I always called him my grandfather.  Luis lived on the first floor of our building, my grandfather on the fifth, and my father was always in Luis Yance's house.  I'm the only family member who's followed in the guitar tradition, officially becoming professional at the age of 14 with the little card the syndicate used to give if you passed the examination in order to work, giving recitals, some television work and second-level festivals.  At 20 I stopped playing in search of greener economic pastures, because you didn't make much of a living with the guitar in those days and I needed my independence, although now and again I still dust off the old instrument.
The following profile of my great-uncle is based on my own investigations, in addition to data from the Diccionario Enciclopédico del Flamenco de José Blas Vega and Manuel Ríos Ruiz, José Manuel Gamboa, Eugenio Cobo, newspaper clippings of the era, posters, military records, municipal records from Madrid and Getaje, the Civil Registry and declarations from Luis Yance's relatives and friends.
---
Luis Yance Fernández-Peco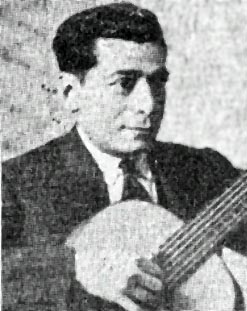 He was born in Madrid April 13th, 1890, and died in 1937.  The son of Phillipine parents, he lived at Dos Amigos Street, number 5, right behind Madrid's Plaza de España.
Married to Seville dancer Matilde Prada Mercé, he had four brothers, although he thought he only had one, but during one of my investigations of his father's military records, I found five children listed although my father never knew he had four more uncles.
Luis' first music lessons came from his mother – there was a piano in the house – but the young boy couldn't get interested in that instrument and took to the guitar.  He began working at a barber-shop in the Puente de Vallecas – many guitarists used to work in barber-shops in the old days and when there were no customers they would practice.  It reached a point that more people were going to the barber-shop to listen to Luis play than to have their hair cut.  One day an artistic agent went in and it was he who encouraged the lad to quit his job and become a professional guitarist.
Luis Yance was one of the first flamenco guitarists to actually read music.  He was a great accompanist of cante and dance who is remembered, among other things, for the campanilleros he recorded in 1931 with la Niña de la Puebla and which eventually made her famous, but mostly, he is remembered as a fine soloist.  He accompanied nearly all the great singers of the era including Angelillo, el Canario de Colmenar, El Guerrita, Chato de las Ventas, Chato de Jerez, Niño de Marchena, Fanegas, Niño del Museo, Niño de Caravaca, Niña de Linares, Niña de la Puebla, El Sevillanito and Encarnación Gallardo among others.  In New York he made a solo record in 1930 and this was one of the first recordings of concert flamenco guitar ever produced.
It reached a point that more people were going to the barber-shop to listen to Luis play than to have their hair cut
Later on came long tours of America with Argentinita as well as on his own.  His triumphs at the Barrymore Playhouse and the Book Theater in New York City in 1930 consolidated his reputation.  Argentinita once told how Luis would go out and play a solo and after that she couldn't get on with the show because the audience demanded more and more of the guitarist.  He participated in the film "Galas de la Paramount" with Argentinita, and in 1932 starred together with Angelillo in one of the first talkie films made in Spain, "El Sabor de la Gloria", a full-length feature film by Fernando Roldán.  In 1933 he took part in a film by José Bush, "Madre Alegría", accompanying la Niña de la Puebla.
He used to hang out with Ramón Montoya with whom he shared a great friendship, but Montoya's character combined with Luis' quick temper nearly brought the two to blows on several occasions.  When either one had new guitar variations they would turn off the lights so the other couldn't copy the material.  On at least one occasion Ramón insisted Luis had to show him a certain falseta, and when the latter refused they were at each other's throats.  These anecdotes were confirmed by Sabicas himself years ago.
He played Santos Hernández guitars and used to get together with fellow-guitarists at the Café de Madrid on the Calle Alcalá.  When not touring, he was usually at the Villa Rosa night-club with his guitarist friends of the era such as Perico el del Lunar senior, Manolo de Huelva, Montoya and later on, Luis Maravillas.

He made one of the first recordings of concert flamenco guitar ever produced
I went to Seville to visit Don Juan Valderrama in Espartinas just 15 days before he passed away.  I will always be grateful to him for having received me as he was seeing almost no one – those days after the tribute the Junta de Andalucía gave him in Madrid, he was extremely frail, and I can never forget the date of his death, April 12th, because Luis Yance had been born on April 13th.  Here is a summary of what he told me:
Until the beginning of the Spanish Civil War. Luis Yance was working with la Niña de la Puebla, and had already recorded with her and done a film.  La Niña de la Puebla was working with Sabicas in those days, but in 1936 he went to the United States and to replace him, the singer wanted the best guitarist of the moment, who at that time was Luis, the favorite of all the good singers.  He began playing in the company of la Niña de la Puebla with Luquitas de Marchena (la Niña's husband), Paco el Lorqueño, Niño de Talavera, Niño de Santo Domingo, Acha Rovira in addition to Juan Valderrama and several others.  Luis only played for la Niña, and for the others, Paco el Lorqueño.  The two men were great friends and when on tour shared hotel rooms.  The group toured most of Spain.  Valderrama debuted with the company in the Albacete bull-ring on August 10th at the age of 16, and the group went on to Valencia on the 13th and Huercal Overa (near Lorca) on the 14th
He created the four-stroke tremolo…the one flamenco guitarists use today.
The day the Civil War broke out, July 18th, 1936, they were in Almería and although they managed to get through the show, the momentous events of that day made for a poor turnout.  Juan explains that la Niña's car was commandeered and they had to spend many days in Almería, surviving thanks only to the generosity of a well-to-do lady who welcomed them into her house and gave them food.  When the car was finally returned, it took them 20 days to get back to Madrid as they had to circulate via back roads in order to avoid authorities who would have taken the vehicle away again.
Valderrama also recalled what a good person Luis was, and how kind he was to him.  After debuting, the Luis went to Luquitas to ask for a raise for the young singer who was getting "twenty duros" (one hundred pesetas) at that time, and asked for one duro more.  When the request was turned down, he told young Juan that he hadn't picked up his salary for the last show, but the latter said there was already someone to take his place the next day and to go running back as quickly as possible.  Luis was left without work and without his salary.  Juan Valderrama didn't have much of a personal relationship with Luis – at 16 he was the child star of the company, while Luis was over 45.  He explained that Luis had suffered a limited paralysis in his right hand, which had an adverse effect on the 'picado' that had always impressed audiences when he played solo.  At that point the guitarist created the four-stroke tremolo which was equally impressive and is the one flamenco guitarists use today.
Shortly after speaking to Valderrama I telephoned Doña Pilar Julve (López, sister of la Argentinita), and although she didn't have the recording I was after, she did confirm what Valderrama had explained that Luis developed a paralysis of the right hand and that was when he had to give up accompanying la Argentinita.  This happened after the tour of America, France and Spain according to Doña Pilar.  She also commented on the good relations Luis had with her sister and that she, Pilar, had met him but did not go on the American tour.
He was featured soloist in the shows of Pepe Marchena and Angelillo
When the war broke out, Luis did not leave Spain as so many other artists did.  As a result of injuries sustained when he was the victim of a common mugging in the street right next to his house, he died several hours later in the hospital.  He had been elegantly dressed and drove a car in those days of few vehicles in the streets of Madrid, and this made him a target.  So Luis actually died during the Spanish Civil War.  His relatives, including my father and uncle, were evacuated to Toledo where they made new lives for themselves.  My father returned to Madrid on his honeymoon which was when he saw his aunt, Luis Yance's wife, for the last time. 
This is what information I found about these artists who survived the post-war period – at that time there were no flamencologists and what little we know is taken from clippings and investigations.  There aren't many left from that era (although they still exist and I hope to speak to them before it's too late).  Present-day flamenco experts know very little about Luis Yance – his sheet music and other belongings disappeared with the war.  Based on what I've read up to now, he is considered an insignifcant guitarist by many, but this does not add up with the declarations and data I've collected.  He contributed a great deal to flamenco guitar, was one of the first to give solo recitals, was featured soloist in the shows of Pepe Marchena and Angelillo among others and recorded in New York at the very early date of 1930.
Ángel Yance Peñalva, Madrid, 2005
---