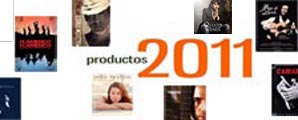 The Flamenco Year 2011
CDs, DVDs, Book, Didactics, Sheets…
by Pablo San Nicasio
Flamenco before the end of the world
A notoriously difficult year with respect to flamenco shows and products has just come to a close.  All the same, there were some artistic high points, and the irreparable loss of Moraíto Chico being the most negative.  Blanca del Rey bid her grand farewell from the stage, and the first Congreso Internacional del Flamenco was held in Seville.
NEW RECORDS
While the output wasn't exactly meager, the number of record productions has continued to fall.  We can't put all the blame on the overall economic situation, although that does play a part, so much as on the precarious state of the recording industry which was already in dire straits long before the famous "crash".
More and more record companies have given up on flamenco, while artists opt for producing their own recordings, which makes for slower production and release, but nevertheless is compensated with greater sincerity and flamenco quality in the results.
Without a doubt, these are times to place your bets on traditional singing and guitar, which is the most difficult, before following the dubious promise of commercial success based on the sale of recordings.
Cante
This is supposedly the strong area of flamenco record production, but self-production wins out by a big margin.  Carmen Linares, who could easily come under the wings of a multinational, opted instead for producing her own most recent work, the live recording "Remembranzas", which is very telling.
Of the big stars, there was work by singers like Arcángel and Pitingo (once again removed from flamenco), while more than noteworthy music was recorded by relatively second-rank artists: Curro Piñana with a great "levante" anthology, Rafael Jiménez "Falo" with a wonderful recording, or Diego Clavel's "Sevillanas".
Youth took over with the likes of José Anillo, Manuela Cordero, Makarines, Jesús Corbacho, Raquel Villar, Sandra Carrasco, India Martínez, Fernando Soto, Manuel Cuevas, Montse Pérez, Isabel Guerrero and the precocious Kiko Peña who, though just getting into puberty, already has his first recording with the blessings of Miguel Poveda.
Special mention for the release of the record "La Boda" containing formerly unpublished material from the wedding of Juan Peña "Lebrijano.  A flamenco marathon attended by a few privileged people, and which in 2011 came out as a record.  A real luxury item.
Guitar
The guitar continues to be on the front line as far as creativity and avant-garde flamenco.  Guitarists never got much of the flamenco pie in the first place, so for them, there's no such thing as recession.  People as important as Josemi Carmona debuted with a solo album that opened a place for his personalized "Josemi sound".  The name of the recording was "Las Pequeñas Cosas", and it was nominated for the Latin Grammy.
Lots of young people, and the first sighting of new talents like Manuel Soto "Noly" or José de Lucía, who opened up the possibility of playing with a pick.  New ideas from foreign guitarists like Raúl Mannola and Ali Khattab, forward-looking work by well-situated guitarists like Carlos Piñana or especially Antonio Rey, who, with his "Colores de Fuego" marked a turning-point as far as new wave flamenco guitar goes.
With regard to Paco de Lucía's new work, it must be said that it is an irrelevant continuity of the earlier "Cositas Buenas", since it is a rundown of the most famous pieces played live.  With documentary included, it just barely whets the appetite of devote Paco followers who continue to wait for truly new material.
Instrumentals
Perhaps this is still the undefined future of flamenco.  Given the difficulties for soloists, there's strength in union.  Already existing trios and quartets were spruced up and expanded to make groups that straddle improvisation and planning, with their sights focused on versatility, yielding some noteworthy results.  "Camerata Flamenco Project" and "Flamenco Jazz Company" were created in 2011 to satisfy an eclectic movement that seems to be flourishing.  This is an idea that is shored up by "exotic" instruments such as the piano (Abdón Alcaraz, Pablo Rubén Maldonado), electric guitar (Jaco Abel) and double bass (Pablo Martín Caminero).  These are musicians who continued to broaden horizons and whom we will continue to hear about in the coming decades.  The future is them.
DVDs
The absence of Enrique Morente was felt, it couldn't have been any other way, and even more so when we look at the last audiovisual work he left.  The year 2011 gave tangible proof that we lost a Granada artist at the peak of his creativity with plenty still to say.
In addition to the above-mentioned work of Paco de Lucía, there were also DVDs about the de Lucía family, Israel Galván, an interesting collection about the Antonio Gades company, a personal version of "Aranjuez" as interpreted by Cañizares and interesting DVDs starring Mercedes Ruiz and Edith Salazar among others.
Instructionals
Fuel for the still young motor of flamenco instruction.  There was new work in this vein from Andrés Batista, Paco Peña, Alain Faucher, Paco Fernández, David Leiva and Óscar Herrero.
Original was the series of comic books titled "Gerundino" in which teaching and entertainment go hand in hand to hold the little ones' interest.
FLAMENCO BOOKS
No great rivers of ink were spent on flamenco in the past year.  Not much, but interesting.  Noteworthy is the biography of Antonio Mairena by José Cenizo, the quirky "Flamenco de Arte y Ensayo" from Luis Clemente in the great tradition of Gómez de la Serna and the writings of Paco Vargas and Curro Albaicín who wrote, respectively, about Málaga flamenco and the Zambras of Granada.
THE BOTTOM LINE
Around the middle of 2010 flamenco was declared a World Cultural Heritage.  Everything was congratulations and celebration.  After an earlier letdown, and many promotional events, the cultural importance of flamenco was finally recognized in the global arena as a musical genre which was never really much in doubt as far as its quality and history.  So right from the start, 2011 had a different feel.  Flamenco had left the smoky back room to come in through the front door and attend a banquet which, after the dust had settled, wasn't quite what people expected.
What was supposed to have brought all kinds of gigs and economic support (widely-held beliefs within the business, although no one recalls having heard any firm promises), ended up being a merely symbolic recognition of flamenco.  And in the full throes of recession, flamenco also had its group of demonstrators with the maestro Pansequito leading the charge.
The scarcity of shows, along with the drastic reduction in artists' salaries, had the effect throughout the year of triggering a continuous background noise of rattling swords among the flamenco rank and file, many of whom had the sense of being sidelined by the "establishment" surrounding festivals and programmers.
Many in a precarious situation, some older people who were totally unable to take advantage of social security or unemployment benefits (an old problem that's been going on for years), along with the climate of pessimism that permeated every artistic endeavour, put flamenco in contradictory and dire straits, beyond its cultural importance.
We can only wait and see how 2012 shapes up, if the world doesn't end, and more than a few people find that getting by day to day can be quite a struggle.
---