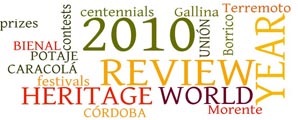 The flamenco year 2010,
year of World Heritage status
Estela Zatania
Without a doubt, in 2010 we have seen that the art of flamenco survives even with dramatically reduced resources, a new reality we are all having to deal with.  If the recession came down hard right in the middle of the 2008 Bienal de Sevilla, now, with the 2010 edition behind us, it's clear that both flamenco fans and interpreters have withstood the pressure, and the impact that attracts people from all over the world, continues to follow a dynamic course.
It was a year marked in the end by the terrible, unexpected and premature passing of one of the most admired flamenco singers of our time, but there were also great triumphs and reasons to celebrate.
FESTIVALS, SHOWS, CONTESTS
The calendar of major events got underway, as in other years, in France with the Nimes Flamenco Festival, which this year celebrated its twentieth edition with a bang, including the participation of top stars like Miguel Poveda and the most recent winner of Spain's national prize for dance, Rocío Molina, among many others.  Shortly afterwards, the 18th Festival Caja Madrid took place with its traditional honorary award "Puerta de Alcalá" going to guitarist Enrique de Melchor. In January, the Gira del Norte also got underway, this year in honor of Rafael Romero "El Gallina", and featuring performers Mayte Martín, Israel Galván and Canela de San Roque scheduled to tour six cities in northern Spain.
With fourteen years and counting, held annually in February/March, the Festival de Jerez, the most important flamenco and Spanish dance event in the world, was again noteworthy because of the influx of foreign theater-goers and students, and a very complete program which included performances by the Ballet Flamenco de Andalucía and Farruquito with "En Familia".
Springtime brought the Festival por Tarantos 'A Almería', and the Barcelona festival Ciutat Vella, while the prolific Rocío Molina debuted her new work "Cuando las Piedras Vuelan" in Madrid.
In the month of June, flamenco was flowing throughout the province of Madrid with the extensive program of Suma Flamenca and more than thirty varied events.  Summertime brought classic festivals like the Potaje Gitano de Utrera, the Reunión de Cante Jondo de La Puebla de Cazalla, the Festival de Casabermeja, the Caracolá Lebrijana and Morón's Gazpacho Andaluz, as well at the nineteenth Festival Pirineos Sur devoted to transcultural music.
The admirable Granada series of the Corral del Carbón managed to maintain its excellent level with artists like Rafael Riqueni, Farru and Marina Heredia.  But August wouldn't be August without the venerable Festival International del Cante de Las Minas de La Unión, this year celebrating its golden anniversary, eye-witness to a half-century of flamenco evolution.  Now, looking back at the closing gala, Enrique Morente's recital seems a poignant goodbye.
Madrid filled its own August nights with the series of the Jardines Sabatini and the noteworthy participation of José Menese, while in Cádiz we were once again able to enjoy the excellent program of the Jueves Flamencos in the spectacular setting of the Baluarte.
The month of September began with the Sangre Nueva festival of young flamenco performers, but the major happening was, needless to say, the Bienal de Flamenco de Sevilla.  The mega festival was quite a bit more digestible this time around after being trimmed down to three and a half weeks with 56 shows, each and every one reviewed by Deflamenco.  The Giraldillos that award the most noteworthy artists of the Bienal went to María Pagés, Pansequito, Juan Carlos Romero, Isabel Bayón, Moraíto and Pastora Galván among others, in addition to special recognition for Miguel Poveda and Paco de Lucía who respectively inaugurated and closed the Bienal of 2010 in the most spectacular way possible.
A rainy autumn in Andalusia was brightened up by the 19th Concurso Nacional de Arte Flamenco de Córdoba celebrated every three years since 1956.  With contest rules modified to adapt to the new austerity, there were only two winners, Antonio Mejías in cante, and Antonio Rey in guitar, with the dance prize left unawarded by order of the panel of judges.
Granada again mounted its Festival Flamenco de Otoño with the noteworthy performances of Juan Habichuela's grandson, Juan Andrés Maya and Estrella Morente just when bad news began to arrive from Madrid about the latter's father.
The calendar of events was rounded out by the Jornadas Flamencas de la Fortuna which bestowed its prized "Silla de Oro" upon young singer Isabel Guerrero, and the performance of Israel Galván with his work "Edad de Oro" to close out the Cajasol program for 2010 in Seville.
CENTENNIALS AND PASSINGS
Personal losses this year were few, but extremely traumatic for the flamenco community.  In mid-February, after a long illness, and just when we were all expecting a different outcome, Fernando Terremoto passed away throwing Jerez and the flamenco fans of the world into deep mourning.  One month later, we lost the great Triana dancer Rafael el Negro, husband of Matilde Coral, and for several months there was no more bad news.  But in November producer Mario Pacheco said his last goodbye, as did Málaga guitarist Pedro Escalona in December.  The tragic and unexpected loss of Enrique Morente spawned headlines in important international newspapers.
Happier landmarks were this year's centennial celebrations.  Three singers from an era many now call "golden", Joselero de Morón, Tío Gregorio "Borrico" and Rafael Romero were born in the same year, 1910, and were each remembered with diverse tributes and publications.
INTERVIEWS AND SPECIAL REPORTS
This year Deflamenco published interviews with young artists in the process of making a name for themselves, as well as veterans deserving of greater attention and top stars of flamenco.  Among others, Diego del Morao, Juan Carlos Romero, Juan Manuel Cañizares, Carolina Planté, Jesús Fernández (this year's winner of La Union's dance prize), Manuel de Paula, Juan Carmona, Marina Heredia, Flavio Rodríguez, Tomatito, Marco Flores/Olga Pericet/Daniel Doña, Manuel Liñan, Canito, Argentina and Alfonso Salmerón laid out their thoughts, aspirations, observations and knowledge for readers to enjoy.
The sudden passing of Morente, in light of the Granada singer's dimension, was worthy of a complete special report.  There was also special coverage about UNESCO's recognition of flamenco as World Cultural Heritage, a distinction fans and artists had spent seven years hoping for.
In May we reported on the honorary doctorate awarded by the prestigious Berklee College of Boston to our genius and maestro of the guitar, Paco de Lucía.  Another special report was devoted to the FFLAC, the first Festival Flamenco de Cortometrajes (short films) with the contest's winning work "Síndrome de Pies y Manos" by Jesús Pulpón.
ON THE HORIZON…
In this year drawing to a close, we've witnessed the disappearance of several venerable cultural events, and this in turn has made programmers and organizers of festivals, theaters, flamenco associations and similar venues learn to manage the economic situation with as little change as possible given the circumstances.  In 2011 we are bound to see more conferences and parallel activities, perhaps fewer live performances, and programs will be reduced.  On the positive side, lesser-known but deserving interpreters will have the opportunity to be heard, and from the perspective of the flamenco fan, we will be able to see something other than the usual handful of top stars.
Contrary to what some people think, the reduction in public and private subsidies in the coming year may prove to be a blessing in disguise, as it has the effect of putting everyone on the same map with regard to a marketplace that values art more than influence.  Large record companies are less interested than ever in flamenco, and another effect of belt-tightening is that we can be sure to see works which are less contrived, based mostly on solid cante, dance and guitar, the eternally essential elements of this monumental artform.
---