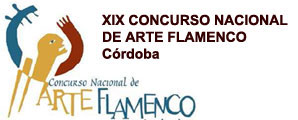 XIX CONCURSO NACIONAL DE ARTE FLAMENCO
November 8th to 27th in Córdoba.
The prestigious Córdoba contest will take place from November 8th to 27th with 109 contestants in cante, 40 in dance and 18 in guitar.
The closing gala with the announcement of winners will be celebrated Saturday November 27th, and will include winners' performances.
New in 2010
The contest rules have undergone a major overhaul that reflects changing values in flamenco.
There are now far fewer partial prizes in order to award the most complete artists.  A diploma and 2000 euros will be awarded to each finalist in cante, dance and guitar to honor those who make it to the final round, while the winners in each category will each receive 12,000 euros.
Another change is in the date.  Since the first edition it had always been in May, but this time it has been moved to November to enhance its importance and not compete with the many activities that take place in the spring.
Age limits have also been set for the first time in the contest's history.  Beginning with this edition, people wishing to compete must be between the ages of 18 and 50.
History
The Concurso Nactional de Arte Flamenco de Córdoba has been held every three years since 1956 with the aim of preserving traditional flamenco in the spirit of the 1922 Granada contest.
A long list of noteworthy winners includes the names of Fosforito, Curro de Utrera, Fernanda y Bernarda de Utrera, José Menese, Paco Laberinto, Matilde Coral, Merche Esmeralda, Paco de Lucía, Merengue de Córdoba, Paquera de Jerez, Víctor Monge Serranito, El Lebrijano, Luis de Córdoba, Manolo Sanlúcar, Juan Habichuela, Mario Maya, Paco Cepero, El Pele, Paco Peña, José Mercé, Joaquín Grilo, José Antonio Rodríguez, Vicente Amigo, Javier Latorre, Paco Serrano, Antonio el Pipa and many others.
Judges for the present edition
President
– Rafael Blanco Perea, teniente alcalde del Área de Cultura del Ayto. de Córdoba
Vice-president
– Marcelino Ferrero Marquez
Guitar
– Manolo Sanlúcar
– Víctor Monje, "Serranito"
– José Antonio Rodríguez
Cante
– Antonio Fernández Díaz, "Fosforito"
– Calixto Sánchez Marín
– Francisco José Arcángel Ramos, "Arcángel"
Dance
– Inmaculada Aguilar
– Javier Barón
– Antonio Ríos Fernández, "Antonio El Pipa"
Parallel activities
The selection phase of the contest will take place from November 8th to 13th with free entrance, the semi-finals, from the 20th to the 23rd with tickets at 10 euros and the closing show with awards ceremony will take place on November 27th with tickets at 8 to 21 euros.  The following activities are also scheduled:
Shows
All shows begin at 9:00pm
Tickets:  8 to 21 euros
1. Compañía de Javier Latorre: El Duende y el Reloj.
One of the most successful shows of the last Festival de la Guitarra, based on the work of ethnomusicologist Philippe Donnier.  Latorre describes it as a choral theatrical fairy-tale that explains the basic forms of flamenco via imaginary conversations with Leonardo Da Vinci, René Descartes, Albert Einstein and Salvador Dali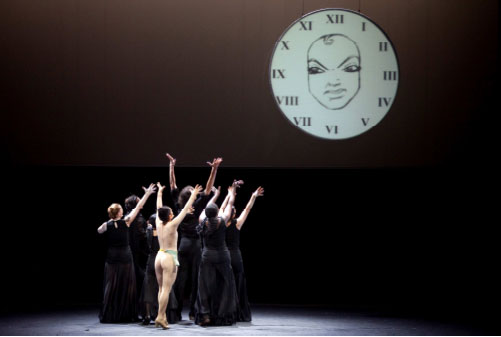 2. Manolo Sanlúcar: La Voz del Color
Manolo Sanlúcar will interpret La Voz del Color, a work the guitarist composed in 2008 inspired in the paintings of Baldomero Ressendi, and which was awarded the Giraldillo of the 2008 Bienal de Sevilla.
3. José Mercé y el Pele.
Dorantes is guest artist with singers José Mercé and el Pele who, like Sanlúcar and Latorre hold prizes from the Córdoba contest.
4. Marco Flores. «De Flamencas» (World premiere)
Highest dance winner in 2007, this young dancer will present De Flamencas, a show in which contemporary and traditional styles combine with the dancer's personality.
Roundtable discussions
Flamenco dialogues – AT THE POSADA DEL POTRO, CENTRO FLAMENCO FOSFORITO
1:00pm – Free entrance to capacity
Pilar López, Mario Maya, Chano Lobato, Fernando Terremoto y Bernarda de Utrera: Artistas en el recuerdo. Concurso Nacional de Arte Flamenco 2007-2010.
November 20th
Speakers: Juan Mata Ortega, Antonio Murciano, Manuel de Paula.
Moderator: Emilio Jiménez Díaz
Arte Flamenco: Tradición e Innovación
November 21st.
Speakers: José Antonio Rodríguez, Javier Latorre, Arcángel.
Moderator: Francisco Martínez-
El Flamenco, Patrimonio Cultural Inmaterial de la Humanidad
November 22nd, speakers to be confirmed.
AT THE PEÑAS
Free entry to capacity.
Representative artists of the Concurso de Córdoba
Sunday, November 14th
At the Peña Flamenca de Córdoba at 1:00pm
Speakers: José María Segovia Salvador, Juan Velasco,
Francisco Dios Canalejo.
Moderator: Francisco del Cid
Young people and flamenco associations
Wednesday, November 16th
At the Peña Rincón del Cante at 9:00pm
Speakers: Diego Pérez Castillo, Andrés Raya Saro, José Arias Espejo.
Moderator: José Carmona Pulido.
Exhibits
Gestos flamencos
Painting exhibition with the work of Fernando Bravo
From November 11th to December 17th at the Posada del Potro, Centro Flamenco "Fosforito"
Carmen Amaya en Argentina: mujer y artista
Photography exhibit.
From November 15th to December 17th at the Sala Orive
Presentations
Official catalogue of the XIX Concurso Nacional de Arte Flamenco de Córdoba and the CDs of the previous edition's winners.
November 17th at 12:30pm at the Posada del Potro, Centro Flamenco "Fosforito"
Posthumous CD de Fernando Terremoto
November 15th at 12:30pm at the Posada del Potro, Centro Flamenco "Fosforito"
Carmen Amaya. La biografía
Book by Francisco Hidalgo Gómez
Date and time to be confirmed, at the Posada del Potro, Centro Flamenco "Fosforito"
---