Resumen: Festival de Jerez. Nuevo Ballet Español 'Sangre' – Elu de Jerez – Marco Flores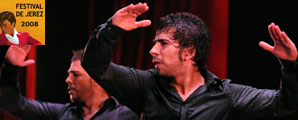 Nuevo Ballet Español "Sangre"
Elu de Jerez
Marco Flores
Sunday, February 24th, 2008. Jerez de la Frontera
Text: Estela Zatania
Photos: © Ana Palma
Sunday at the Festival de Jerez began with the press conference of Isabel Bayón, María José León and Miguel Lavi who presented their respective shows, followed by the presentation of the book "Los Festivales Flamencos en el Mundo: Ritos, rotos y retos", the result of last year's special meetings and conferences that took place during the festival.
Elu de Jerez
Palacio de Villavicencio. 7:00pm.
A small room of the lovely Villavicencio Palace is the place the festival organization reserves for acoustic recitals of guitar and cante.  "Acoustic", and you better believe it; Luisa Jiménez Domínguez, "Elu de Jerez", 1995 prizewinner in Córdoba, born in the San Miguel neighborhood of Jerez, has an industrial-strength voice, lungs to match and enough knowledge to turn it all into cante that can't be ignored.  With the guitar of Domingo Rubichi, the singer from the Plazuela delivered a purely Jerez-style recital; bulerías pa' escuchar (soleá por bulería), siguiriya, some clippy tangos including Camarón's Extremadura styles, soleá with the aggressive delivery her hometown is famous for, tonás and bulerías.  Elu is best in the midtones, but chooses to exhibit her considerable power at every moment; with age will come moderation, but for now this is one of the most convincing voices in Jerez, and it's incomprehensible it is not heard more often.
Nuevo Ballet Español "Sangre"
Teatro Villamarta. 9:00pm
Dance: Ángel Rojas, Carlos Rodríguez, Iván Martín, Emilio Ochando, Cristián Martín, Aitor Hernández, María López, Cristina de Vega, Pilar Arteseros, Pilar González, Raquel Tamarit. Cante: María del Mar Fernández, Jacob Quirós. Guitar: Gaspar Rodríguez, Daniel Jurado. Percussion: Enrique Terrón. Violin: Ángel López de Rodas. Cello: Víctor Gil. Flauta: Elisa de la Torre. Choreography: Rojas y Rodríguez.
The Nuevo Ballet Español created by Ángel Rojas and Carlos Rodríguez, is a relatively unknown group despite their admirable track record over the course of a decade.
Spanish and flamenco dance has always had a life of its own, independent of guitar and cante, and it takes the liberty of reinventing itself at will, creating a new personality without worrying about looking to the past or conserving tradition.  Perhaps that's the point…guitar and cante have been available on recordings for more than 100 years via a variety of formats.  All flamenco fans know the acrid sound of Manuel Torre's voice, but few have the vaguest idea of how people danced during that same era.  Nowadays there are dozens of large-format companies, each with its own vision and aesthetic, and all of them laying claim to the label "flamenco".  From this wide-open landscape comes the Nuevo Ballet Español that performed Sunday night at the Villamarta Theater.
The show, called simply "Sangre", is an assortment of choreographies, alternating group and solo dances.  The work is characterized by relentless percussion, contemporary violin. flute and cello, as well as guitar, and cante is employed as an occasional embellishment with the voice of María del Mar Fernández who follows the line of Montse Cortés.  The result is frankly an attractive product, based on flamenco forms, with emphasis on "amalgamated" or mixed meter, often without committing to fast soleá, slow bulerías or clippy siguiriyas, nor showing any desire to do so as far as I can tell, because this is a dance show, in the most literal sense.  The group choreographies serve as filler between the excellent interpretations of Rojas and Rodríguez, and the latter's long bulerías, showing influences of current figures such as Canales or Farruquito among others, but always with his own style, captures the audience's complete attention and admiration.  This is traditional dance, and clearly powerful, but most of the flamenco energy is frittered away with silky instrumentals that remove the gravity.  Like a homeopathic reduction, it's the abstraction of an abstraction of an abstraction, but in this case, less is simply less.  When the singer briefly offers some tangos of la Repompa, it's like a injection of adrenaline that gives an idea of what these young maestras could do if they wanted to base their choreographies on solid cante.
Congratulations to the lead dancers for exploring virgin territory without hangups, that of men dancing together as a couple rather than carbon copying each other's moves, for having updated the dance of zapateado and for recuperating castanets, and to David Pérez for the attractive lighting that allows the use of black without depriving the audience of visual stimulation.
Marco Flores
Sala la Compañía. 12 midnight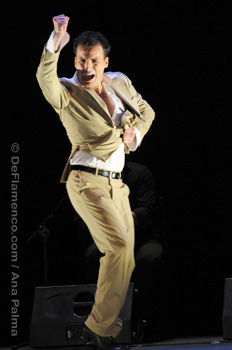 Dance: Marco Flores. Cante: Miguel Rosendo, Leo Triviño. Guitar: Antonia Jiménez. Palmas: La Tacha, Ana Romero.
The venue reserved for young dancers received the artist who was voted Best Newcomer in Dance for 2007 by popular vote of the readers of Deflamenco.  The seemingly boundelss talent of this young man from Arcos de la Frontera did not escape the jury of the last Córdoba contest who awarded him three of the highest dance awards.
The art of Marco Flores is characterized by serenity, aplomb, absolute command and elegance that never lets up, not even in the most intense moments.  How distant are those images of sweaty, tousle-haired dancers who mercilessly punish the floor in search of the duende.  At every instant, Marco demonstrates the surprising power of insinuation, always based on his polished technique, intelligence and good taste.  His farruca has the dignity of the Pelaos and the line of Antonio Gades, the martinete is compact and dense, in alegrías he displays some excellent original ideas and everything is seasoned with the unmistakable personality of mister Marco Flores.  And all the while, Antonia Martínez continues to demonstate that the time has come for women to move to the forefront in flamenco guitar.
---