Interview: Rafael Manjavacas Lara
Antonio Álvarez Pitingo, with a strong flamenco background, returns to the flamenco fold with a new recording, "Cambio de Tercio"
Now, upon his return to flamenco, he has José Manuel Gamboa for producer, and the collaboration of artists like Estrella Morente, Arcángel, Alfredo Lagos, Miguel Poveda, Sara Baras, Carmen Linares, Dorantes and Juan Parrilla.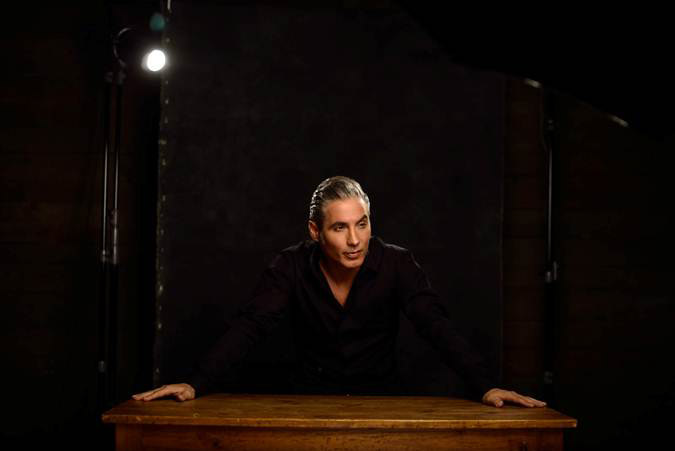 The flamenco path is very narrow…
Very, but you have to return, and go out again, and go back again.
The voice you have, that gift of God, whether to lend it to flamenco or other kinds of music is your own decision, you're free to choose.  I imagine you're pleased with your career.
I don't regret anything, sometimes things come out better, sometimes worse, sometimes the critics are hard on me, but you learn as you get older.  Sometimes when I look back I wish I hadn't done certain things, but you mustn't be regretful, just keep moving forward and try to improve.
Within that freedom, is your return to flamenco, this "Cambio de Tercio", a change of pace.
A complete change of pace, in the music, in my life, I have a two-year-old son, even my hair has changed, I've got more grey now, I feel like going back to flamenco, although I never really left it, but recording-wise I felt like returning.
The world of flamenco has been hard on you at times.
Well, I'm polite to them, but they're not polite to me.  Some people just want the same cantes over and over again, they don't think outside the box, I've always had other doors to open, other interests, but yes, it's been tough.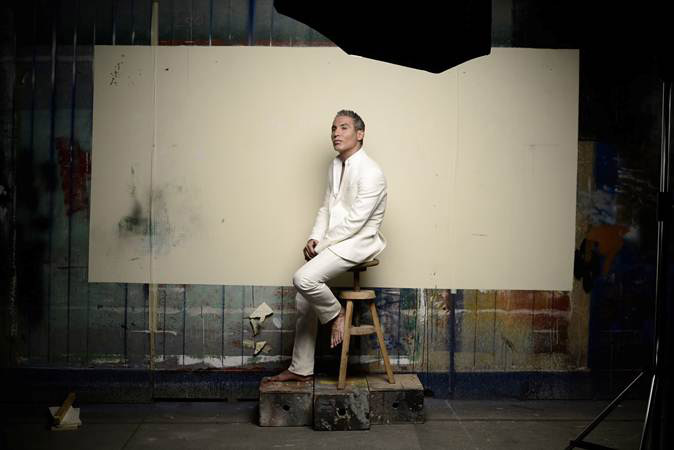 Were you particularly worried about it?
No, my brain never stops working, I finish making one record and I'm thinking about the next, music is very broad and flamenco is where I come from, I'm never going to leave flamenco, for me flamenco is at the root of everything, although I've had other influences.  I never said Soulería was flamenco, or Malecon Street, no one said that was flamenco.  On this record there's 80% flamenco because that's what I felt like doing, it was the right moment to do it, also a little complicated, while the record was being made, a lot of things happened, the death of Paco de Lucía…a piece of my life is gone, flamenco-wise, for every one of us.
And Morente too, although it's been three years.
Enrique…throughout the whole record we were thinking of him, he was such a good guy, a great singer, he was my mentor, it's thanks to him people took an interest in me, I only have words of gratitude.  Making this record there were some very emotional moments, we cried a lot.
At the beginning of your career, in your concerts, when you first did a flamenco part, and then "your things"…it seemed like you were asking for forgiveness.
Yes, in the beginning, I was new at this, I was afraid, critics had been very hard on me and I was always thinking of what they would say.  Now I wouldn't do that any more, I was younger, I was new at recording and being on stage, if I did flamenco, I was afraid of a lot of people in the audience, and if I did the other stuff, I'd be afraid of losing the flamenco fans.  Not any more, now I just do whatever feels right at a given moment, whether people like it or not.  You can't be thinking of pleasing some people and not others, I'm going to do the music I feel.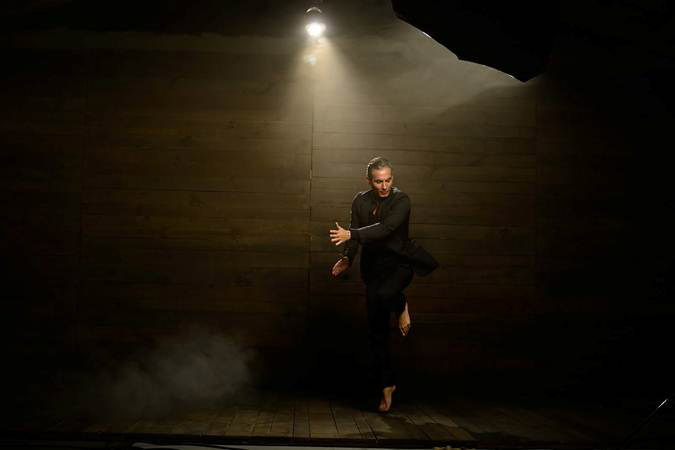 To become successful outside flamenco is very difficult, maybe there was some amount of envy when people see you managed that.
I don't know, you have to work outside the box, if you don't take any risks, you never get ahead, I'm inquisitive by nature.
Your friend Arcángel said "Let me make my own mistakes".
Whoever is dealing with this understands the remark.
Sometimes you get it right, and sometimes you don't, I can't be thinking about what soleá to record, you always have to put your own personality, it's good as a guide and to know the cantes and where they come from.
For this comeback, Gamboa had to be the producer.
He had to be, yes, to be on the safe side and for my own peace of mind, for any sort of doubt when it came time to record, and with complete freedom to create anything within cante, he never says "no"…either he loves something, or he says "I wouldn't quite do it like that".  He produced my first record, and he had to be on this one as well.
How did you go about selecting the cantes?
Between the two of us, Gamboa and me, we didn't want to do the typical cantes everyone records.  The colombiana is a recreation of Enrique Morente's version, and also of Marchena's, and mine is a re-recreation.  At first I was going to do it alone, but then we called Arcángel and Estrella, singers Morente liked, three singers with different overtones in the voice, but we do something similar when we sing, the speed of the notes and the way of adorning…
And the good vibes between your generation's singers, Estrella, Arcángel, Poveda…
We get along great, we've been through a lot of stuff together, I can assure you there's never been any rivalry, everyone on the record has enjoyed the others' friendship always, and with mutual respect.
Unlike the critics, the artists have a lot of respect for you.
We all respect each other and treat each other affectionately, and we admire and learn from each other.  Carmen Linares taught me a lot on this bamberas cante which I already knew, but not well enough to record it, so that made me discover nuances.  "Auntie Carmen" we call her, and she takes good care of us, always supporting our work, she helps us all, Soleá, Arcángel…that's where you see the dimension of the artist.
And what about Juan Carmona?
An amazing guy and a very important person in my career and my life, he'll always be there.  I made this record with Alfredo Lagos, you go through various stages, Juan has projects of his own and a lot of work, and so do I.  I also wanted to give a different sound, I've always admired Alfredo Lagos, he's very open to new harmonies.
One piece is dedicated to Paco de Lucía, another to Morente and of course the bulería to Moraíto.
I had to do a bulería for him, from Jerez, with the greatest respect, bulerías from Santiago and from San Miguel, my little tribute to Moraíto, this man deserves a monument in recognition of what a great person and a great guitarist he was.
Tomasito and Fernando Soto are also present.
Tomasito is amazing, he fills you with energy, and my cousin Fernando, another great guy, very well backed-up, even the palmas, there's a fabulous sound and it makes everything much easier.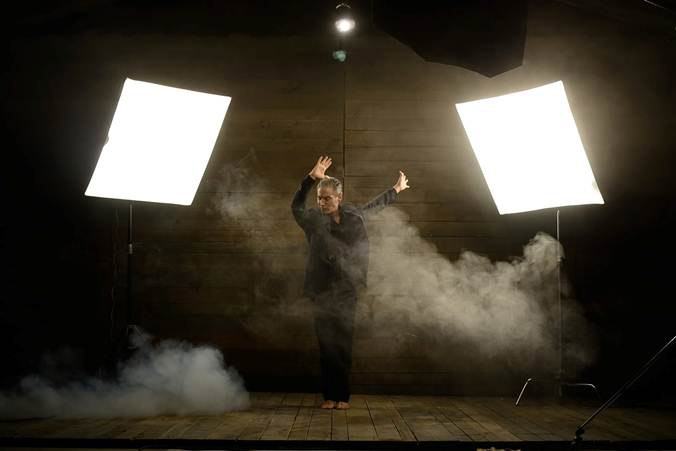 Then there's "Sulema" with Merche…
This piece stirred up some controvery when I decided on Merche, they weren't too convinced, but Merche's tanguillos…her father was one of the most important people in the Cádiz carnival, "Catalán Chico", I mentioned it to Gamboa and he thought it was perfect for what we were looking for.  It's music from the Canary Islands, a tribute to the women of the Sahara, but we do the rhythm to tanguillos, Merche did a fine job singing it.
And the "Himno de la Alegría", whose is that, Beethoven's, Miguel Ríos', Ray Heredia's?
It's Beethoven's…Miguel Ríos does the Spanish adaptation and we do a little tribute to that song.  I heard Miguel Ríos do it and I loved it, it's really unusual.
And some Arabic-influenced things.  There's Juan Carmona, Jr. Dorantes, Farah Siraj.
Faraz Siraj was the most surprising for me and for all the artists on the record, you can't sing any better than that, or more in tune, or with more elaborate adornment….she knows how to play piano, the guitar…she has an incredible ear, it's worthwhile for her to continue investigating and exploring other musical paths.
I've always been attracted to Arabic music, Manolo Caracol had moments that were very Arabic, it's 800 years that culture was in Andalusia.  We do it in Arabic, aware of what each phrase means, it's an Arabic poem made into a song, we had the help of a teacher of Arabic.  When I hear an Arabic person sing I like it very much, they sound gypsy, I love having discovered this, for better or for worse, I think the song is going to be quite popular, mostly in the good sense.
And the record itself…your son Manuel closes out the record.
Oh, that was the best thing I've done in my life, Manuel is two years old now, but that was recorded when he was 13 months, he loves music, he loves to sing and he's crazy for Paquera de Jerez.  Music is like a game for him, he always imitates what he hears being sung at home.  I have to show him the video of Carpeta and the fiesta ending from Saura's movie "Flamenco, Flamenco"…he has to see it 25 times, and then it's in God's hands.
How are the live performances going to be?
They're going to be very flamenco, based on this recording, and then, it depends on the type of event, whether it's a cante festival or not…I have to cultivate a diversity of audiences.  If I have to include pieces from previous records, I'll do so, what I want is for everyone to go home happy.  You have to know where you are, at the Potaje de Utrera or the Caracolá I'm not going to sing "Killing me Softly", unless the crowd asks for it of course.
---