Silvia Cruz Lapeña
The Triana musician presented a flamenco repertoire and a selection of pieces from his previous records on June 24th in Madrid's Suma Flamenca
"I would never have dared to play with Paco de Lucía on stage"
Rafael Riqueni says his guitar is seldom happy, that it sounds melancholic because you become infected with the rhythm of the streets where you grew up, in his case, in Seville, and from things that happen to you in life.  He remembers his beginnings with nostalgia, the first prizes, his tours with Isabel Pantoja and Rocío Jurado, the apprenticeship along with his role models Niño Miguel, Serranito and Manolo Sanlúcar. «I'm not the only performing artist in my family: my aunt is María Jiménez, a terrific artist», he says as if to play down his own merits.  He says that being out of the loop for fifteen years, fighting off the demons that came with his progenitor's suicide and the psychiatric hospitals never diminished his love for guitar, although he has learned to have greater respect for the stage.  He speaks of all this calmly and without drama, although he refers to the deceased in the present tense: Enrique Morente, Paco de Lucia and his own father, who pop up in conversation again and again as if there were alive.  The guitarist comes to Madrid with a flamenco repertoire accompanied by José Acedo and Manuel Amador, whom he chose because he says he infects him with the freshness that can only come from a man of 21.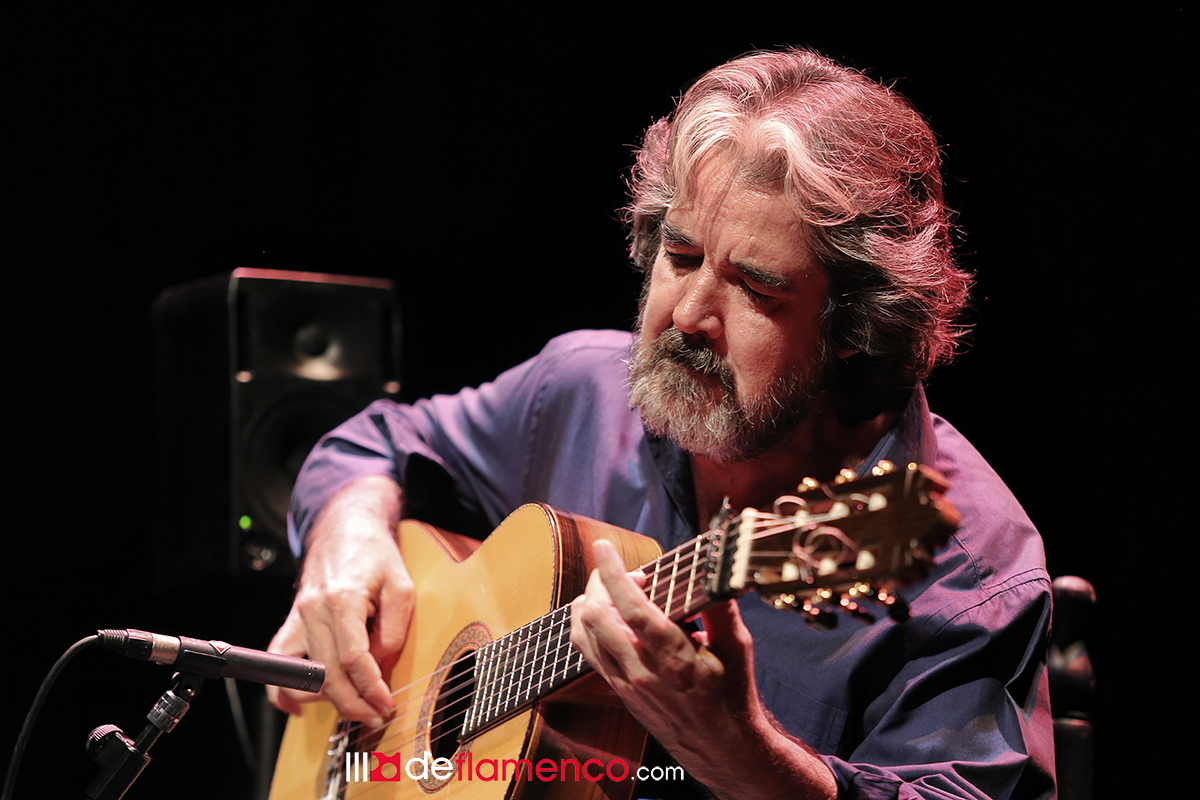 Tell me about this concert in Suma.
I wanted it to be very flamenco.  There are pieces from my upcoming record «Parque de María Luisa», but aside from that, tarantas, soleá and a formula I'm getting to like a great deal: two in one.  I join two pieces from previous recordings into one.  I like it, and I think audience does as well.  As for the rest, it's a very flamenco recital, with my own way of feeling and understanding the guitar.
You've got young people in the group.  Your nephew José Acedo and Manuel Amadaor. What do you like about them?
They're both fantastic, I like them a lot.  The closing numbers are with José, and for the rumba I put Manuel because I love his rhythm, a very youthful way of playing.  And we older interpreters need to mingle with the young ones, not only to pick up that vitality, but also to learn.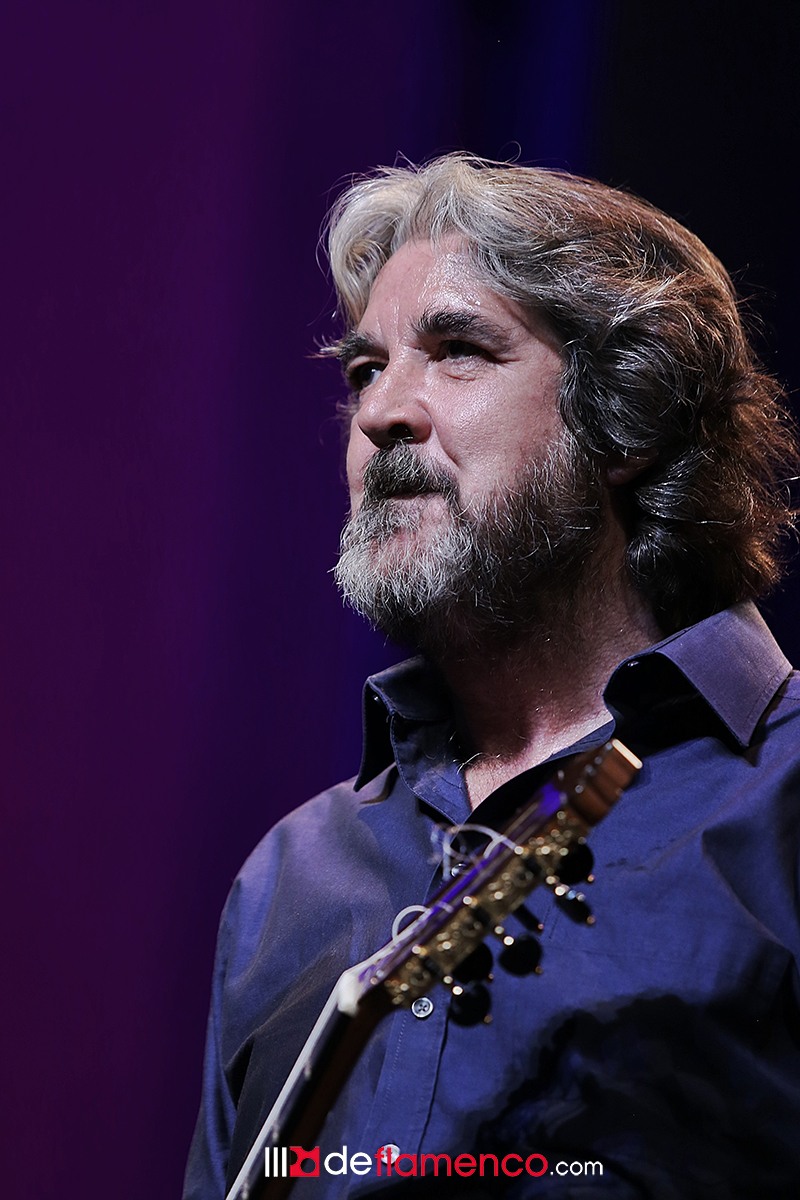 You've started giving classes.  What can Riqueni learn from his students?
Well, I just finished giving a class begun in February at the Fundación Cristina Heeren, and it's been the nicest experience of my life.  I had a great time, I learned a lot and it makes me feel strong to see such young people wanting to learn and to play guitar.  I have an Argentine student who plays in the street for coins, he has a sandwich and comes to class.  I really admire that commitment in someone so young who also transmits all that with his guitar.

Does a person's life come through in their music?
Without a doubt.  I'm from Triana, and my guitar is pure Triana, laidback.  I play a measured soleá, slow, because that's the rhythm I was hearing ever since I was small.  But it's more than that.  I've been through a lot, and that's why my guitar is so melancholic, I have no doubt about this.
Let's talk about those hard times.  What's it like to return to performing after fifteen years down time?
It's hard, but I have to say I'm living in a period full of grace, and it makes everything easier.  When my father took his life, it was very difficult for me, I went from one psychiatric ward to another, and was living like in limbo.  I didn't stop working, but I couldn't concentrate or record, and certainly not create anything new.
Where does this new light come from?
Well, from my son Rafael, for example, he's 25 and he's with me.  It makes me very happy.  And my new house.  It's the first time I've had a home of my own!  And from my guitar.  I'm happy, delighted.
 
Some artists complain of not having had a childhood, of having begun very young, and that the contest circuit is exhausting.  What did it mean to you to be a child prodigy?  What would you recommend to parents who have a talented child?
I'd say the same thing, without a doubt.  I was happy, I was with my father, I learned a lot and got to meet the best people.  It's hard, but if a family has a child with aptitudes, they mustn't waste any time. I won the Córdoba contest at 14, and in Jerez at 15.  I'd do it all over again without a second thought.
You are an example for up-and-coming artists.  Name some young guitarist you like.
Beyond any doubt, José Acedo, because in addition to be a great guitarist, he's a terrific producer.  I like Canito's originality, and the playing of Manuel de la Luz.  In Huelva there's a kid of 16 who's terrific: Álvaro de Mora, and in Bilbao there's Yago Santos who is someone to reckon with.
You said earlier that Paco's right hand will never be duplicated.  Did you ever play with him?
I played with him in private, but I'm not ashamed to admit that I was afraid to play with him.  I would never have dared to play with Paco de Lucía on stage, and I don't think saying so makes me any less of a guitarist, although at times I hear myself play, and there are things that sound like him, I know we were very different, and we had very different qualities.
Music is therapeutic, but up to what point is it so for the musician?
For me, there a therapeutic part, because when I pick up the guitar and can follow a thread, it becomes like a drug.  You release a lot of adrenaline and you just can't stop playing, it's helps you get lost in yourself.  That's when you have no problems, no nervousness, nothing.  That's the sane part.  The difficult part is the creation.  I think all musicians are a little obsessed, and that is accentuated during the creative process.
What obsesses you when you compose?
What concerns me most is not lying to the audience, being honest with whomever is listening is what concerns me the most.
What about your upcoming record.  When is it due to come out?
Well, I hope to be able to record Parque de María Luisa in August, and have it ready by autumn.
You say these are memories of a park that was very special for you throughout your life.  It sounds like it's going to be melancholic.
Well, yes, because that's how I am, but since I'm happy now, I'm sure it's going to show in the final result.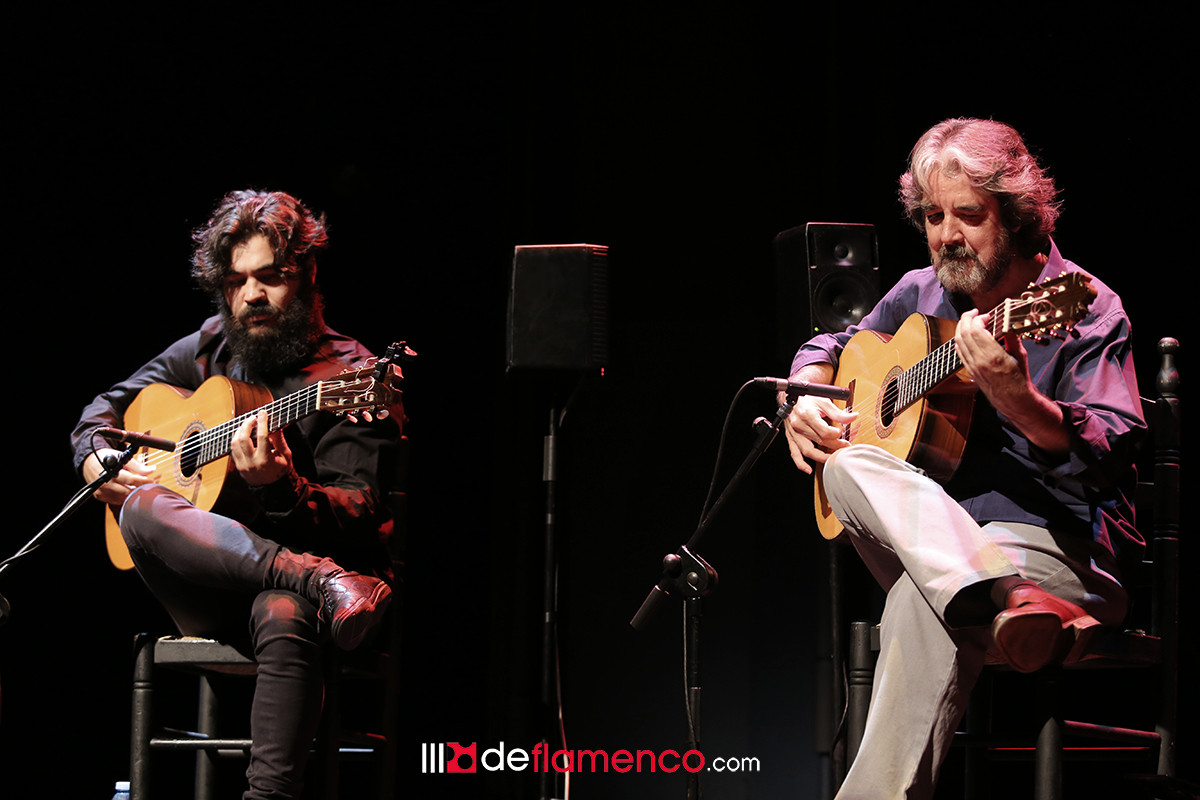 ---