Interview by: Pablo San Nicasio Ramos
"I feel tremendous curiosity about other cultures, and I want to share that with people"
A guitarist once said he was more likely to be programmed in Utrecht than in Utrera.  And it's only logical.  Holland was always one of the pioneering countries to take to flamenco.  Had it been up to them, the status of World Cultural Heritage would have been conceded years ago.  Among other things, they were the first to create a flamenco guitar conservatory.  Located in Rotterdam and established with the help of Paco Peña, it has produced some of the best guitar teachers now giving classes in Spanish conservatories.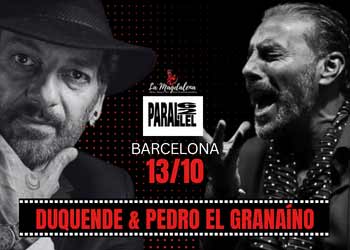 Publicidad DeFlamenco
We are speaking with Ernestina Van de Noort, the authentic guiding force behind this undertaking known as the Flamenco Biennale Nederland, now in its third edition, and which began as one person's dream.  It begins this Friday and continues until the 30th.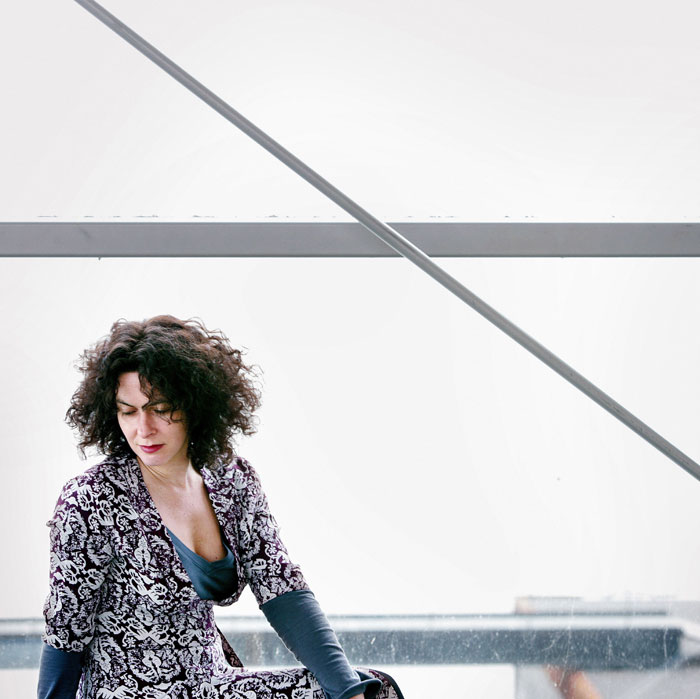 Ernestina Van de Noort (photo: Jean Pierre Jans)
Now going on to the third edition, the festival can be considered stable, don't you think?
Yes, I think so.  And we continue to grow.  This year we have three productions of our own, not bought.  And two juvenile shows we got started with flamenco groups and a Dutch theater company.  I'm talking about things made specifically for this event, and this is already an indication.  On the one hand, "Flamenco sin Fin", a collaboration of the contemporary music group "Nuevo Ensemble" under the direction of Ed Spanjaard.  And on the other, the production "Qasida" by Iranian singer Mohammad Motamedi with Rosario "La Tremendita".  The latter will be going on to the Festival de Jerez a few days afterwards, on March 6th.  Then there's the show "¡Earthquake!", the translation of Terremoto, which is a tribute to Fernando Terremoto, with a lineup of Jerez flamenco stars and Miguel Poveda as special guest artist.  These are signs that everything is on the right track, although we still have a long way to go.
What were you looking for when you started out with this?
Above all else, to avoid the image of "polkadots and flamenco" that people have here.  To show this artform as something more than just another kind of music.  To see it as alive and in flux, and present it as a true performance art.  To  make this festival a showplace for the avant-garde at all levels.  But not avant-garde for its own sake.  I'm not interested in that either.  What I want to reflect is the questing of artists, and give them a platform.
I believe that without tradition there is no innovation.  You have to know the repertoire, the classics, it's indispensable if you want to contribute something new, to extend the frontiers.  It's important to underline that tradition with innovation as the guiding force.
In actual fact, I feel tremendous curiosity about other cultures, and I want to share that with people.  And another underlying reason behind the bienal is that I want to wake up the Dutch feeling for rhythm, something they have hidden, but which is there and waiting to come out.  There is interest in flamenco, and plenty, although I want to delve into that feeling I'm talking about and attract new audiences with more of a taste for modern dance, such as people who are bold enough to get into these rhythms.  I think it's all about trying to find concepts and terms to make flamenco accessible to as many people as possible, a diverse audience, to jump-start the curiosity of a new sector, and that's my mission.
 
With all that in mind, and what there's been in preceding editions, how is this third one shaping up?
It's too soon to say, and until the last minute we won't know the economic bottom line.  The artistic outlook is good.  But I can tell you that the closing gala titled "Flamenco Sin Fin" (endless flamenco) is all sold out, and that might be indicative of the rest of the program as well as being a sign that this new area I want to open up is already beginning to be well-received here.

What kind of financial support have you got?
As you can see, there are many logos that represent public and private funding, and yes, I depend on that, but I have to fight for it despite the successes, and people keep helping out.
This year for example, we have the use of a new municipal auditorium which is perfect for dance, but when they studied the proposal they said "but we've never programmed flamenco!", and they were reluctant, so it was like yes, but no, and in the end we convinced them and that's where Rafaela Carrasco is going to have her Dutch debut.

"It's all about trying to find concepts and terms to make flamenco accessible to as many people as possible, a diverse audience, to jump-start the curiosity of a new sector, and that's my mission".
Do you still have the support of the Agencia Andaluza para el Desarrollo del Flamenco?
Yes, and I'm very grateful to them.  I could always use more, but…."
What criteria do you apply when you put the program together?
I'm already programming the next edition, to give you an idea.  I usually begin work a year and a half before the following Biennale.  And I'm never short of ideas.  I think I have enough to program three festivals like this every year!  But like I say, it's not a problem because flamenco always has very interesting things to offer and there are always interesting collaborations to discover or dream up.  I've started the series Intermezzo Flamenco which is small concert cycles held during the year when there is no bienal.  It was requested by the jazz venue Bimhuis, after the success of the first edition.
The continuous thread in all this is innovation, and having new things to offer.  It's not about adding on things just for the sake of building a festival as other places do.  Here we're looking for reflections of the advances in current flamenco, but without forgetting the roots.  As a matter of fact, Saturday the program at the Bimhuis is one of my favorite nights, it's a small intimate space for pure cante jondo.  In 2008 we had something similar with El Pele.  On this occasion El Torta will sing for the first time in Holland, accompanied by Diego del Morao, and Arcángel with Miguel Ángel Cortés.  The idea is to show different kinds of flamenco singing.  The primitive deep-running base, the spring that flows and nourishes flamenco forever.
Without any help?
Yes, until the last edition I had a close collaborator, Maarten Rovers, my artistic buddy from the very beginning, from the Centro de Culturas del Mundo Rasa, in Utrecht.  But we had an agreement that went until the second edition, and now I'm running the ship by myself.  You might say this festival is my baby.  I don't have children of my own, but if I did, I very much doubt I could carry this forward.  Of course, I have a fantastic team of people working with me in production, finances, etc., but even so this is my thing and I'm completely devoted to it full-time.
This year you have the novelty of Diego del Morao presenting his recording, even before he does so in Spain.
Diego del Morao is the authentic link between the most traditional flamenco and the avant-garde.  He'll be filling in for his father whom we had programmed as "resident guest artist" but who won't be able to come to most of the activities due to health reasons.  We hope he can be at the closing concert at Bimhuis, it would be a big thing.  But it is also a great honor to have Diego presenting his record "Orate", among others in a solo concert on January 23rd in Rotterdam.  I think this is really big news.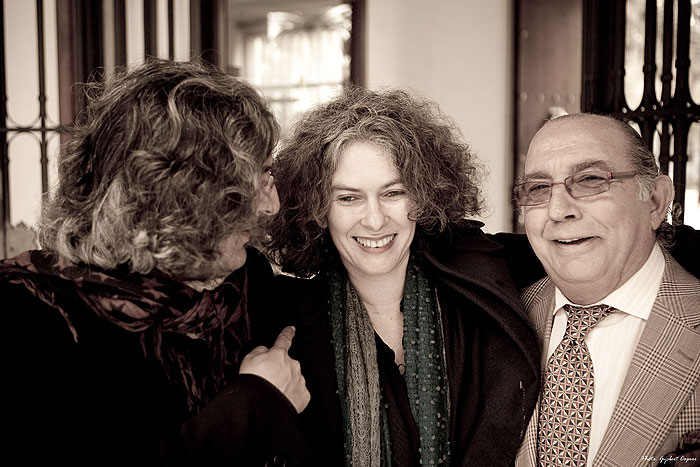 Moraíto Chico y Fernando de la Morena con Ernestina. foto: Gijsbert Copier
The main event will be the tribute to Fernando Terremoto.
It's an idea that came to me at last year's Festival de Jerez when he had just passed away.  And we cooked it up between me and Morao.  Faustino Núñez wrote the script for the show.  I would have liked it to be something that had been presented elsewhere or that would be viable for other festivals.  That, and other things too, of course.  Poveda is coming as I said, this is noteworthy, in addition to Torta, Diego del Morao, Manuel Parrilla, Jesús Méndez, Joaquín Grilo…  It's going to be a tribute to the life and flamenco of Jerez.
We have a very varied program, with emphasis on modern dance with Rafaela Carrasco, Rocío Molina and Fuensanta la Moneta.  Pastora Galván will also be present in a dialogue with Joaquín Grilo with the piano of Dorantes, the Bulgarian flute of Teodossi Spassov and the bass of Renaud García-Fons.  And the expressive voice of José Valencia.  We're always seeking out communication with other genres, with jazz….

"I consider my fellow countrymen a neutral audience, like I said, with a love for flamenco and no preconceived ideas.  So we strive to make this a showcase for the latest projects, without any complexes".
How do you manage the budget with so many big stars on the bill?
We have to work miracles, because flamenco performers' salaries are very high, even higher than those of jazz musicians.  I really have to pressure the institutions, because the quality we bring here costs a lot of money, but really a lot by Dutch standards. To give you an idea, the major concert venues of the Biennale only represent and cover one third of the total cost of bringing these people, so you can just imagine.
Even so, this is one of the very few music festivals of popular world music in Holland which is subsidized…and we manage to program each edition without making too many artistic concessions.
I imagine you have less support for the Intermezzos Flamencos during the years when there is no Dutch Biennale.
Yes, and it's a shame, but that's what there is.  And despite this, we put on some very big shows.  The first we did with David Palomar and Rafael Rodríguez.  The second was with Morao who came with Chicharito and Fernando de la Morena.  He came to give master classes, and the students were moved to tears. And along with Ricardo Mendeville, assistant teacher to Paco Peña in the conservatory here, they did some wonderful classes.
Flamenco fans come here from many countries, both to the Intermezzos and to the Biennale itself, especially from neighboring countries.  This year we have Dorantes with Diego del Morao for the master classes.  And Faustino Núñez will give university level classes in flamenco.  The Carrasco family will also do some teaching with the band of the Rotterdam conservatory, and there'll be palmas classes…between one thing and another, plenty to choose from.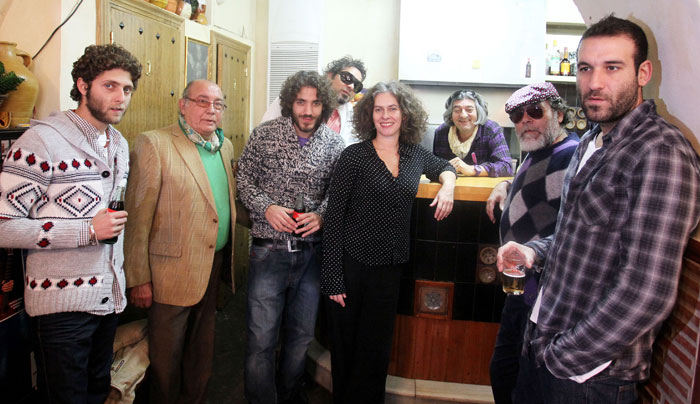 Ernestina with artists from Jerez. Bar Gitanerías de Jerez. photo: Miguel Ángel González
What is the Dutch audience like?
There's a lot of interest in flamenco.  People who know nothing have to be seduced with the rhythm.  At first they act a little cold, but in the end flamenco cuts to the core, and the rhythm they have inside of them comes to the surface.  Other than that, I consider my fellow-countrymen to be a neutral audience, with a lively curiosity and no prejudices.  There's no link to the flamenco tradition although their concept of flamenco is rather influenced by what was offered for years as the typical gypsy fiesta.  At this point in time, in the year 2011, Holland is a showcase for exhibiting the richness of flamenco in all its variety and with the most recent advances, wide open.
Seeing what you accomplished, are there still unfulfilled ambitions?
In actual fact, yes, and not in the way of bring one particular performer or another.  There's lots of unexplored territory.  Among other things I'm trying for something more permanent and stable in national and international venues, collaborations and institutions, because right now it's still touch and go.  We'd like to have the collaboration of international festivals, music ensembles or Dutch modern dance companies. We have a strong tradition here of a more open cultural exchange, without any kind of fighting, consolidating the public while at the same time arriving at something more heterogeneous, always with artistic rigor and without having to resort to polkadots and stereotypical images.  Little by little.
More information:
---