Interview: Gonzalo Montaño
Photos: Luis Castilla
"I see myself as a musician, and I see myself as free"
The pianist Dorantes has just brought out "Sin Muros", a recording in which he shows the musician he is, an artist concerned with today's musical and personal realities.  In the studio located in the basement of his house (where this record was made), with the walls full of family photos, he talked about the ins and outs of his most mature and intimate work to date.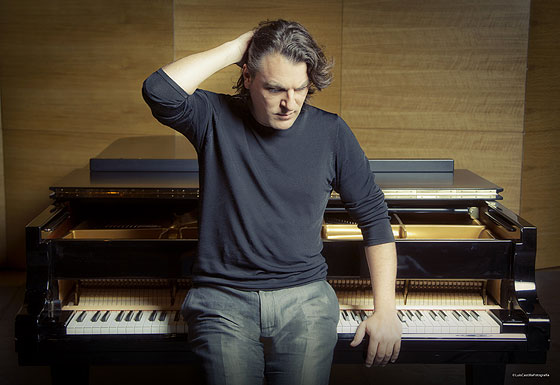 The record opens with bulerías titled "Sin Muros", 'without walls'…what's the meaning of the title?
It's an attitude, I'm not referring to flamenco as music, since fortunately, I do whatever I feel like doing…flamenco doesn't limit me in any way.  I think it's an attitude without barriers or prejudice.  The record contains many poems, thoughts and phrases I wrote regarding this, partially motivated by the all the injustice we see daily regarding race, sexual orientation or country of origin.  I think it's important to be flexible and have the capacity to analyze and understand who and what surrounds us.
Of all your recordings, Sin Muros is the one that contains the most cante.
Yes, that's the basis upon which I wanted to lay down my music.  If you listen to the cantes on the record, like the malagueña, siguiriya, tientos and tangos, these are basic cante forms, and the voice interprets the traditional melody…from that starting point I bring it into my territory, working certain concepts and giving my vision of the piano as an instrument of accompaniment, in other words, putting it all into my musical world.
"Atardecer" is the first collaboration on the record, in this case, Esperanza Fernández.  What can you tell us about that?
Well, for me it's always a pleasure to work with Esperanza because of the great rapport we have.  Here she sings a guajira, and with that starting point, I have continued to create and investigate.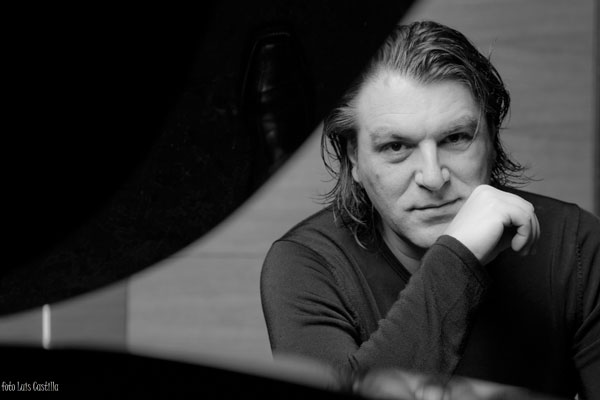 "Errante" is the first number we heard, and it includes José Mercé as guest artist.
This is tangos with a special catchy sound.  I had the idea from a long time ago, and I was always thinking of Mercé to sing it…from that melody I developed "Errante".
This song was interpreted by the band of the procession Los Gitanos de Sevilla.  How did that come about?
There are elements in the music that brought to mind the sound of bands, so I started to investigate and met Juan Manuel, who is head of the gypsy brotherhood.  I was impressed with how he spoke to the young men who carry the Holy Week religious floats, and I wanted to dedicate this to him.  Word got round that I wanted to do something for the gypsy procession, so they put me in touch with Pedro Pacheco, the director of the band, and he advised me on how to give form that would relate to Holy Week.
Let's put the specifics of the record aside for a moment, because I'm interested in knowing how you view your evolution since "Orobroy", up to this most recent work in the fourteen years that have passed.
When I recorded "Orobroy" I was 25, I'd just finished my studies and in actual fact, I hadn't considered becoming a performing artist.  I was wrapped up in my music.  Years later I did "Sur", where I got into a more symphonic concept, and during this time I was getting out a lot, reading a lot, playing music with many people, discovering places which have enriched me as a person and as a musician, all this prepared me for "Sin Muros", a piece of work in which I think I'm more mature musically.
You say that on this record, you work with the concept of atonality.  How is that applied to flamenco?
My language is flamenco, even when I'm playing Chopin you can tell it's a flamenco person at the keyboard.  In fact, I base what I do on the phrygian scale, but then I use modulations, parallel tonalities, and in the end what I do is use the resources of the music itself, and I think that's important, at least for me as a musician, it's what I'm aiming for.
In "Sin Muros", I didn't feel like accompanying the cante as always…maybe in the next recording, if there is one.  What I want is to give a different focus, playing with the harmonies and the concept of parallelism between the voice and the accompaniment to give a different twist and focus the cante from a different perspective using everything I've learned about composition, counterpoint and such, which I think is all enriching.  It's a way of looking at cante that reflects how I feel at this point, and I think it shows my personality and how I express myself.
More collaborations, as they come on the record….we see "Libertad Entre Rejas", a granaína sung by Carmen Linares.
Yes, Carmen did a wonderful job.  It was very important for me to maintain the feeling of each one, that you could listen to something and it would sound like that artist, and I think we managed to do that.
The process went something like this: I would record the interpreters doing the melody of each cante, and I'd accompany them in the classic way, nothing more.  Then, in my studio, I would listen to the recording and put together the music, the instrumentation, how to take on the piece in general.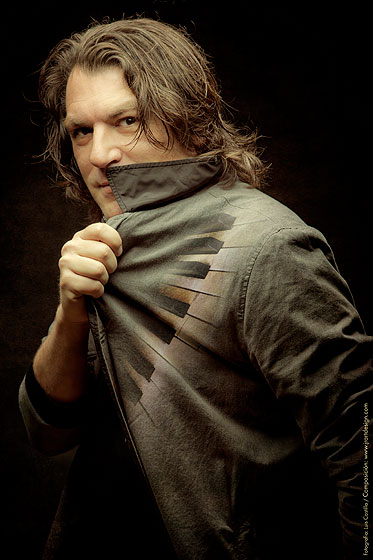 "Refugio" is tientos sung by Enrique Morente.
That was an unforgettable experience…  I was in Granada, eating in his house, and he was very cordial, we had dinner with him and his wife, and right then and there we made the recording.  As I was listening to him sing, I was getting ideas, for example, shortly afterwards I went to Japan, and since I already had the idea in my head, I took advantage of the situation and recorded the Daiko drums which are the basis of the piece and have great expressive force.
In your first recording you already included a soleá sung by your father.  He is again present, this time with siguiriyas.
I really wanted to record siguiriyas with him, because he's wonderful with this cante, so one day when we were feeling sad due to the loss of a relative, he said we should go to the studio and he was going to sing siguiriyas.
It's the verse "Comparito mío Cuco"…my father used to tell me the story about how a gypsy called Cuco was dying from a knife-wound, and he asked to see his mother…the story gets under your skin, this persecuted dying gypsy, and it conjures up the atmosphere and emotions of that moment.
I use 7/8 rhythm to create more tension in the opening ballad, and it escalates up until the moment of the actual aggression, which is where my father's voice comes in to create the climax.
After many live collaborations, you include a piece here with the Israeli singer Noa, in this case recorded live…
Noa sings Nanas of Manuel Molina with the verse: "Sleep with the warmth of the blanket", which is taken from a live performance we did in Barcelona, and which we closed with this piece, both with no additional instrumentation.  I recorded it, and when I listened to it I really liked it, so I made the arrangement here in the studio and decided to include it, I think it comes off quite well.
You've also got Miguel Poveda with alegrías.
Yes, that was a real privilege.  Miguel is a great flamenco singer, and he did a tremendous job with the alegrías, which at first were just going to be piano and voice, but we went building on that.
With a recording like this, with so many important collaborations, how do you plan to manage live performance?
That's no problem since I work with a variety of formations and I can bring any singer to do the vocal parts, or even without voice, just music, that's all taken into consideration.
"Sin Muros" closes with a suite in four movements called "Ante el Espejo".
It's a composition for solo piano in four movements and where I again seek out atonality and try to show how I see myself, a reflection of myself.
And just how do you see yourself?
I see myself as a musician, and I see myself as free.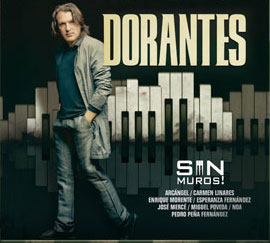 See CD – samples audio – store on-line
---