Interview: Sara Arguijo
"You aren't less flamenco for having more information… it's the other way around"
He just got back to Seville from Oslo, Norway, and no sooner does he land, he sends a whatsapp to confirm the time of the meeting, and express thanks for the interest.  It's impossible not to remember the words of Luis Rosales: "Upon humility, are based all the other virtues".
Dani de Morón has an unstoppable career.  One which makes many people situate him in the previous generation.  The achievement of being chosen by Paco de Lucía as second guitar for the "Cositas Buenas" tour.  The Giraldillo for guitar-playing in the 2012 Bienal de Sevilla.  A first solo record, "Cambio de Sentido", that audiences and critics loved.  And a personality that has made him a reference at the age of just 33.
We're talking to him, because he's the only flamenco guitarist to take part in the Festival Internacional de Guitarra that was held in the capital of Andalusia.  Of course the chat ends amid laughter and those profound observations that come up unexpectedly.
"Having your own personality is the best way to pay tribute to Paco de Lucía"
-The first question is a must…where do you come from, and where are you going?…and it's not a metaphor.
– [Laughter]  Right now I'm busy with Concha Buika's tour which is allowing me to be in the most important jazz festivals, it's music I love.  I've also been in two English festivals with Jairo Barrull, and I'm moving ahead with a recording due out in February and where I've made a big effort to make the guitar sing even more.
-The job with Jairo is a trio along with Miguel Lavi in tribute to Paco de Lucía.  Can you help but do anything now but pay tribute to Paco?
– Actually, it wasn't our idea.  Obviously, no matter what we play, Paco is always there, but playing "Entre dos Aguas" is no tribute.  Having your own personality is the best way to honor him, it's what he most valued.
-Are you one of those who thinks a lot of guitarists fell by the wayside trying to play like Paco?
-Maybe that was true back when everyone was trying to imitate him, but not any longer.  I think my generation is the first after his that was able to assimilate his most important values. We've delved more deeply into the world of harmony and rhythm that he opened for us.
-He used to say the sense of responsibility that came with each new record was torture…is your experience that bad?
-Obviously, I'm not under the same pressure as the maestro.  And anyhow, my records are more like a liberation.  I do them with complete freedom, and always out of the need to say something.  That's why I need to wrap them up to move on.
-You say you don't feel the same pressure, but there are guitarists of your generation, like Eduardo Trassierra, who currently compare you to Vicente Amigo.
-He said that?  Wow, that's really nice…all I know is I try to do things my own way, trying to achieve my own dialogue and maintain the characteristics of my town.  As far as being a reference…that really makes my head spin.
"The evolution of flamenco is in the guitar, not any outside instrument"
-So who would be your closest reference in current guitar?
-I admire a lot of people.  Trassierra himself, Manuel Valencia, Diego del Morao…  But it's sort of cyclical, and right now I'm obsessed with Niño Josele, Vicente Amigo, Cañizares and Josemi Carmona.  In the case of Vicente, I even like the way he sits, but you learn something from everyone. But it's Paco who's always there.
-And what did you learn from your colleague Miguel Ángel Cortés, recent winner of the Giraldillo for guitar at the Bienal de Sevilla?
-Well, the funny thing is, he thinks he learns more from me than I do from him.  However, playing along with Miguel Ángel obliges me to study endless hours, because it's incredible how he gets the guitar to sound.  If you want to play along with him, and not have people notice there are two guitars, you have to work really hard.  I've always admired his touch, and how he has nods from the guitar for his home-town, although he fights it out the way I do with mine.  Knowing him has been the best thing that ever happened to me in flamenco, and I owe it all to Arcángel.

-Speaking of your town, how does it feel to be successful throughout the world, and yet in twelve years you haven't performed at the Gazpacho de Morón?
-I guess what I do must seem horrible to them not to call on me in so many years, when everyone passes through the Gazpacho at some point.  Of course I also think it's horrible the way they're destroying a festival with decades of tradition.  It's a shame, but they're ruining everything with an old-fashioned attitude which is not even ethical.  I understand they don't like what I do, just like I don't like what they do, but they're doing it with taxpayers' money, that's the difference.
-Getting back to flamenco guitar, what do you think it brings to other genres, and vice versa?
-That depends on the musician's intelligence, his degree of ambition and capacity to assimilate concepts.  If someone only likes flamenco, that's fine, but if you're a music-lover it's impossible to ignore what others are doing.  You aren't less flamenco for having more information…it's the other way around.
-Do you feel the guitar is more respected in other kinds of music?
-It's probably more highly valued.  Especially if we analyze its presence in flamenco festivals, which is minimal, despite the maestros we have.
"When you start playing solo, a lot of dancers no longer call you because they think you charge more"
-Are your live shows of guitar and palmas a sort of statement?
-It's a huge challenge, because it forces you to entertain, which in the end, is the objective of any performance, and it's also a challenge for me as a musician.  But yes, it's a kind of statement that the evolution of flamenco is in the guitar, not any outside instrument.
-So are you going to give up accompanying dance and singing?
-Not at all, I learn a lot from it, and I love it.  The fact is, when you start playing solo, a lot of dancers no longer call you because it's very time-consuming to focus your music on a dancer, and sometimes because they think you charge more.
-Is it possible to be a soloist without having begun as accompanist?
-It's not that it's necessary to begin like that, it's that you have to live it.  You have to be able to look back and see you've traveled the only logical path, because before you realize it, your hard disk has 500 gigas of advice from people you've worked with, and that's where you learn the craft.
-What qualities are absolutely necessary in a guitarist?
-Without a doubt, generosity. The guitar was created to accompany, and this means putting everything you know at the service of someone else, so if you are not generous it's impossible.  Then, you also have to have your own pride, because this instrument requires a certain amount of rebellion in order to improve.  Also, humility and dedication, but that holds true for everything in life.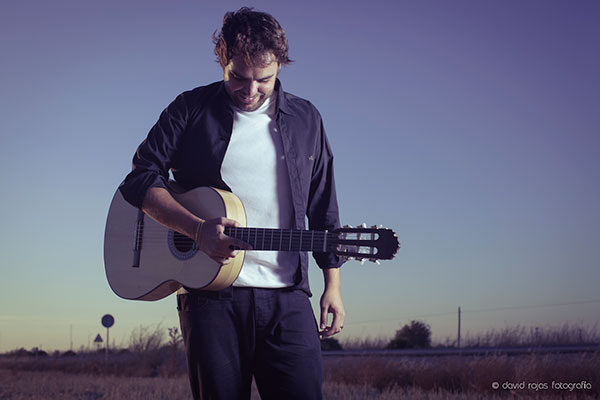 -What has the guitar given you?
-Lots of things, like being overcome with emotion on stage as if you were a front-row spectator…  The first time I had a sound-check with Paco, sitting alongside that man was mind-blowing.
-What is something you would never want to lose?
-My hopes and dreams, the desire and ambition to do new things.  If all you're thinking about is how much money there is, that's no good.
-Any embarrassing music on the phone?
-[Laughter].  Well…look…better not to say anything.  Well ok…I've got "Happy" by Pharrell Williams.
---