Interview: José Manuel Gómez Gufi
Photos: Marta Vila
Rycardo Moreno. Four conversations, and one fine guitarist.
1st Part.
Rycardo Moreno is from Lebrija. His record "Varekay"  is the definitive proof that we live in the golden age of flamenco guitar.  We met with the guitarist four times during the week.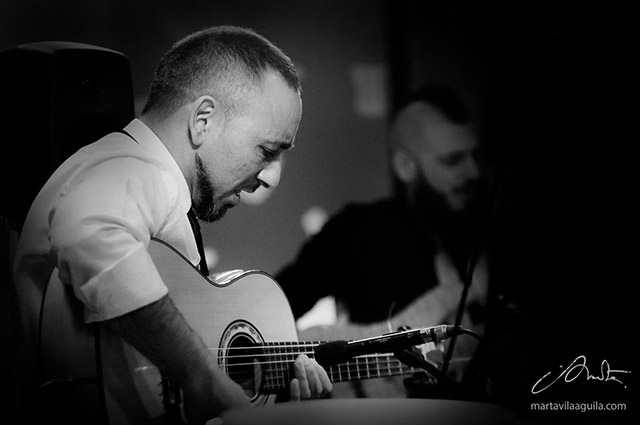 1st encounter. WITH MAUI, A RUMBA AND A SOLEÁ
At the entrance to the Galileo club in Madrid, Rycardo Moreno comments on his participation in Maui's presentation concert.  He played two pieces, the ones he plays on the record, a rumba, and a soleá, and the singer from Utrera points out that he's a vegan and only eats seeds.
-And you manage without steak?
Rycardo- No steak, fish, eggs or milk.
We have a date to talk about the record "Varekay".  Not long ago Lin Cortés said with great surprise: "You don't know Rycardo?" Then I realized you were the producer of Tomás de Perrate's "Infundio", and that you're also involved in "Lebrija Son" with Yelsy Heredia. Two records that turn me inside-out.
2nd encounter. THE INTERVIEW
The conversation is taking place at Karonte.  Rycardo is anxious to talk about it.
After the talk, I decide he has to come to my radio program "Planeta Jondo".  I guess his curiosity about jazz and other musical genres is comparable to mine about flamenco.
3rd encounter. JAM SESSION AT THE CAFÉ BERLIN
Rycardo is guest artist at Diego Guerrero's jam session at the Café Berlín.  The place is half-empty and I find him in the corner warming up with his guitar.
Rycardo- What do you think of the record?
-I went about listening to it in the wrong way.
You don't usually give explanations about how you take on the work of making a record, but for Rycardo's I have to admit I got lost trying to establish the references.
-Maybe it's because the record is missing a hit single, an "Entre Dos Aguas"

-Just what I didn't want.  I was fed up with people knowing me for one song.
Rycardo continues warming-up while he greets a string of musicians wishing him well.  Rycardo makes no secret of the admiration he feels for his colleagues.  In the afternoon I'd received his message that he would come to the radio program with two other musicians.
-Actually, I think I'll go alone to your program he says.
-However you prefer.
A good while later, Diego Guerrero arrives and Rycardo's music fills the room.
I take advantage of the rest to return home mulling over the best way to present "Varekay". For a couple of days I've been listening to Miles Davis' "Kind of Blue".  There are similarities with "Varekay".
4th encounter. ON "PLANETA JONDO"
-How'd it go last night at the Berlin?
-It went well, and then Alaín Pérez showed up and all hell broke loose.  Although the audience was colder last night than other times.
-That's the thing about jam sessions, there are no two the same.
Rycardo is going to play two pieces live at Gladys Palmera's studio.  He's a meticulous guitarist, after warming-up for a good time, he takes the time to adjust the sound to his liking.  Then I ask him to play his version of "Blue in Green" from "Kind of Blue".  I get lost in his music, it tends to happen to me when the sound invites you to dream.
THE INTERVIEW: ON THE TRAIL OF "VAREKAY" (first part)
-Were you in Senegal with Raimundo Amador?
-No, I did part of his tour "Medio Hombre, Medio Guitarra".  Now I'm busy with "Varekay" for May 21st in Cabo Verde and Senegal.  It's via the embassy.  We're playing in a small city which is a world cultural heritage, in a beautiful plaza.
-What is "Varekay", can you tell us about it?
-It's a very broad concept, very philosophical.  What I try to communicate are several concepts within a single word. "Varekay" means "anywhere".  It's a Romany word, I'm trying to defend the gypsy language we lost under the Catholic Monarchs, the persecution, the mistreatment our race suffered. I think it's a good moment for us young gypsies to recuperate our language.  "Varekay" is dedicated to my elders, my long-gone ancestors.  To them I would say "wherever you are, you are always with me at all times, wherever I go.  Musically speaking, it's a stroll through the world…the many trips I've taken.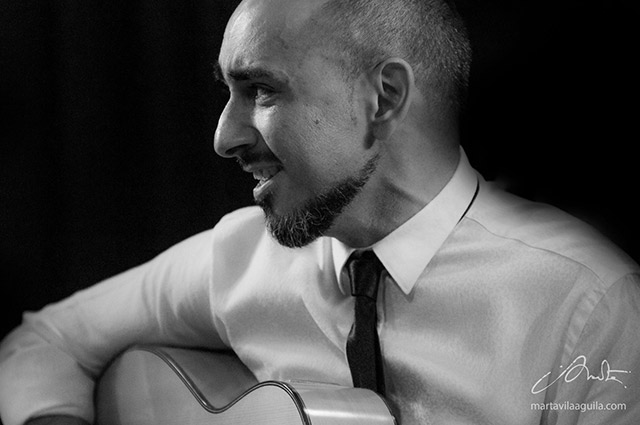 -Wherever you are, you always find a gypsy to speak to in Romany.
-Actually I do [laughter].  The roots of Lebrija flamenco, of my family, are on the record, an unmistakable rhythm and delivery.
Let's talk about family.  What are your roots?
I'm from a gypsy family, but also from the first blacks who settled in Lebrija, on my father's side.  I grew up in a home where we were listening to cante all the time.  My grandmother, the niece of La Rumbilla, one of Lebrija's most important singers, with a style of her own, very personal.  My grandmother, the niece of Diego Flores "El Lebrijano", a singer from the eighteen-hundreds who invented the debla.
-In other words, he never recorded.
-No.
He's in the memory of the elders.  So we don't really know how it's changed in the transmission from fathers to sons.
-Our culture is always transmitted from generation to generation.  There's nothing written.  And if there had been, they would have burned it.  The beautiful thing in all this is that you transmit it to me in your own way, and I transmit it to my son in mine.
And who taught you?
My grandfather, my uncle, my father…
And the family guitarist?
My father, but he's not a professional guitarist.  My father had a bar in Lebrija where all the gypsies hung out, and not only from Lebrija. Agujetas went there after performing at the Bienal because there was always cante.  Also Miguel Funi, Aurora Vargas, José Mercé… All the singers you can think of.  I was eight years old, I'd get out of school, go to the bar to eat and there'd be a full-blown fiesta in progress…I maybe didn't even feel like eating.
When were you born?
In 1981, I'm 33.
So young, I can't believe it!  Tell me about the differences between Lebrija and Utrera, how do you manage that?
Incredibly well.
But are there differences?
Always.  Utrera has a way with bulerías, bolero songs made into "cuplé", Antonio Machín, etc…  Lebrija has a style with "romance" rhythm.
-Right, in Utrera, Bernarda and Bambino…
But then they have a lot in common.  The soleá of Fernanda could easily be from Lebrija, there are very close ties.
-Fernanda's soleá, so gripping…
-There's profound wisdom, and that way of expressing the melody, the harmony.  Like you say…gripping…
How did you transition from amateur to professional?
I was working at a greenhouse cutting carnations.  I was 18, working at my father's greenhouse, and there was a girl who sang…
Wait a second, can you sing while you're cutting flowers?
Everything.  I composed the record "Ojana Ná" at the greenhouse, and it was a big success.  I'd get home from work and have a new piece ready, then at home, I practiced guitar.
So, if a martinete was created based on a hammer and anvil, your compás came out with the clicking of scissors?
Yes, but I cut less than everyone else [laughter]
And the next step is…
A tour with top musicians from Seville, and little by little I'm adding Cuban music and jazz.  And practicing guitar.  But I've gone through many stages.  When I was a boy I had a group of 14 kids, and Brother Juan was the leader.  We spent the whole day making music.  One day I was playing a mass at church, and one of the richest ladies in town said: "I want to pay for that boy's musical education wherever he wants to study".  And I decided I wanted to go to Lebrija.
-Wow!  And how'd that go down with your family?
I was only 14, and she wanted to pay for any university, but I had stuff going on with the 14 kids, my cousins, and we spent the day playing music, and I said I didn't want to give up that life and that moment.  So she said, well, I'll pay for you to study in Jerez or Seville, so I went to Jerez and studied with Antonio Jero "Cagalera" who lives in Santiago but is from Lebrija.
What difference is there between what took you from Lebrija, and what you found in Jerez?
Just imagine the guitar-playing in Jerez, so rich, so many dynasties, the Moraos, the Parrillas, the Jeros…they are mutually enriching.
Ah the Jerez sound…
I don't do that really, I always play Lebrija.  Antonio Jero gave me Tomatito's falsetas, Vicente Amigo's, his own…  More advanced material than I was playing in Lebrija, where what I mostly did was accompany cante.  With him I started learning to distinguish the different styles of playing.  In Lebrija it was the day-by-day love of flamenco.  With him, I began to understand the guitar.
 ——–  End of the first part —————–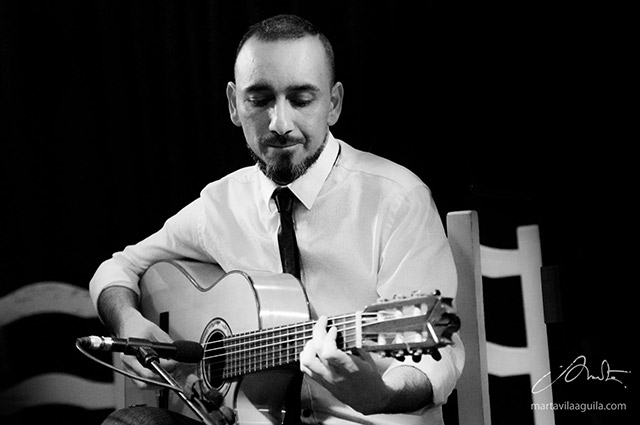 In the second part:
•    Encounter with Diego del Morao
•    Headed for New York
•    In Rome with Rumi, an Iranian soleá.
---