DeFlamenco.com
January 29th, 2013
During the fourth Dutch Biennale, we spoke with Ernestina Van der Noort, director and creator of this festival which has carved out a place for itself on the international flamenco calendar.  For the current edition, called "Idas y Vueltas", Carmen Linares "artist in residence" is presenting a new show, "Historias de Viento", with the Dutch Wind Ensemble, a project that was the idea of the subject of this interview.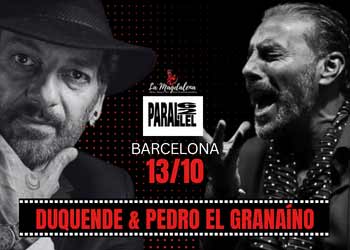 Publicidad DeFlamenco
The Flamenco Biennale, in its fourth edition, is not only well-established, but also has a characteristic of its own which we understand reflects your take on flamenco.
 From the very beginning I've always supported pure flamenco, at least as the basis, the heart of flamenco, I don't like to use the word "pure", that's not the right adjective.  When I say "pure", I mean "cante jondo", the kind of flamenco singing we've had in every edition of the festival, I always say the singing is the subterranean flow that feeds flamenco.  I think flamenco is a melting pot of musical influences, which is why the trademark of the Biennale de los Países Bajos is that of creating dialogues of musical culture, as an artistic line that tries to bring various cultures together.  Flamenco is open enough to be free, even while conserving the roots.
The other day watching Israel Galván in "La Curva", it occurred to me that there is no purer flamenco than this, with Inés Bacán, the piano of Sylvie Courvoisier and the palmas of Bobote.  In the hands of good artists, that's what allows them to cross frontiers, and that's the spirit of the Biennale.
In 2006 we enabled the collaboration between Duquende and Pakistani music, in the second edition it was Niño Josele with a Moroccan Singer.  After that, it was the singing of Rosario la Tremendita with Iranian music in the show "Qasida" along with Mohammad Motamedi.  For this edition we've looked to the Balkans.
In the same spirit, this year Carmen Linares dared to take on a dialogue with a wind ensemble.
And how do you manage to convince these performers in order to get them to your terrain?…from what I understand these are projects you propose to them.
Yes, yes…that's another characteristic of the Biennale of Holanda in every edition, especially since the third one, we've managed to situate ourselves in the flamenco festival circuit, I think we've had an interesting program, and the reputation of the event has been growing – at least that's what they tell me, it's not for me to say.  I like to push the boundaries…Israel had a very nice phrase in one of his interviews, he said he wanted to take flamenco out of its habitat, and also the audience.  As artistic director, I take on the task of bringing artists out of their comfort zone and propose dialogues they may not have thought of…sometimes it doesn't work, other times it does…but I want to provide a platform for experimentation, we're always striving for this.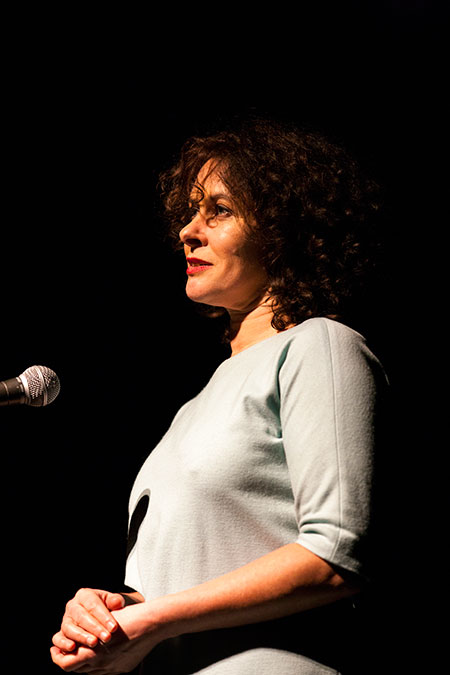 Those projects, "made in Flamenco Biennale", have gone on to be included in other flamenco festivals such as the Bienal of Sevilla, Festival de Jerez, Ciutat Vella…the work gets around.
Of course…when we debuted Qasida, it was presented as a laboratory at a German festival, they committed to investing in bringing together Rosario Tremendita and Mohammad Motamedi.  After the debut it was presented several times, Isamay Benavente, director of the Festival de Jerez, saw the show, gave it the go-ahead and presented it at the 2011 Festival de Jerez.  And from there, it went on to be performed at the Bienal de Sevilla where it was very well received.
The project "Balkan Flamenco Tales" was also debuted in a basic format at the Festival Ciutat Flamenco de Barcelona, it makes me very happy to see our projects so well-received outside of Holland, I like to think of them as works in progress.  To what we did in Barcelona, we've now added two great virtuosos of Balkan guitar.  In the format of a shared stage, Dani de Morón joined the project with the two guitarists Theodosii Spassov, then, after a break, the two Balkan guitarists are incorporated.  To see the smiling face of Dani de Morón when he plays along with them, and vice versa, this means a lot, to be able to lay the foundations for this kind of encounter.
"Idas y Vueltas" between musical genres, musicians and cultures is the concept of this edition, but it's also been the basis of the festival from the outset, each musical form is a melting pot, this year there's baroque music, Balkan, classic wind instruments, Mediterranean sounds from Catalonia, poetry (Lorca, Pessoa), Drummond de Andrade in a Dutch jazz concept flamenco by Eric Vaarzon Morel.
As far as performers, Diego Carrasco and Arcángel are back.
[Laughter]…I can't do without Diego Carrasco…there's always a reason for him to be in this festival…although this year, after eight years, he's brought out a new recording that includes a very nice tribute to Moraíto.  We already did a tribute to Fernando Terremoto in the previous bienal, this year I thought of doing a more intimate tribute, showing the film we made, and followed by Diego Carrasco's recital with his Family Band…a night in Jerez which will also be preceded by a conference about sherry and flamenco.
I always manage to included Jerez one way or another.  The opening night Tomasito was with Carmen Linares, and according to the Dutch newspapers, it was a great surprise…the rhythms are so contagious, the mixture, the flamenco beat.  Tomás gave an open master-class in the vestibule of the theater and the people loved it.
Another project this year is "Focus Catalunya".
Since 2006 I'd wanted to have Mayte Martín at the bienal with Belén Maya, but it couldn't happen at that time, this time we tried again, and thanks to the Taller de Musics who sent the flamenco singing of Salao and Las Migas, I thought it would be interesting to put it all together, and what came out was "Focus Catalunya".  We've always highlighted that flamenco, in addition to being Andalusian, is also in Catalonia and other places, not only in the comings and goings, "idas y vueltas" between the peninsula and Latin America, but also between Andalusia and Catalonia.  Fortunately the Ramón Llull Foundation reacted favorably.
Obviously there is a flamenco following in Holland, now more than before, after these years…Dutch artists also have their place here.
Yes, in every edition we reserve a place for Dutch flamenco, something one newspaper called Nether flamenco, and the label stuck.  In addition we have a flamenco conservatory in Holland under the guidance of Paco Peña, there are some high quality guitarists…we heard the work and believe they can be included in the program, they're part of Nether flamenco. 
Another mission of ours is to stimulate flamenco here, not only program it, I always ask people what their idea of flamenco is, their dream, maybe it can be carried out.  There are several names, especially in guitar…but it's also a question of bringing amateurs and professionals together.  We also did a production for children of Carmen based on Bizet's opera in which we incorporated four professional dancers, a tremendous experience to be able to be part of a professional theater work.
And to wind up….
Many thanks to the Instituto Andaluz de Flamenco, Inaem and the Fundación Ramón Llull who continue to support us in times of economic crisis, allowing us to be in six cites and a total of 13 venues, this is very important.
---