Marina Heredia, new release 'Marina' in Granada
May 8, 2010
Twittear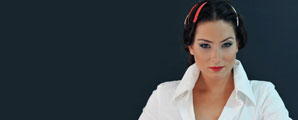 Record presentation
Marina Heredia "Marina"
Palacio de Exposiciones y Congresos de Granada.
May 7th, 2010 – 9:00pm

Cante: Marina Heredia
Guitars: José Quevedo "Bolita", Luís Mariano, Diego del Morao
Palmas and chorus: Anabel Rivera, Toñi Nogaredo, Jara Heredia
Percussion: Paquito González
Guest artists: Farruquito, Parrita
Text: Antonio Conde
Photos: Universal Music Spain / MarinaHeredia.com

In these times we're going through, when the recording industry is in the doldrums even more so than other sectors, you can still find people who bubble up to the surface, and against all odds, dare to record flamenco cante. The voice of Granada singer Marina Heredia is flamenco through and through. Whether recorded or live. It's a sound which is half-way between a whiskey voice and a cleanly sweet delivery which gives her the ability to tackle cantes in the best register for each one. And that's not easy.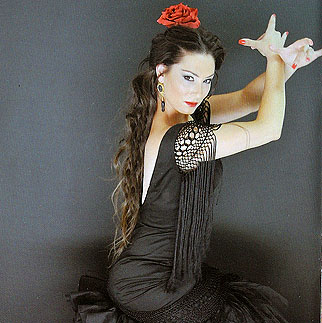 She chose her hometown to present her third recording. The most flamenco, the most intimate one of her career. If in her debut recording she sought out flamenco, the second record came a little too close to Argentine tango and bolero. But this latest work, called simply "Marina" is without a doubt the most flamenco. Granada's Palacio de Congresos y Exposiciones opened its doors for the girl from Albayzín. Too bad the venue was a little down-trodden and so large it couldn't be filled, although despite this, the right people were there: Esperanza Fernández, Manolete, Tatiana Garrido among others came to show their support.

The show itself was no disappointment. Good staging, no overload of decoration and a cast of top guest artists. Her inseparable guitarists, José Quevedo "Bolita" and Luís Mariano were supported by Diego del Morao from Jerez, who accompanied the seguiriyas. Marina threw herself into the cante. Sounds of trilla, with the "pregón del uvero" were rounded out with toná-saeta. She conjured up Granada with her tangos "De los Peroles" as well as in the fandangos del Albayzín.
As Luís Mariano played a majestic introduction for taranta, the singer got into minera and levantica, dressed in a Spanish man's suit with broad-brimmed hat, very masculine. A wink to maestro Montoya in the falsetas Mariano played for malagueña in the Chacón style gave way to Marina's soleá dedicated to her father El Parrón. Another noteworthy moment was the soleá apolá, sung full throttle. The appearance of Diego del Morao triggered applause, and rightly so. In addition to the soleá, the singer's seguiriya was profoundly moving. In fact, I'd never heard her sing seguiriyas as she did this night. A modern instrumental piece by Bolita with Paquito González again left the audience energetically applauding as Parrita came on stage. He joined forces with Marina Heredia for the song "No Me Lo Creo". Bulerías, and emotion continued high with the appearance of Farruquito. The alegrías he composed for her called "Sed" featured a brief bit of dance with aggressive details which left us wanting more. And to finish off the night, a welcome tribute to Bambino that took the form of rumba, and everything ended as it had begun: with a capella cante. Another step forward in the career of Marina Heredia with her most flamenco work to date, well worth a listen to appreciate the essence of her fine cante.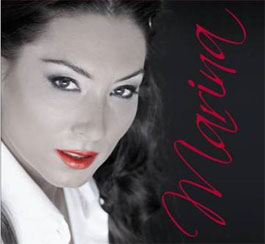 See Cd - audio - store on-line