Text: Estela Zatania
Photos: Ana Palma
Thursday, March 7th, 2013. Jerez de la Frontera
Special 17th Festival de Jerez – All the information

STRAIGHT-AHEAD FLAMENCO
In the home stretch of the Festival de Jerez, a massive gust of flamenco last night woke us up from a certain lethargy that inevitably sets in during these long events when you sit through so many conceptual works, some of which may not be so coherent or easy to get.  Two shows without the sensory deprivation of blackness, with no brainy libretto, with an abundance of cante and rhythm and, judging from the effusive ovation accorded both at the very beginning, with something that most flamenco fans who come to this festival long to find.
FARRUQUITO "ABOLENGO"
Teatro Villamarta, 9:00pm
Dance: Farruquito. Guest artist (dance): Karime Amaya. Piano: Jaime Calabuch. Cante: Encarnita Anillo. Cante and palmas: Antonio Villar, José Manuel Doya "Zambullo". Guitar: Román Vicenti. Violin: Bernardo Parrilla. Percussion: Luis Amador. Choreography: Antonio Canales, Farruquito.
The Villamarta theater, the festival's main venue, was packed full for the first time since the festival began.  Long before showtime the place was heaving with humanity and excitement, like a bunch of kids waiting for Santa Claus.  It was only natural…we were about to witness the collaboration of two descendants of flamenco royalty.  "Abolengo" [lineage] is the name of the work, and for once we didn't have to scratch our heads to decipher the meaning. Juan Manuel Fernández "Farruquito", and Karime Amaya, from the Farrucos and Amayas respectively, would be sharing the same stage and even dancing together.  Not even those who most debunk the theory of "flamenco in the blood" could resist such a prospect.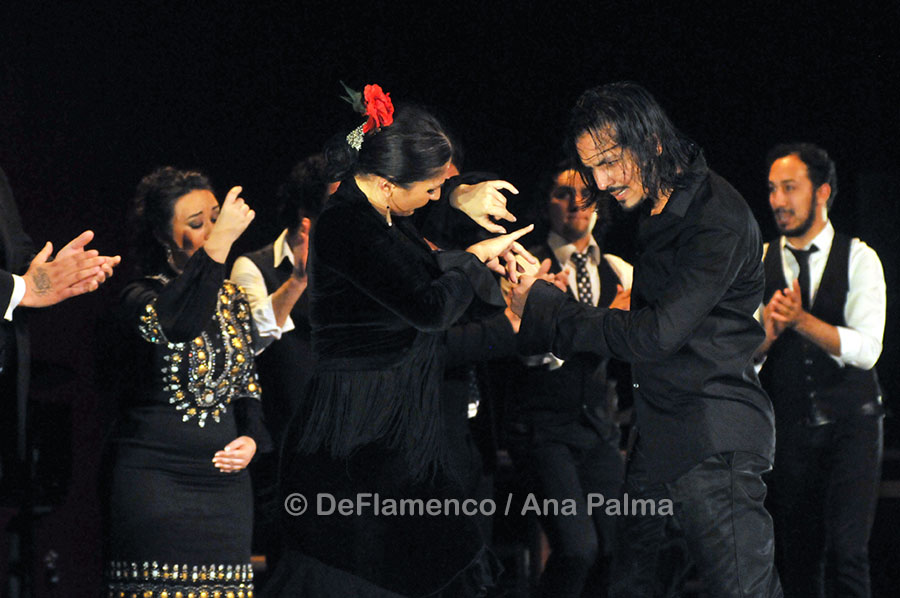 Farruquito has been trying to find his path for a few years now, unable to hit on the formula that would reconnect him with his audience.  With "Abolengo", and thanks largely to the collaboration of dancer Karime Amaya, he seems to have gotten it right this time.  Aside from the obvious appeal of bringing together the two great dynasties of flamenco dance, Karime has enough personality and ability to hold her own with mega-talent Farruquito.  Other women have managed to emulate the Farruco style fairly well, but the grand-niece of Carmen Amaya does it on her own terms, and without seeming like an imitation. 
First of all, it's now oficial: coupled flamenco dance is back in style.  Farruquito is a dancer who improvises a great deal, so logic would seem to suggest that any attempt to put him in a set choreography with another dancer could only fail.  But no.  There's chemistry and communication between him and Karime, so we discover another facet of the young dancer's artistic personality, and she has the technical level to match his.
Extreme nostalgia accompanies the brief bulerías segment of Karime who recreates an almost exact copy of the famous scene from the legendary film "Los Tarantos" (which this year is fifty years old), the same guitar falsetas, the same pounding out compás on the table, the same verses and cantes…who could possibly avoid being moved upon seeing this young woman reproduce the forms of her illustrious predecessor with such affection.  There were also some lumps in throats when she played "Lola Flores" to Antonio Villar's "Caracol" when he sang "La Niña de Fuego".
Farruquito did what he does best, what we expect of him, the division of time into minute segments which he then doles out at will, an imaginative style based on intensity and precision.  He allows himself to create freely in unaccompanied 12-beat compás atop a table, and alegrías is also a pretext for more of the same, without repeating himself.  Karime constructs a tight rapport in bulería por soleá with singer Encarnita Anillo (who has matured artistically into a fine singer), leaving the audience exhausted from cheering and applauding when Farruquito's final slam-dunk soleá is yet to come.
After the soleá, with the air thick and dense with excitement, Farruquito took the microphone to express his gratitude, naming his grandfather Farruco and Carmen Amaya before a brief fiesta ending with spectacular knee-drop included.
Effective staging (except for placing guitarist Román Vicenti behind a large table), good work by Villar and Zambullo, important collaboration in the choreography by Antonio Canales and beautiful lighting by Óscar de los Reyes, also a fine dancer.
---
LA TRUCO "SENTENCIA"
Ciclo: Muy flamencos
Sala Compañía, 7:00pm
Dance: La Truco, Ricardo Moró, Stefano Domit, Cristián Truco. Cante: José Jiménez "El Bocadillo", David Vázquez "El Choquero". Guitar: Antonio Españadero, Fernando de la Rúa. Wind: Diego Villegas. Percussion: Manuel Masaedo.
Two hours earlier Madrid dancer La Truco, made no bones about her flamenco intentions on the stage of the Sala Compañía.  She got right down to business opening with expansive dynamic alegrías with the pungent feel of Cádiz, with palmas, singing, typical dress and flower in hair, and the audience reacted immediately with effusive "oles!" and excited shouting, as if they'd received a jolt of electricity directly to their seats.
The show that followed was in the line of traditional flamenco with some contemporary touches especially in the transitions and the occasional sound of a harmonica that evoked the Paco de Lucía sound.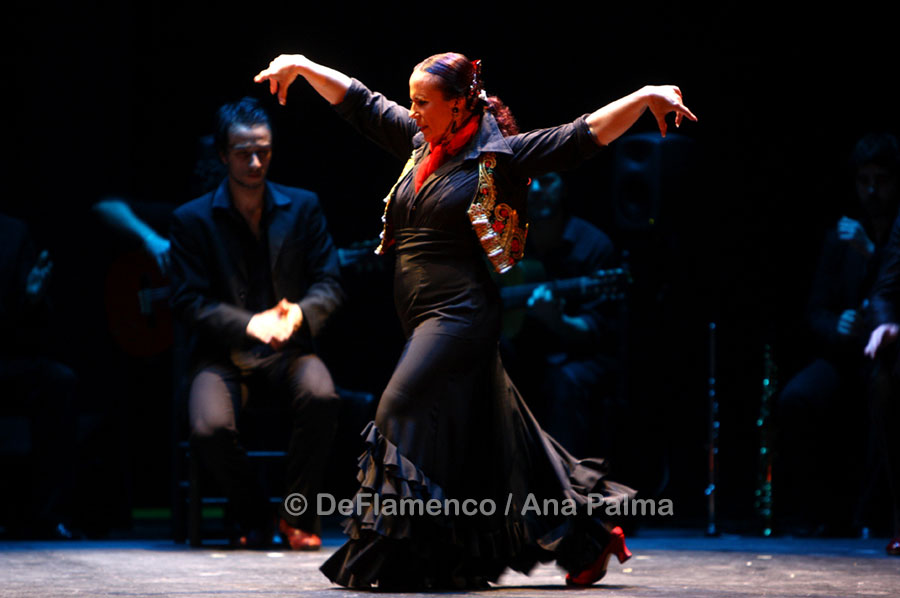 Noteworthy were the "non-Cádiz" tangos, that is to say, styles of Extremadura, Granada and Málaga reminiscent of a few decades back when many Portuguese immigrants were in Madrid mixing with flamencos.  The tangos morph into tientos reversing the usual progression of tientos into tangos.  Following this, three dancers, unapologetic followers of the Farruco school, prepared us for what would come later at the Villamarta (please see above), with a kind of prelude to La Truco's soleá.
Not everyone is a creator, there also have to be people who interpret what has already been created.  Eli Truco is a real trooper, a serious professional who defends the forms, and a fine artist who, although she may not be destined for flamenco stardom, deserves, at the very least, the respect of hard-core flamenco fans.
---