Text: Estela Zatania
Photos: Ana Palma
Sunday, February 24th, 2013. Jerez de la Frontera
Special 17th Festival de Jerez – All the information

INSTITUTIONAL FLAMENCO AND INDIVIDUAL EFFORTS
BALLET FLAMENCO DE ANDALUCÍA "Llanto por Ignacio Sánchez Mejías"
Teatro Villamarta, 9:00pm.
Choreographer and artistic director: Rubén Olmo. Original music: Pedro Sierra. Soloists: Patricia Guerrero, Eduardo Leal. Dancers: Sara Vázquez, Ana Agraz, Marta Arias, Maise Márquez, Sara Arévalo, Álvaro Paños, Juan Carlos Cardoso, Ángel Farina, Fernando Jiménez. Cante: Juana Salazar "La Tobala", Cristián Guerrero. Guitar: Daniel Jurado, Michele Iaccorino. Percussion: David "Chupete".

The third day of the Festival de Jerez, the great public machine that administers and promotes flamenco in Andalusia, hence Spain and the world, enabled the presence of the Ballet Flamenco de Andalucía, previously the Compañía Andaluza de Danza, at the Villamarta Theater.  This company has undergone various transformations in its short history, and right now it's been working for a year and a half under the direction of dancer Rubén Olmo who also participates as lead dancer.
The latest work of the BFA, "Llanto por Ignacio Sánchez Mejías", portrays the friendship Federico García Lorca shared with the bullfighter named in the title and his death in the ring.  Putting a reverse spin on Churchill's 1940 declaration "never have so many owed so much to so few", the Ballet Flamenco de Andalucía deployed seemingly limitless resources to achieve results that were at best, discreet.  Twelve dancers in addition to the backup of singers, guitarists and percussion, not to mention a vast technical team, did their personal best with a work that, oddly enough, suffers from the same malaise as this company's previous production.  In that show, "Metáfora", everything got off to a roaring start, with a generous helping of dance, singing and guitar of high quality, only to descend to the depths of mediocrity and tedium.  Last night, despite a beginning that was overflowing with energy…bulerías with the whole company, a terrific dance of tangos by Granada girl Patricia Guerrero, fandangos de Huelva, a delightful pasodoble…and just when you settled into your seat ready to receive a tidal wave of Andalusian and flamenco art interpreted by the select cast, the energy dissipated and everything became a dull emotional shade of grey with pieces that were far removed from flamenco, murky symbolism, flat choreographies and the absence of cante.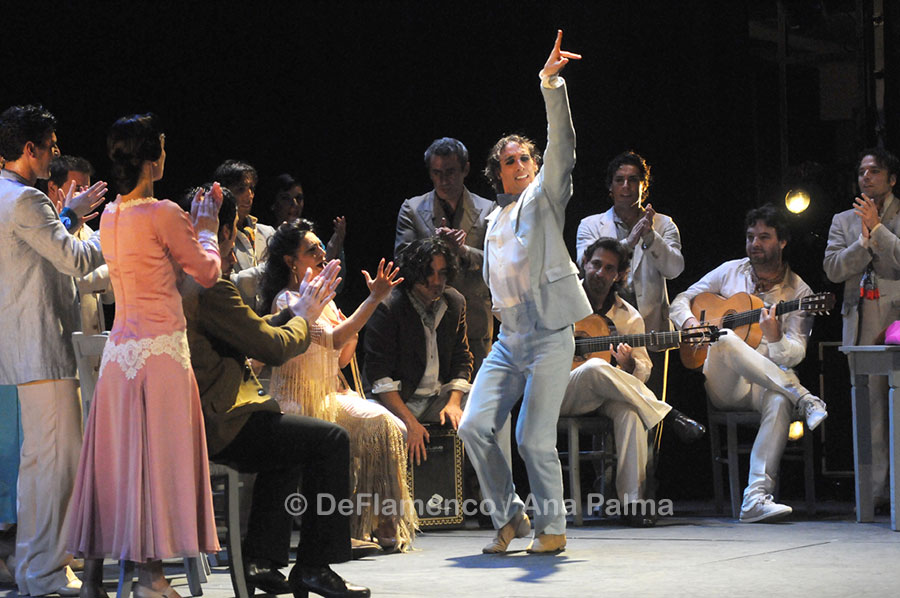 Not even a Holy Virgin of olympic proportions, audiovisual effects or the spectacular falling of hundreds of pounds of sand from above could resuscitate a work that was as dead as the bullfighter of the story.  It's possible this work was commissioned with the idea of appealing to foreigners who harbor romantic notions of Spain, although I wonder how anti-bullfight activists will react abroad.
---
RAMÓN TRUJILLO
Ciclo:  Toca toque Jerez
Sala Paúl, 7:00pm.
Guitar: Ramón Trujillo. Special collaboration: Lya. Cante, chorus and palmas: Jaime Candié, Marina García, Isa Fernández. Percussion: Chico Durán, Ismael Bernal. Upright bass: Alfonso Fernández. Violin: Samuel Márquez.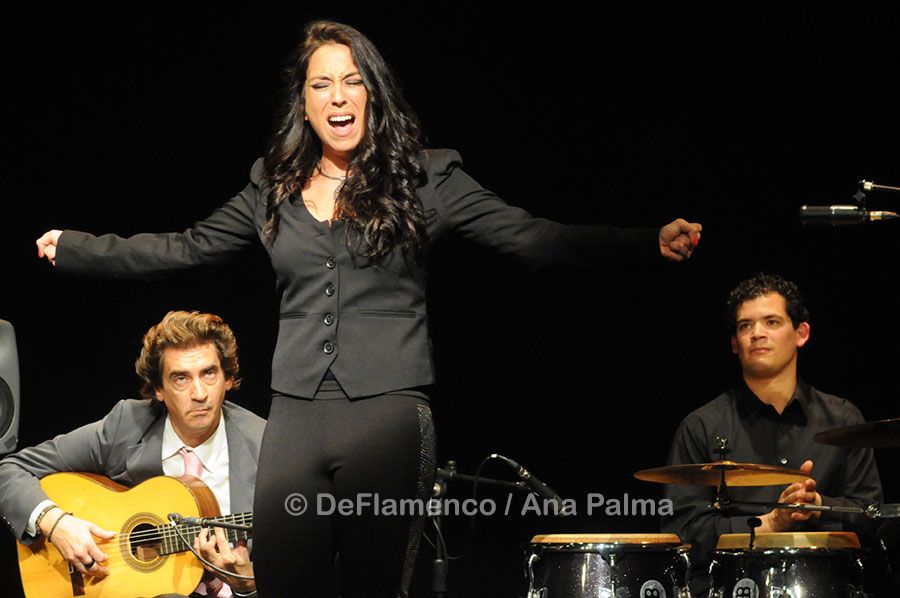 At the Sala Paúl, the performance of Jerez guitarist Ramón Trujillo, nearly unknown outside town despite having won the contest for Young Guitarists at the Bienal of Sevilla in 1990, as well as the yearly guitar contest organized by the Los Cernícalos flamenco club, in addition to having played on numerous recordings for such heavyweights as Macanita, Niña Pastori or Camarón himself.
Following the example set by Paco de Lucía, and nearly all of today's guitarists, he began alone with a rondeña solo in which he displayed good clean technique and discreetly contemporary harmonies, and no sooner was he finished than a sextet of backup musicians arrived on the scene: violin, upright bass, percussion and three people for chorus and palmas.  A program of cartagenera por bulería abandolá, alegrías and a song to tangos led to pieces that became progressively more pop, ending with the performance of the beautiful young singer known as Lya.
---
JAVIER LATORRE, HUGO LÓPEZ
Ciclo: Paso a dos, maestros y jóvenes
Sala Compañía, 12 midnight
The series "Paso a dos, maestros y jóvenes" takes its lead from the last Bienal de Flamenco de Sevilla where the idea worked so well.  It's the artistic encounter at a single venue in a recital of veterans and newcomers in a shared discipline.
On this occasion, the choreographer and dancer Javier Latorre who just last October was awarded the Giraldillo for Maestría, defended the forms of his generation alongside young dancer Hugo López, both from Córdoba.
Latorre, restrained and compact, with the subtlety and wise moves worthy of his admirable career, was a lesson in good taste without extraneous flourishes.  Hugo López, infected with the Farruquito bug and without the tempering that must accompany such an energetic approach, came off as competent but acrobatic, a clear case of "more" being "less".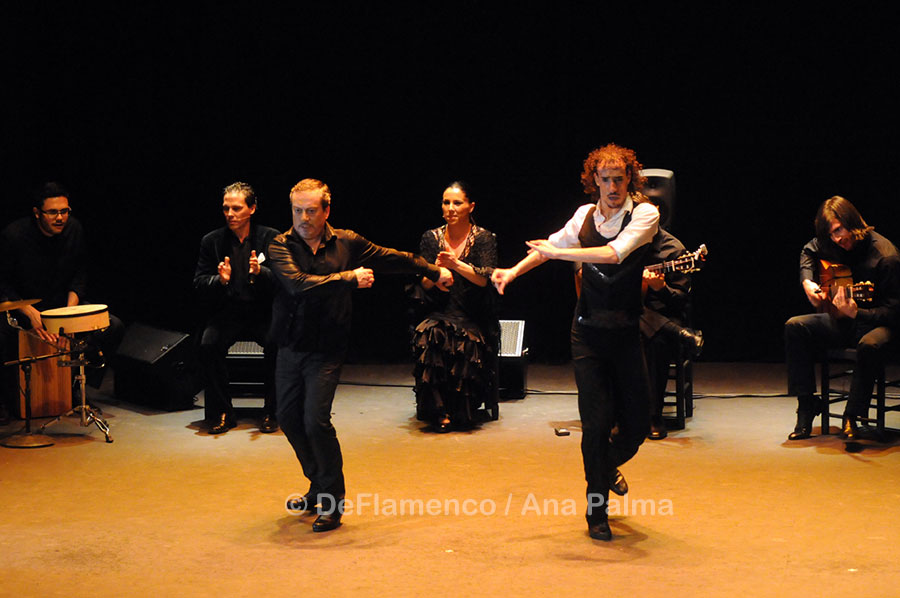 The singing of Denia Membrive and Juan Zarzuela "Zarzuelita", and the fine guitar-playing of Gabriel Expósito and Luis Medina rounded out this recital at the Sala Compañía.
Special 17th Festival de Jerez – All the information
---