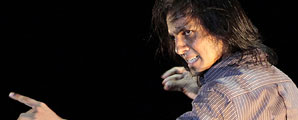 Farruquito "Puro"
August 21st, 2010. Jardines de Sabatini – Madrid
Farruquito: baile. Antonio Rey, Román Vicenti y Juan Requena: guitarra. María Vizárraga, La Tana y Encarnita Anillo: cante. Pedro el Granaíno, El Rubio de Pruna y Juan José Amador: cante. Bernardo Parrilla: violín. Jumitus: piano. Isidro Suárez: percusión. Manuel Molina: narrador.
Text: Pablo San Nicasio Ramos
Photos: Paco Manzano
FARRUQUITO, OR THE FORGING OF PURE BRONZE                                                     
Yes, we have one problem with Juan Manuel.  Our friend "Farruquito" is too good of a dancer.  So much so, that at 28, he has imitators who copy his style.  Legit ones and pirates.  The kind from the outdoor market and the kind from the upscale neighborhood.  Copies more or less elaborate, but which show they don't carry the copyright.  And listen, it's just not the same.
We were getting fed up in recent years seeing what was passing for flamenco dance in Madrid…a sort of derivative but inferior product.  Everything was tangos and bulerías, lots of shouting and more and more pirouettes.  Someone would be trying to reach some goal, but the objective was always just out of reach.
Last night we realized why, and we met the reason in person: the genius.  Pleased to meet you Mr. Fernández Montoya.  A lot has been spoken and written about you in Madrid.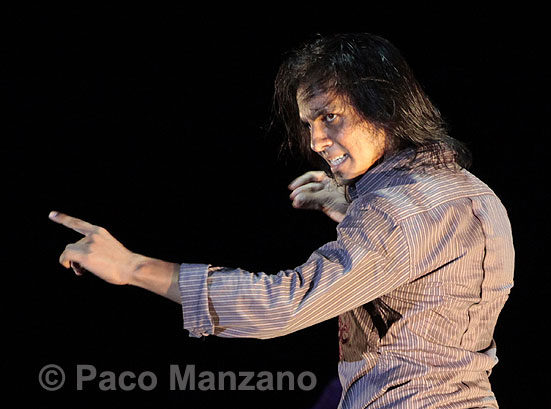 The series Veranos de la Villa closed out with heavy-duty flamenco.  "Puro" brought Farruquito to the nation's capital once again to top off the most complete summer program of recent times.  An important event for flamenco, it's been years since fans have been treated to so much great gypsy dancing in so few minutes.
With all the tickets sold weeks ahead, the first triumph, the Seville dancer attracted his steadfast followers, including some self-made glamorous types, along with demanding fans and the public at large.  They all had the right idea, because they knew what they were going to see was no cheap derivative.
An hour and three quarters of very intense dancing with first-class musicians.  A well-constructed show from beginning to end, not one dull moment, not even in the necessary breaks.
With the narration of the inimitable Manuel Molina, "Puro" is composed of seven pieces, and no one is spared.  Along with Molina and Farruquito, are twelve musicians who come up on stage and finish exhausted.  That's how it's done.  A show built upon especially good music, no cut and paste job here, everything is original and set in place with tender loving care, each and every one of the cast deserves a resounding "olé".  Without any of them having a truly solo moment, the idea being that the equilibrium is a trampoline for all, and the audience gets a group of the highest quality.  Even Molina the patriarch, who could have been merely the icing on the cake, has his place to remind us about what continues to be true flamenco creation.  Quite a character don Manuel.
And who ever said abandolao couldn't be jondo?  Since when can't a gypsy dance a slow soleá?  Not only that, but with improvisation at the heart of everything.
It's true that in "Puro" the structure and technical details of each part are calculated with great precision, but the dancing itself has no choreography beyond what the awesome soul and faculties of Farruquito ordain.  This makes the shock waves that emanate from the stage get everyone jumping up out of their seats, even the sound technicians.  It's impossible to resist.
With the highpoints in the abandolao, alegrías and bulería, all the singing and guitar-playing seems perfect, flamenco, pure: and the verses and ideas equally inspired.  Even the wardrobe and the order of the numbers have meaning.  Everything is catharsis and renewal.
Last night La Tana sang alegrías "Dime de dónde vienes".  Having been through hell, Mr. Fernández Montoya seems to have found his true way again, the path undertaken 23 years ago when the dancer debuted with his grandfather Farruco on Broadway.  From there to the heights there is but one short step, and it looks like it's going to be taken in by Farruquito in his own good time.
---